The Night Market at Jeonju Nambu Market and Hanok Village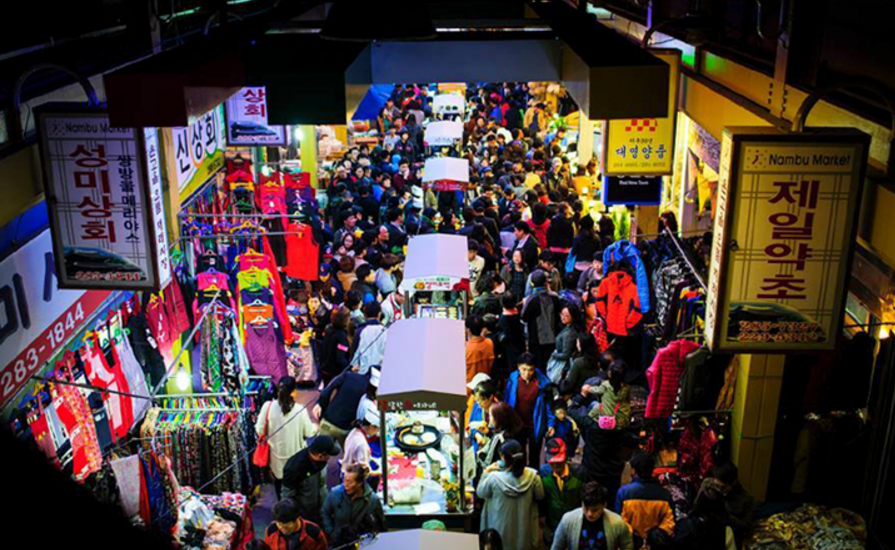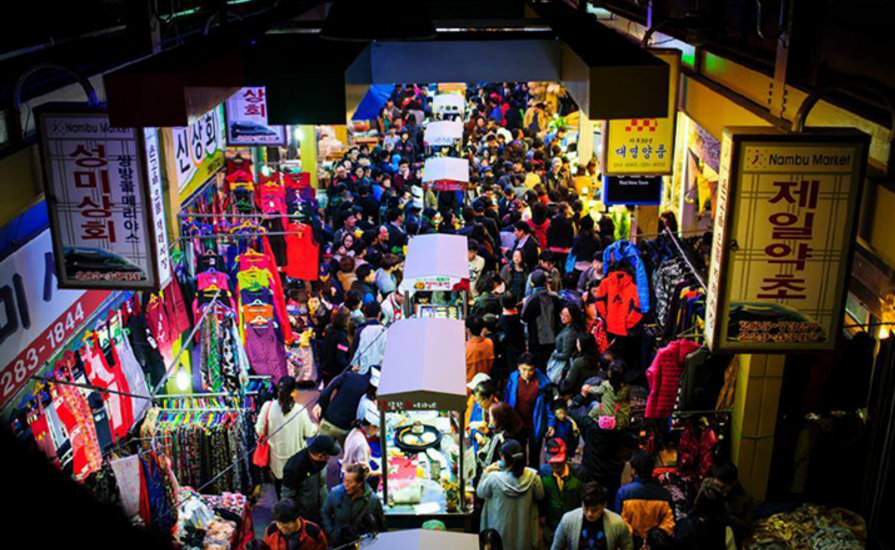 "Nambu Market," the number one traditional market of Jeonju
Over 200 years old, Nambu Market is the oldest major market in Jeonju.
In Jeonju, there is a saying "no marriage unless visiting Nambu Market." The market sells almost everything used in our everyday life, including food, furniture, clothing, and the like. Even until today, Nambu Market hosts over 800 stores and 1,200 vendors, which makes it the biggest market in Jeonbuk Province.
As a major market of the gourmet city of Jeonju, Nambu Market offers abundant local delicacies, such as blood sausage hot-pot, bean sprouts hot-pot, moju (sweet rice wine), baekban (traditional Korean meal table with rice, soup, and side dishes), and makkolli (rice wine) table.
Today, I will introduce you to the Night Market at the Nambu Market and Hanok Village, which has revitalized the local economy at night!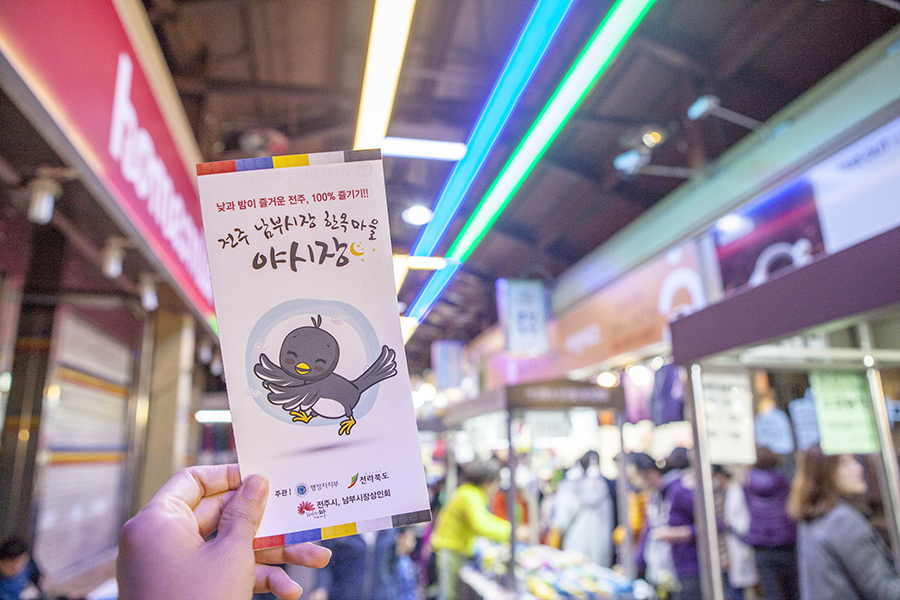 Have you heard of the Night Market at Nambu Market and Hanok Village? It is a regular night market oepn every Friday and Saturday evening.
Established to extend the lively atmosphere of the day to the night, the Night Market has become a popular attraction for both local and tourists alike. Linked with the famous Jeonju Hanok Village, the market boasts many things to see, enjoy, and eat.
The Night Market at Jeonju Nambu Market and Hanok Village
■ Opening hours: 18:00~24:00 (Summer season), 17:00~22:00 (Winter season)
■ Parking Information
1. Nambu Market Cheonbyeon (riverbank) Parking Lot
Free for one hour, extra half hour free for those with the parking pass
220 won per ten minutes after one hour
2. Nambu Market Gongyoung (public) Parking Lot (Behind Jeonbuk Bank)
Free for one hour with the parking pass
220 won per ten minutes
The parking pass is offered upon buying something from Nambu Market
■ Onnuri Coupon
Onnuri Coupon is issued to help local economy and traditional markets. The coupon can be used in all stores and vendors of Nambu Market and the Night Market.
■ The Map of the Night Market
Let's head off to the Night Market then?
The display stands are being set up, as the opening hour of the Night Market draws near. The streets are already crowded with people visiting the Night Market.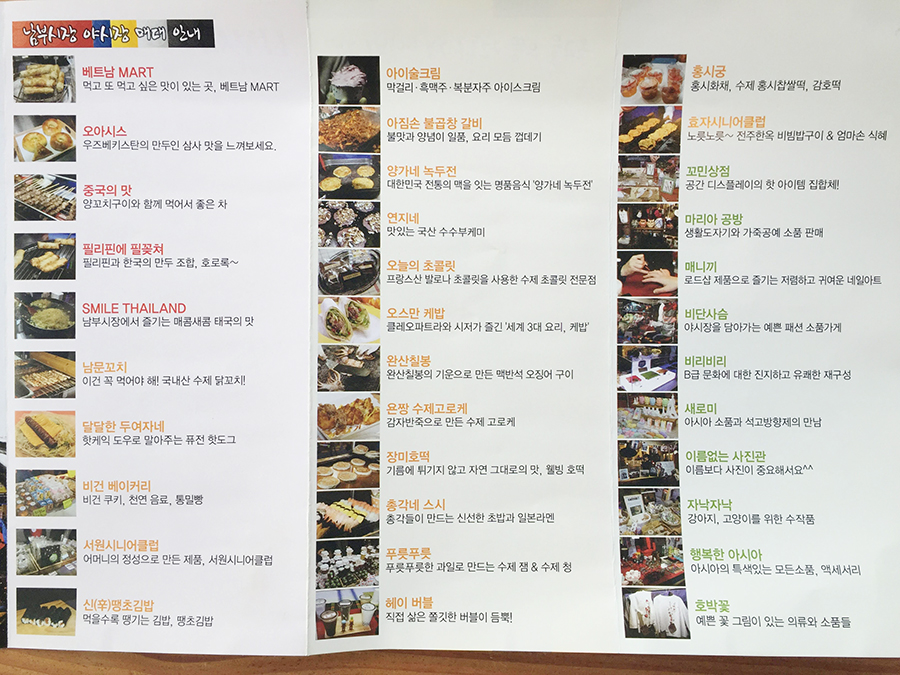 I also join the crowd to enjoy the various street foods of the Night Market.
There are many different vendors at the Night Market, most of which sell exotic as well as Korean food. However, the market boasts other attractive things to see and enjoy, such as unique handicrafts, accessories, clothes, nail arts, and others.
This is nokdu jeon (pan fried mung-bean cake) from "Yang-ganae Nokdu-jeon."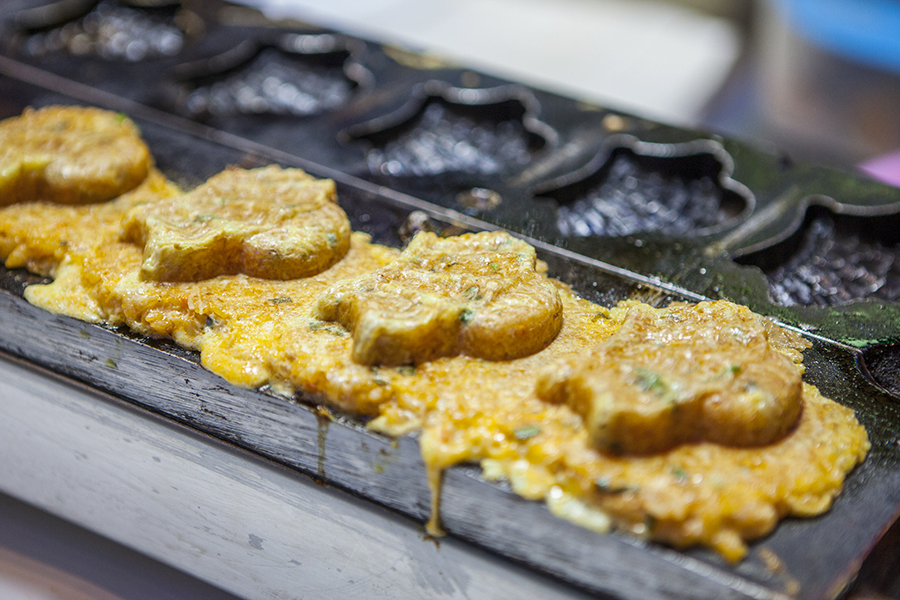 This is bibimbap grilled in a Hanok(Korean traditional house)-shaped mold, from "Jeonju Hanok Bibimbap Gooi & Eommason Sikhye (sikhye: the Korean sweet drink made from fermented rice)."

This vendor named "Chong-gaknae ('bachelor's') Sushi" had the longest waiting line. The torched beef sushi and Japanese ramen with hot but refreshing broth were both very impressive.
I could also find the spicy, sweet, and sour pad thai dish from "SMILE THILAND."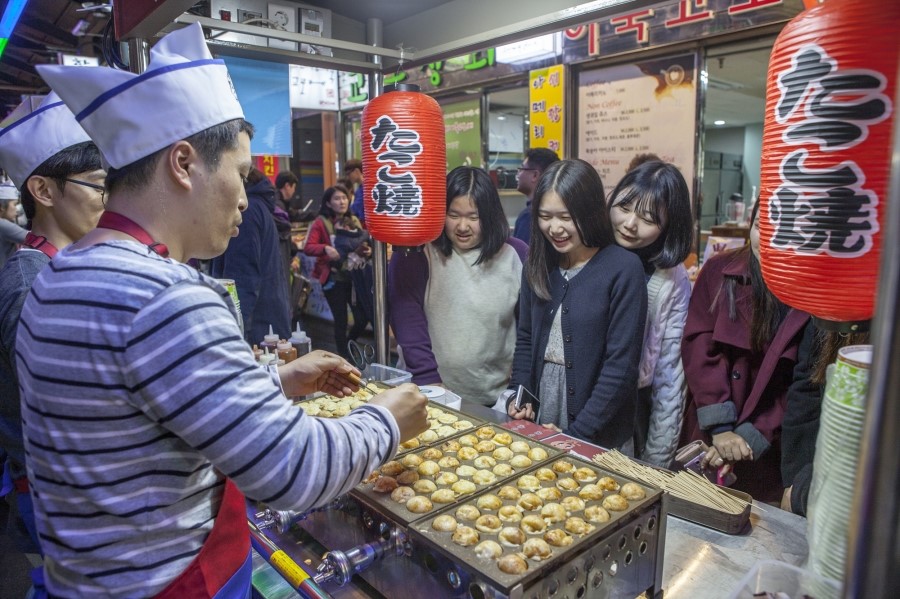 This is takoyaki, a famous Japanese octopus snack, from "Honmani Takoyaki."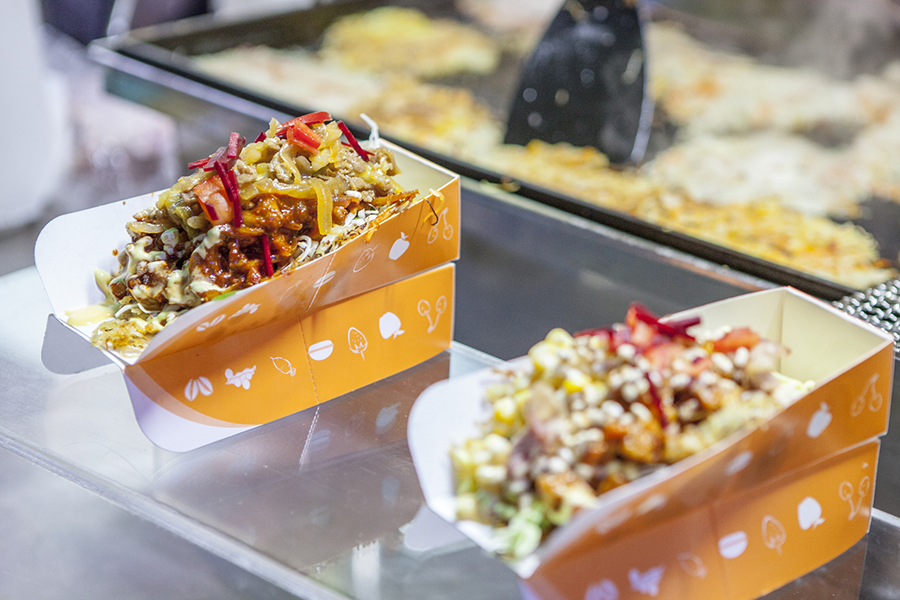 These are potato and sweet potato hash browns topped with different sauces, ground meat, and vegetable slices, from "Gamja Meo-gong Du-beon Meo-gong."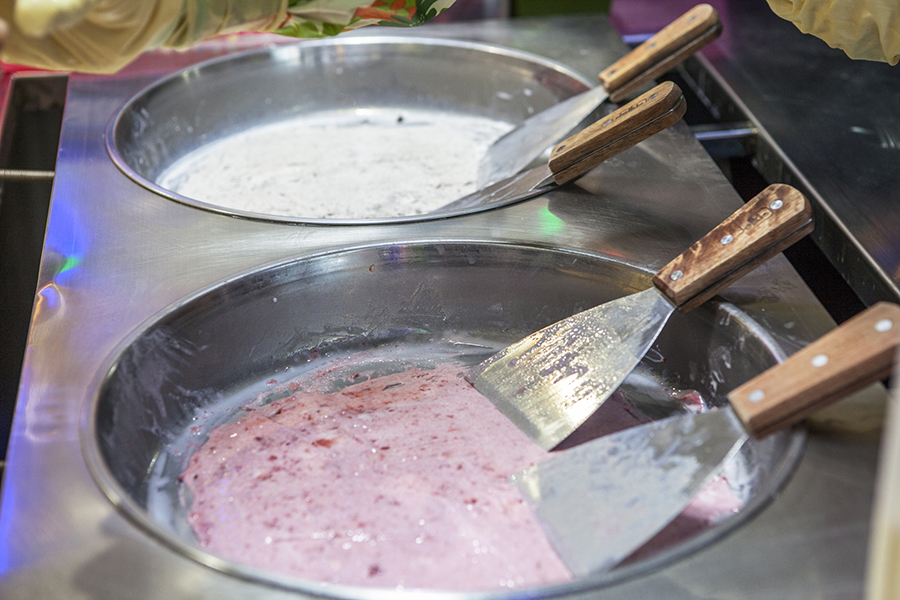 This is the famous home-made ice cream version of teppanyaki, from "Ice'sool'cream." ('sool' means liquor in Korean)
This is the squid and other dried seafood grilled over hot quartz porphyry stones, from "Wansanchilbong."
"A-jimson Boolgopchang Galbi" sells grilled pig intestine and skin that have excellent flavor of scorched meat and seasonings.
These are yachae toongtaeng and poka toongtaeng from "Ziggle-ziggle Pot."
These are fresh rolls and fried rolls from "Vietnam Mart."
Apart from those introduced above, the Nambu Night Market hosts a variety of interesting food vendors. I highly recommend visiting this place if you stay in Jeonju during the weekend.
There also are reasonably priced but very cute nail art shops and handicraft shops selling ceramics for daily use, leather crafts, and the like.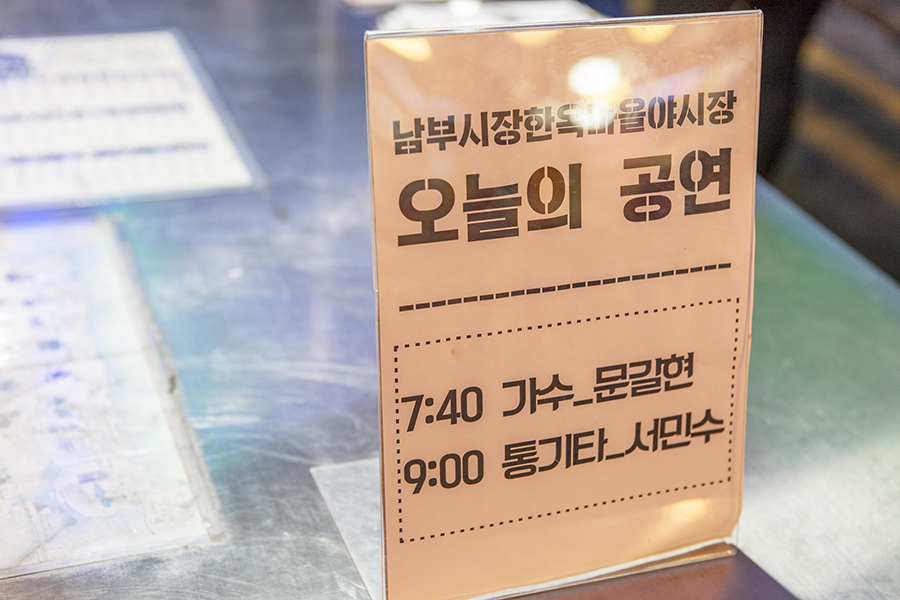 Also, a small concert is being held at the main stage of Nambu Market. Not only the nice smell of food but also the lively music seems to enhance the visitors' appetites.
I found these fine-colored and appetizing home-made jams at "Poo-reut Poo-reut Soojae Jam."
The Night Market seems to draw more people as the evening proceeds. The streets are crowded with people enjoying street foods and music that Nambu Night Market has to offer.