Spring Flowers Blooming All Over Jeonju Hanok Village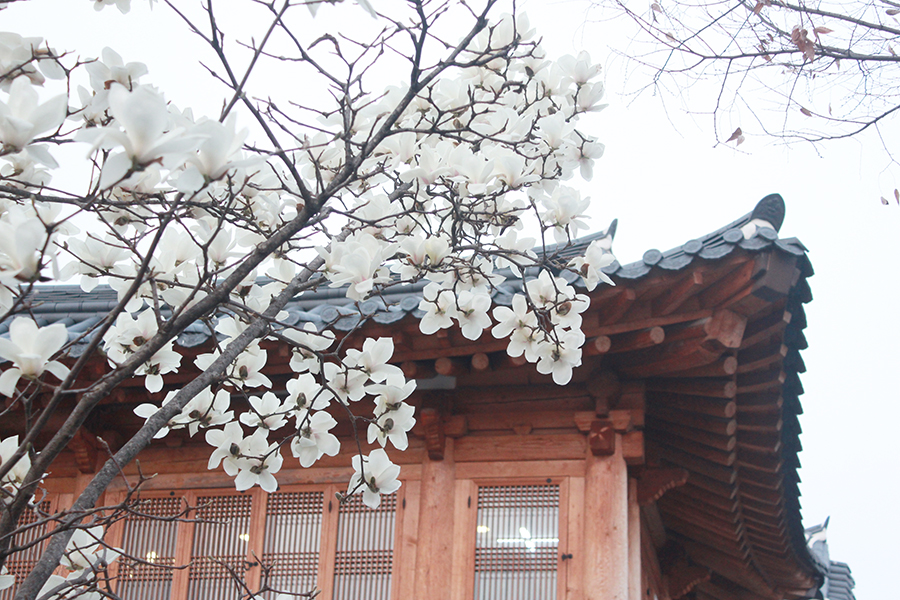 When the tree branches begin to bear flower buds and the temperature slowly start to rise during the day, we know that spring is here.
The spring of Jeonju Hanok Village is at its highest in April. The spring flowers are fully blooming around the Gyeonggijeon Palace and Jeonju Hyanggyo Confucian School. Tourists are walking the streets of the Hanok Village, under the colorful flying petals.
Already in early March, apricot blossoms started to bloom in the Hanok Village, heralding the arrival of spring. It's always impressive to discover the bare branches, after enduring the dry and cold winter, begin to bear buds of beautiful white and red blossoms.
The visitors to Gyeonggijeon Palace and Jeonju Hyanggyo were busy taking photos in front of the blooming white and red apricot blossoms.
The apricot flowers usually bloom from mid-March until mid-April. There is a larger apricot tree at the Gyeonggijeon Palace that blooms later than others. So, you may still be able to take a nice photo in front of it.
It is said that Jeonju Hyanggyo Confucian School is the most beautiful in autumn, when the gingko leaves turn bright yellow. However, in spring too, the place is colored in yellow thanks to the beautiful cornelian flowers (known in Korean as 'sansuyou'). You may find them in front of the main buildings of the school.
After the apricot flowers bloom, magnolias brighten up the streets of the Hanok Village. The huge magnolia blossoms certainly draws attention of visitors.
Around the end of March, forsythias begin to bloom, in full bloom around early April. Looking at the yellow flowers is very revitalizing!
The colorful flowers planted in front of the Gyeonggijeon Palace seem to make my heart flutter. Azaleas, moss pinks, and camellia flowers, donning the streets of the Hanok Village, attract the gaze of the visitors. The flowers make the village livelier.
Spring has brought not only flowers. Visitors are walking around the Hanok Village in more splendid and colorful Hanbok costumes. Their hairs, accessories, and shoes, too, seem brighter than those during the winter.
Along with magnolias and forsythias, the cherry blossoms are blooming in the Hanok Village. Jeonju has other spots to enjoy cherry blossoms. Going picnic under the cherry blossom trees is a typical pastime of spring.
This March and April, I recommend visiting Jeonju Hanok Village, where the colorful flowers herald the arrival of spring!