Locals' Favorite Street Food for Winter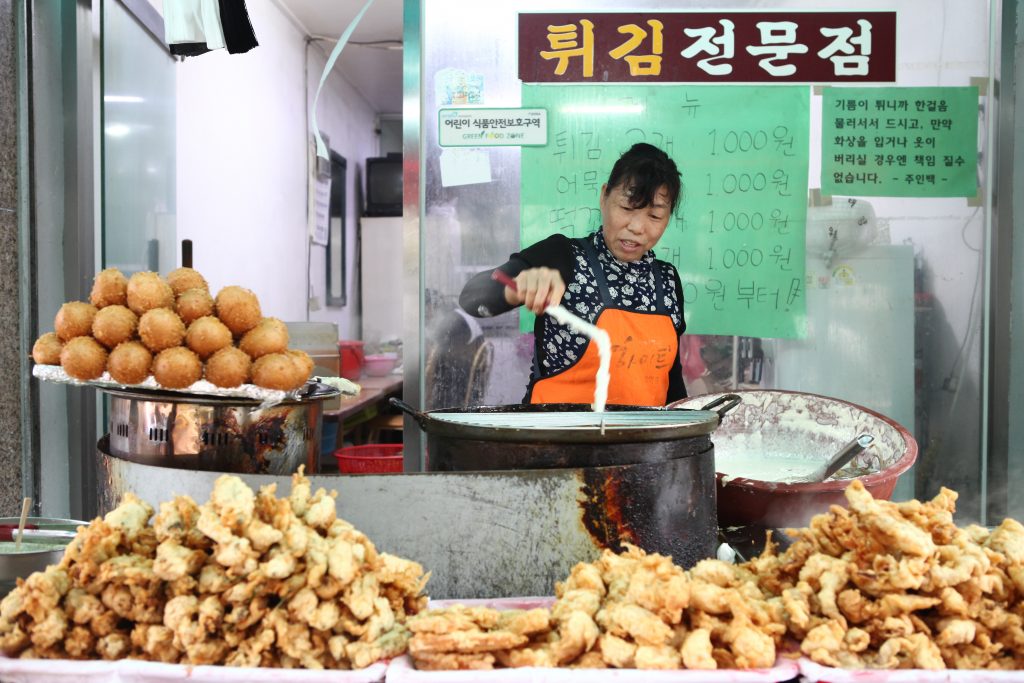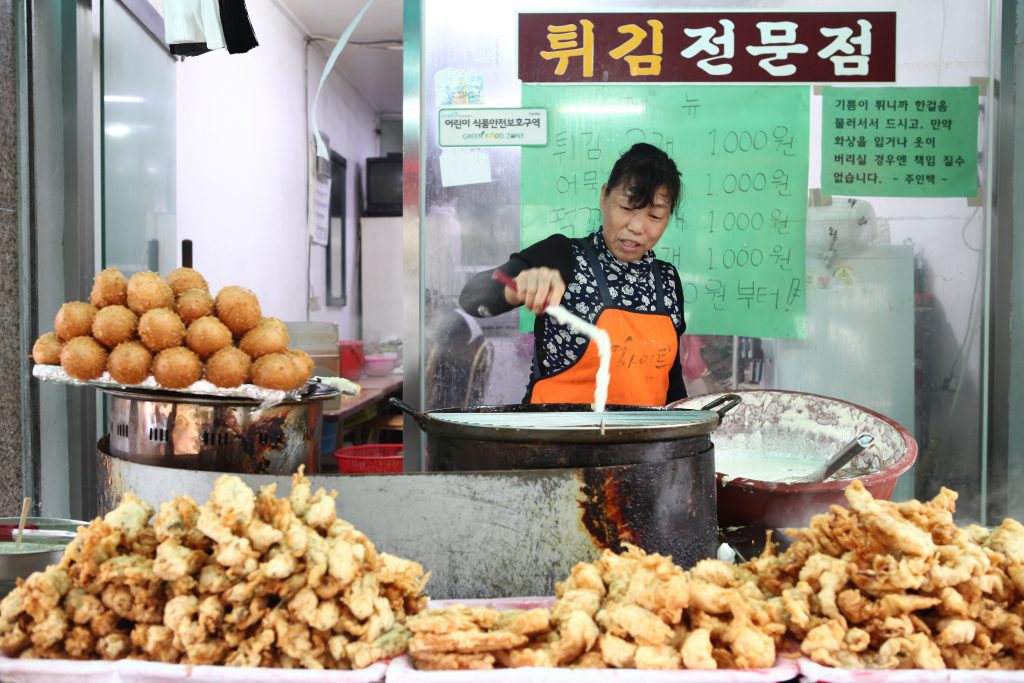 ​Winter street food is probably the only thing that can force us to venture outside into the cold, dry and windy months. Today, I'll introduce the local's favorite winter street food that are worth such venture outside. These street food venues definitely deserve to be included in the list of Jeonju's renowned gourmet food places.
Korean desserts at "Oehalmoni Somssi" (Grandmother's Skill)
Oehalmoni Somssi (literally, 'grandmother's skill') is Jeonju's most popular dessert place in SNS. I can say for sure. Although originally renowned for "patbingsu" (sweet red bean snow flake), Oehalmoni Somssi also offers winter desserts that we shouldn't miss. Try "hongsi bosungi", ground frozen ripe persimmon. A spoonful in your mouth will gently disappear but leave a long lasting sweetness and flavor.
I also tried "gungjung ssanghwatang" (royal herb tonic tea) made from the original royal recipe, "danpatjuk" (sweet red bean soup) with rice cake, and "pasi somsom bingsu" (snow flake made from red bean, black sesame, and milk) with fruits. These are the three most popular menus of Oehalmoni Somssi.
Oehalmoni Somssi
Address: Omokdae-gil 81-8, Wansan-gu, Jeonju
Contact: 063-232-5854
Opening hours: 11:00~22:00 (open year around)
​
Warm bowl of "Well-Being Saeal Patjuk" (red bean soup with rice cake balls)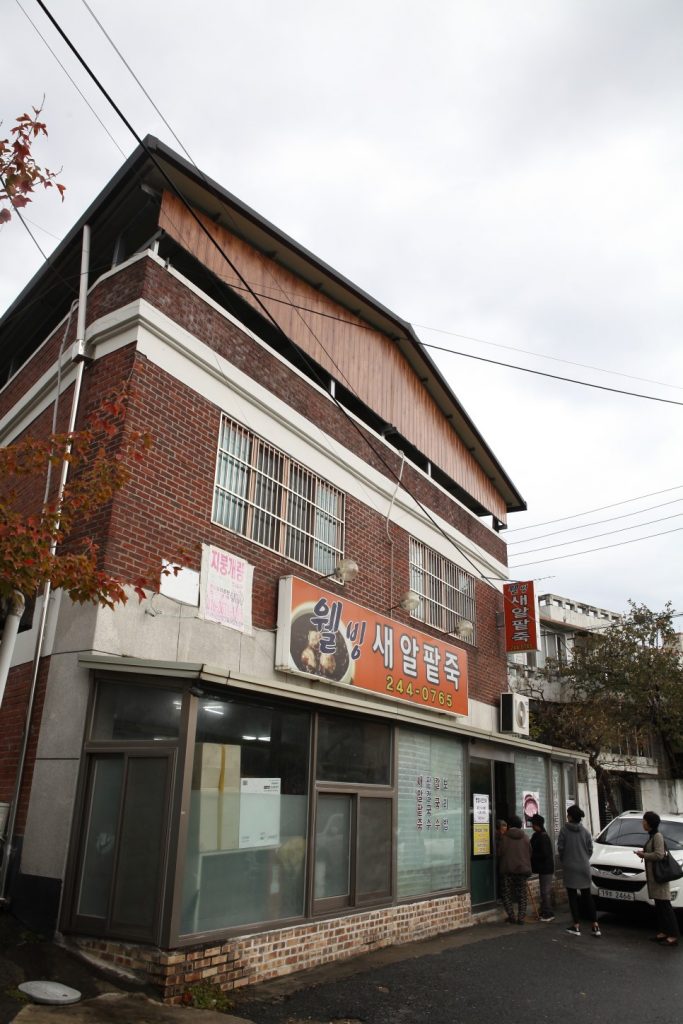 It's well known that winter is the best time to enjoy a warm bowl of patjuk (red bean soup with rice cake balls). Well-Being Saeal Patjuk offers a bowl of patjuk renowned for its thick texture and sweetness of red bean. And of course, the bowl has plenty of rice cake balls in it.
What's more surprising about this place is that if you order a bowl of patjuk, you also get a bowl of boiled barley (accompanied by steamed fermented soybean paste and fresh salads). Some people even visit here for the boiled barley bowl. If your stomach is full, you can still take away the rest of your patjuk.
​Well-Being Saeal Patjuk
Address: Paengnamu 3-gil 24-28, Deokjin-gu, Jeonju
Contact: 063-244-0765
Opening hours: 11:30~20:00 (break time 15:00~16:30; closed on Mondays)
Crunchy fries at "Gyeonggijang Matna Tuigim"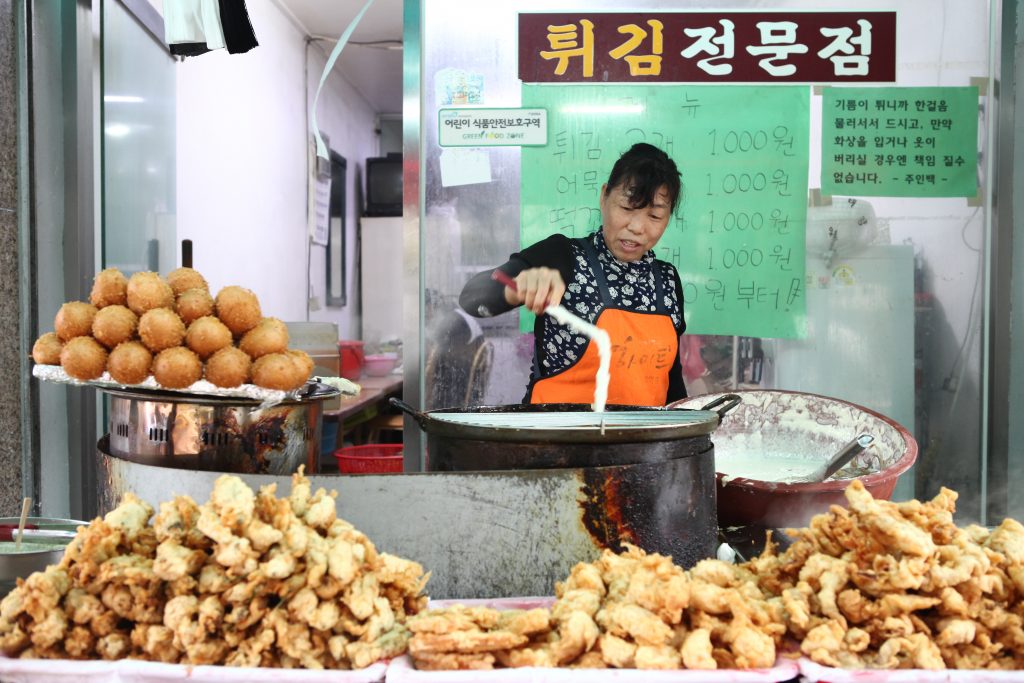 If you find people standing together in the alley next to Jeonju Stadium, you've found Matna Tuigim, offering the best fries in Jeonju. Here, where you stand is the table. Pick up your favorite fries with a tong. It may be a bit uncomfortable standing, but the crunchy fries are worth the effort.
You may choose from a range of fries, but the most popular ones are chilli pepper, gimmari (glass noodles rolled in seaweed), egg, sandwich bread, and squid. You'll be surprised by, first, the crunchiness and, second, by the price: only 1,000 won for two pieces of fries! And don't forget to try the "hot dog" (corn dog) with sugar and ketchup too.
Gyeonggijang Matna Tuigim
Address: Deulsapyung-ro 47, Deokjin-gu, Jeonju
Contact: 063-271-6270
Opening hours: 08:30~21:30 (closed on Mondays)
Crunchy, glutinous, and sweet "Wonjo Jungang Chapsal Hottuk" (pancake stuffed with sugar)
Located inside the traditional Jungang Market, Wonjo Jungang Chapsal Hottuk has been one of the locals' favorite dessert places for ages. Recently, since the venue appeared television shows, you'll most likely have to wait for a while to try the famous hottuk (pancake stuffed with sugar).
The hottuk here is renowned for its extra chewy and glutinous texture. The peculiar texture of hottuk here comes from the secret recipe, which includes, rice wine, glutinous rice, squash, and taro. This is no ordinary hottuk like those sold in the supermarkets. Have a bite, enjoy the crunchy outer crust and glutinous inside, before hot caramelized sugar invades your taste bud. Add fish cake soup and the saltiness will enhance the sweetness of the hottuk.
​Wonjo Jungang Chapsal Hottuk
Address: Taepyeong 5-gil 49, Wansan-gu, Jeonju
Contact: 063-274-8476
Opening hours: 09:00~19:00 (closed on Sundays)
Addictive flavor of "Doraon Topokki" (spicy bar rice cake)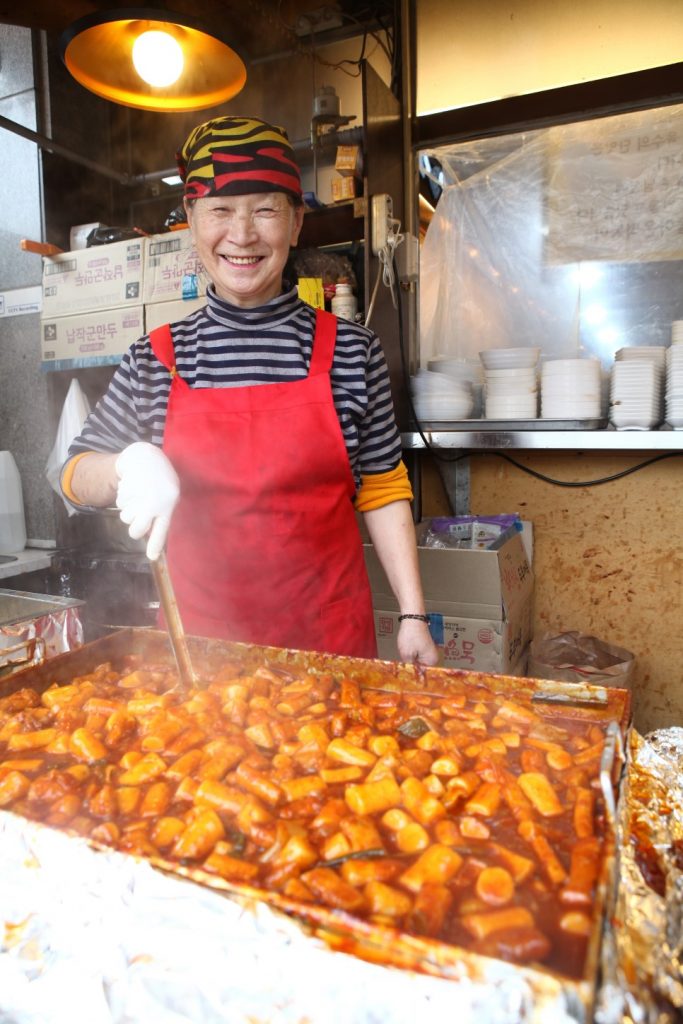 Doraon Topokki ('topokki return' in Korean) is the revival of the legendary topokki (spicy stir-fried bar rice cake) venue called 'Omsirong Gamsirong'. The topokki here is renowned for the harmony of the thick bar rice cake and sticky spicy-sweet sauce made from ripe persimmon and jujube.
The topokki goes really well with sundae (Korean blood sausage) and tuigim (fries) plates. I especially recommend a huge daeha tuigim (fried prawn) to add to the topokki plate. If you're still hungry, you should order soba noodle in summer, and "Saenghap Kalguksu" (fresh clam noodle) in winter. They are only 6,000 won per bowl and it comes with a topokki plate too.
​Doraon Topokki
Address: Andeokwon-ro 53, Deokjin-gu, Jeonju
Contact: 063-277-2929
Opening hours: 09:00~21:30 (break time: 15:00~16:00; closed on Tuesdays)
80 years history at "Baekilhong Jinpang Mandu"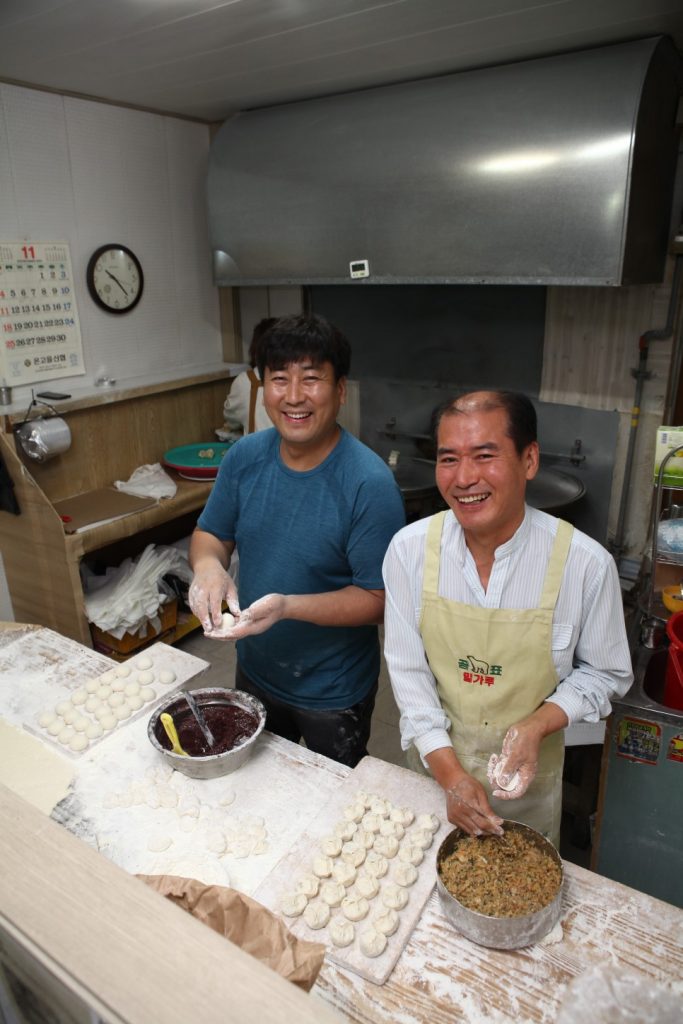 Baekilhong Jinpang Mandu had been loved by the locals for more than 80 years old. I remember that my grandfather often used to come here for jinpang (steamed bun with sweet red bean filling) and mandu (steamed bun with meat and vegetable filling). There are only two menus: jinpang and mandu. If you can't choose between the two, it's like having to choose between mother and father. So just buy both.
The ingredients for mandu filling are 100% Korean. The sweetness of the red bean filling for jinpang is moderate. Both jinpang and mandu have thick and chewy texture. Most importantly, the ingredients run out pretty early (mostly by afternoon), so I recommend visiting here early.
Baegilhong Jinpang Mandu
Address: Hyunmu 2-gil 67, Wansan-gu, Jeonju
Contact: 063-286-3697
Opening hours: from 09:00 until ingredients run out (closed on Sundays)