All About Korea Jeonju Nambu Market
For those planning to visit Jeonju, have you heard of Nambu Market, where around 1,200 traders running over 800 vendors have served the locals for long?
Address: 63 Pungnammun 2-gil, Wansan-gu, Jeonju
Contact: 063-284-1344
Items: fabric, furniture, dried fish, vegetables, fruits, herbal medicines, miscellaneous goods
Jeonju Nambu Market is a traditional market that dates back to Joseon Dynasty. The name 'Nambu Market' has been used since 1905. Currently, as the biggest traditional market in the region, there are over 800 vendors selling fabric, furniture, dried fish, vegetables, fruits, herbal medicines, and other miscellaneous goods.
For the older generation, Nambu Market has been known as the major local marketplace for their everyday goods. For the younger generation, the market is renowned as a major tourist spot, thanks to Chungnyun (youth) mall and the night market.
Jeonju City's blog reporters have visited Nambu Market. The market was already crowded with people preparing for Chuseok holidays. Today, we'll introduce all the corners of the market!
More than 800 vendors selling fruits and vegetables, dried fish, herbal medicines, miscellaneous goods, and everything else
Fruits and vegetables
Fruits and vegetables are probably what comes into mind first when going to a market. In Nambu Market, you can bargain for fresh fruits and vegetables. Some friendly vendors might give extra.
Fish
The fish corner of Nambu Market opens very early. All the fish popular among Koreans are here: cutlass, mackerel, croaker, squids, and others. You can have the fish gutted.
Dried fish
Koreans often enjoy a dish of dried fish as a good relish or nibble.
Herbal medicine
People frequent herbal medicine corner these days to make traditional tea. There are a variety of herbal medicines to make traditional Korean medicinal tea.
Nambu Market The furniture street
A variety of furniture stores are concentrated at the beginning of the market, from professional traditional Korean craftsman's workshops to stores specializing in wooden products, business furniture, and interior design. You may choose from more affordable furniture for young singles to very high-end furniture for marriage expenses.
Nambu Market The grain street
I was drawn to the grain street by the savory aroma of roasted grains. There are a variety of rice, beans, barley, sesame, and other grains for both daily use and special occasions. Merchants carry bags of grains on the back of their bike.
The particular savory aroma was coming from stores pressing savory sesame oil and roasting gim (seaweed). The gim was being roasted to give it a crunchy texture, coated with sesame oil and sea salt sprinkled over it.
Nambu Market The silk and satin street
The silk and satin stores of Nambu Market have long history, selling traditional and modernized Hanbok and various ceremonial dresses. The silk and satin street used to be nowhere near full. But nowadays, thanks to the popularity of modernized Hanbok and tourists visiting the Hanok Village, the street is bustling again. Other than Hanbok, you can buy blankets, quilts, and other fabrics.
Textiles for everyone
Nambu Market has textiles for almost every occasion, from aprons and boots to track suits. The market also sells trendy fashion clothes to functional sportswear. The price is in general lower than that of department stores.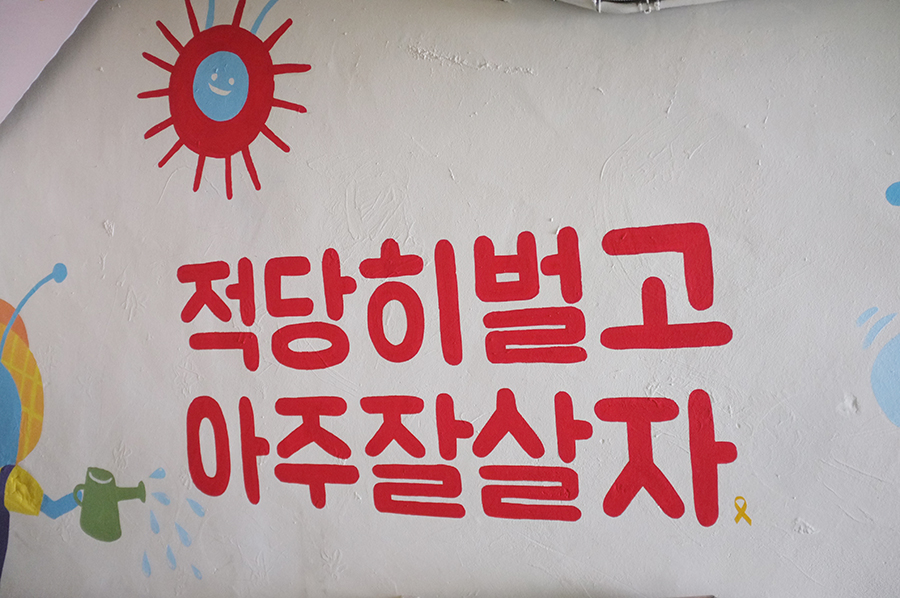 Chungnyun (youth) Mall
The second floor of Nambu Market used to be empty, until Chungnyun (youth) Mall was installed. The mall is filled with unique stores run by young entrepreneurs. Chungnyun Mall helped Nambu Market escape the outdated image of a traditional market. Nowadays, the market is frequented by all generations.
Snack and food venues
When you feel hungry while walking around the vast market, there are a variety of snack and food venues. I recommend patjuk (adzuki bean porridge), kalguksu (chop noodles in broth), zzaguli (spicy pork hot pot), sundae gukbap (blood sausage hot pot with rice), and of course, fried chicken. You will find a plenty of places to eat!
Moju (sweet fermented rice wine) and Korean souvenirs
If you need to buy traditional Korean souvenirs for yourself or for others, Nambu Market is the place to go. I recommend the local specialty of moju, sweet fermented rice wine.