Jeonju , History that spans over a millennia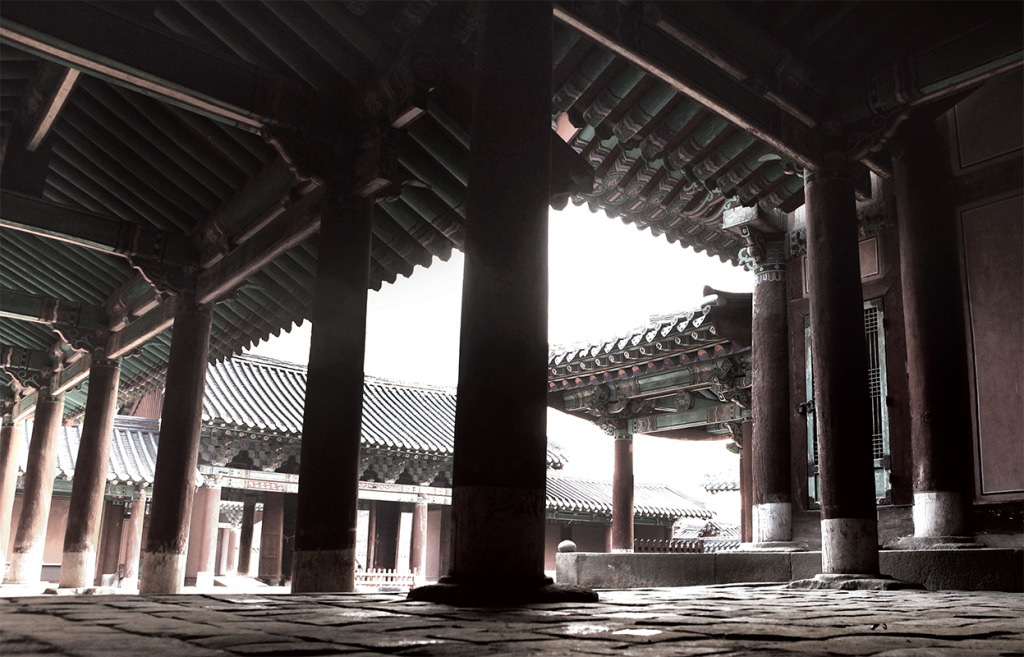 Jeonju's deep historic roots, the region's source of pride and fountain of artistic inspiration.  Centuries' worth of artistic spirit is instilled in Jeonju's beautiful cityscape.
An essential piece of culture and history that originated from Jeonju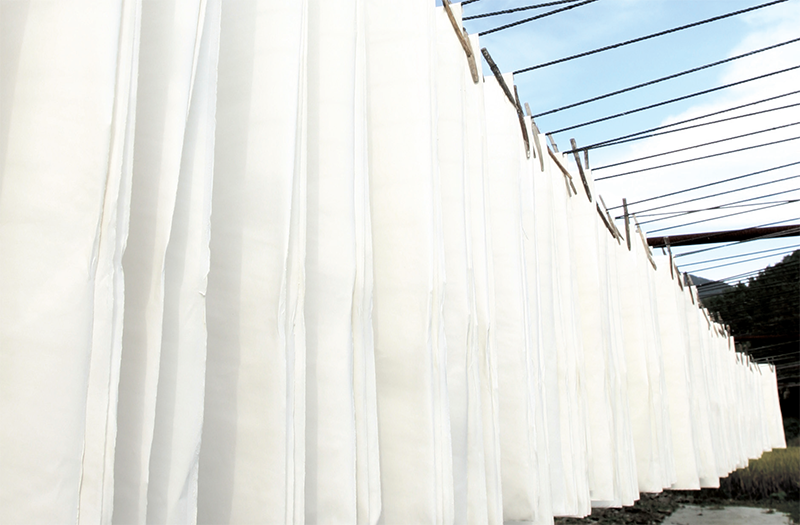 Korean paper or hanji was an important outlet of Korean people's artistic creativity.  Joseon's literature and art could not have flourished if it were not for Jeonju hanji,  the canvas for extraordinary minds.
The story of Jeonju hanji

Hanji is also called baekji, literally 'one-hundred paper' because of the manual labor involved in its making. Korea has a long history of papermaking and its quality has been proved time and time again. Paper made in Jeonju was recognized for its exceptional quality thanks to the quality mulberry that grows in the region and Jeonjucheon Stream's pristine water. Only the best fans were made with Jeonju hanji. The old Koreans that lived in Jeonju had so much pride in their paper that they began publishing 'Wanpanbon', a name for books printed in Jeonju. Folk tales such as °∫Chun-hyangjeon°ª, °∫Simcheonjeon°ª, and °∫Tobeolga°ª have been printed as wanpanbon in Korean. Each letter on the wood printed books have left a deep impression on the pages made of Jeonju hanji. The people's love for these oral traditional story-turned books can be felt on every inch of the paper.
The best of Jeonju's generous hospitality, food

One meal in Jeonju is equivalent to three meals in any other city.  The portions are incredibly generous, the food is delicious, and the presentation is flawless.
Food with class; spoiling your taste buds

Traditional Jeonju cuisine is Korean food at its best. Guests will be served with home-style cooking that will remind them of family dinners on holiday. Jeonju residents take much pride in their food and hospitality. From Jeonju Korean Table d`hote to Jeonju bibimbap; anyone who tries the best of Jeonju's cuisine will remember their experience. Fresh ingredients, devout professionalism, and generous hospitality will make you feel like a king.  Surprisingly, such high standards are of the norm to Jeonju residents. The local cuisine is a source of pride and joy to those who live in this historic city, and rightly so. In 2012, Jeonju was chosen as a Creative Cities for Gastronomy as part of UNESCO's Creative Cities Network. Food is a major attraction factor for Jeonju, a city that offers a whole new standard of dining.
The hip new way to dine out, street food!
Jeonju cuisine is not all fancy and upscale. There are plenty of more casual yet equally satisfying ways to dine. One would say that Jeonju cuisine is best when served in Jeonju. The same goes for restaurants that only the locals would know. There is no better way to get to know the 'real' side of the city. Start the day with a hearty Kong-namul-gukbap (Bean Sprout and Rice Soup); enjoy spicy Omogari-tang (Spicy Fish Stew) under a giant willow on the banks of Jeonjucheon Stream for lunch; reward yourself with Makgeolli and a plentiful assortment of side dishes at the end of the day. Munch on a Choco (Chocolate) Pie between meals when you feel the need to indulge. Your tour around restaurants that offer the city's most beloved foods will bring you one step closer to Jeonju.
Lose yourself in the enchanting sound of Ongoeul
One of the reasons why Jeonju is famous for pansori is because of the high standards of 'master audiences.' Without them, master singers would not get the recognition they deserve.
Jeonju, city of good music

There's nothing that says Jeonju like the sounds 'jota!' or 'ulssigu!', typical to pansori perfor-mances.  The city is considered the home and birthplace of traditional classical Korean music, sometimes referred to as 'Korean opera.' As if to prove this point, the city hosts a long list of related festivals and competitions. Daesaseubnori is a festival unique to Jeonju and incorporates elements of Korea's traditional performing arts such as pansori, farmer's music (nongak), and traditional dance. There are institutions and facilities especially dedicated to Jeonju's traditional performing arts if you are interested in hearing the sounds of Jeonju. Visit Jeonju Traditional Cultural Center, where you will find outdoor musical shows. You can tune into Gugak FM where they have the world's first hanok studio.
Making the invisible visible

Intangible cultural properties are handed down generation to generation.  The Jeonju Municipal Government is committed to preserving and promoting cultural value.  It is the city's way of continuing its great heritage.
Jeonju has the highest ratio of 'living national treasures' to its population in all of Korea. It is no wonder why the National Intangible Heritage Center is situated in the city. Daily life in Jeonju is deeply immersed in traditional culture. The audience chimes in along with the master singer's performance; many households still hand down their family treasures. Korea's old culture is characterized by its distinct taste and style. There is no growth without paying due respect for past culture and arts. The Heritage Center realizes the people's will to protect and inherit its spirit and value.
42 masters or 'living national treasures' who carry on craftsmanship and skill
Go Su-hwan (musical instrument making) / Kim Gwang-suk (gyobangmu, the entertainer's dance) / Kim Nyeon-im (traditional Korean food chef) / Kim Dong-sik (fan making) / Kim Moo-cheol (hanryangchum, men's solo dance) / Kim Yeong-hui (sijo poetry) / Kim Jae-jung (wood furniture making) / Mun Jung-geun (Jeolla string instrument Buddhist dance) / Park Ae-sook (gayageum playing and singing) / Park In-gweon (fan making) / Bang Hwa-seon (fan making) / Seong Joon-sook (pansori) / Shin Wu-sun (dancheong making) / Eom Jae-soo (fan making) / Yeonsanjakbeob Preservation Association (yeonsanjakbeob Buddhist dance) / Oh Jong-su (gagok, lyrical song accompanied by orchestra) / Wang Gi-seok (pansori) / Yu Bae-geun (hanji making) /  Yun Gyu-sang (traditional umbrella making) / Lee Gang-seon (yeongsanjakbeob) / Lee Gil-ju (Honam Improvised Solo Dance) / Lee Seon-su (gagok, lyrical song accompanied by orchestra) / Lee Seong-geun (pansori drum) / Lee Soon-dan (pansori) / Lee Sin-ib (Jeonju nakjukjang, drawing on bamboo with heated iron) / Lee Ok-hui (pansori) / Lee Ui-sik (lacquering) / Lim San-bon (sijo poetry) / Jang Sang-cheol (yeongsangjakbeob Buddhist dance) / Jeolla Samhyeon-yukgag Preservation Association (Jeolla Sextet) / Jeong Byeong-ok (pansori) / Jo So-nyeo (pansori) / Jo Jeong-hyeong (traditional alcoholic beverages) / Jo Chung-ik (fan making) / Joo Bong-sin (pansori drum) / Ji Seong-ja (gayageum free-style solo) / Choi Seon (Honam Salpuri Dance) / Choi Dae-gyu (Jeonju nacre making) / Choi Dong-sik (instrument making) / Choi On-sun (embroidery) / Choi Jong-sun (instrument making) / Choi Chae-seon (pansori)
Life in Jeonju, a never-ending festival

The element of 'play' is deeply embedded in Jeonju's traditions.  Here is a guide on how to enjoy your time according to Jeonju residents. Every season is celebrated with a festival.
Movies in spring, bibimbap in autumn
The street is bustling with hurrying pedestrians, many of which are holding a print-out of their itinerary with a big backpack on their back. The crowd is international; the volunteers stand out from the rest in their bright yellow jumpers. May is the season for Jeonju International Film Festival. If springtime is for movies, summer is a season for Jeonju Dan-o Festival, while autumn is for Jeonju Bibimbap Festival and Jeonju International Sori Festival. Bibimbap, a dish synonymous with 'Jeonju', is now loved by gourmets all over the world. The dish is so popular that it has its own festival in its hometown of Jeonju. As you can see, there is something to celebrate whenever you visit Jeonju.
Taking a look at the list of festivals available in the area is a good way to learn what the city aspires to be. The festivals that Jeonju hosts are a good implication of what the city is like, the same way that Jeonju is the window to Korean culture. The city's festivals are growing more and more popular as the citizens take an active part in creating a memorable event. Get to know the art of papermaking at Jeonju Haji Culture Festival, sample some of the most flavorful sauces and pickles at the Jeonju International Fermented Food Expo, Jeonju Daesaseupnor Festival, which is a grand festival where traditional Korean musicians perform and compete. Treat your ears by participating in the Jeonju International Sori Festival, where you get to enjoy colorful, beautiful sounds from all over the world, or watch one of Korea's biggest b-boying competitions, Jeonju Bboy GrandPrix. Jeonju World Inline Marathon and Jeonju Dan-o Festival are also popular among tourists.
Delightful Eight Festivals of Jeonju
#1. Jeonju International Film Festival
4.28.(Thu)~5.7.(Sat) Flim Street
T 063-288-5433 www.jiff.or.kr
#2. Jeonju Hanji Culture Festival
5.5.(Thu)~5.8.(Sun) Korea Tradition and Culture Center
T 063-271-2503 www.jhanji.or.kr
#3. Jeonju Bboy GrandPrix
5.22.(Sat)~5.23(Sun)
Chonbuk National University Samsung Hall, Jungangsalim Square
T 063-273-5501 http://blog.naver.com/ youthhouse12
#4. Jeonju Daesaseupnor Festival
5.27.(Fri)~5.30.(Mon) Hanok Village area
T 063-252-6792 www.jjdss.or.kr
#5. Jeonju Dan-o Festival
6.9.(Sat)~6.10.(Sun) Deokjin Park
T 063-277-2515 www.pncc.or.kr/do.htm
#6. Jeonju International Sori Festival
9.29.(Wed)~10.3.(Sun) Sori Arts Center and Hanok Village
T 063-232-8398 www.sorifestival.com
#7. Jeonju Bibimbap Festival
10.20.(Thu)~10.23.(Sun) Korea Tradition and Culture Center
T 063-277-2515 www.bibimbapfest.com
#8. Jeonju International Fermented Food Expo
10.20.(Thu)~10.24.(Mon) Jeonju World Cup Stadium
T 063-210-6591~6 www.iffe.or.kr
※ The event details above are as of 2016 and they are subject to change based on unforseen circumstances of the or ganizers.