All About 2017 Jeonju Nambu Night Market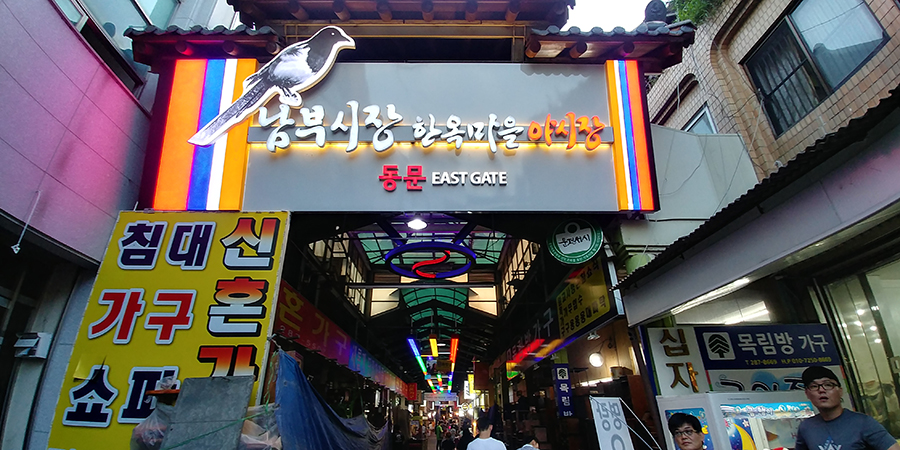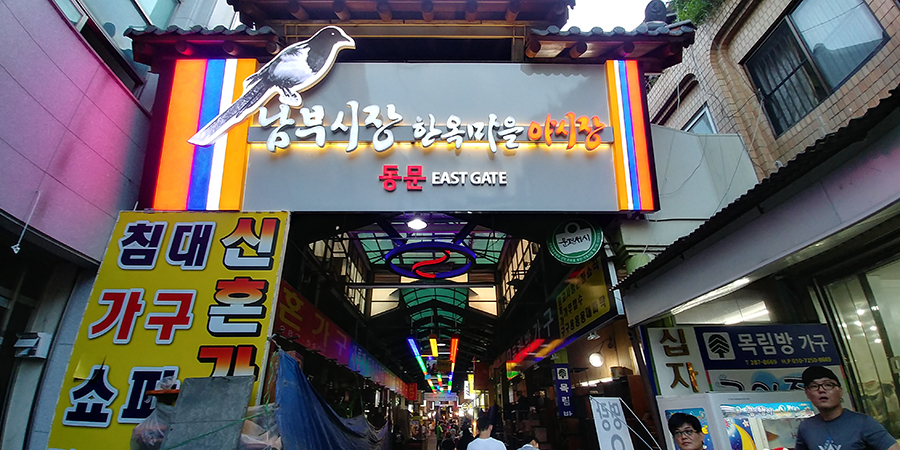 Dating back to the 15th century, the historic Nambu Market is the only surviving traditional Korean market. During the Japanese occupation era, the periodical markets around Jeonju were integrated to become a permanently established marketplace, which was named "Nambu Market." Then, the market was already as big as it is today, with almost two million people visiting each year. It still continues to be the biggest traditional marketplace in the region.
Even after Korea's independence, Nambu Market continued to be the commercial, financial, and transport center of Jeonbuk Province. The market was at its prime in the 60s and 70s. However, since the 80s, the establishment of large malls at the outskirts of the city led to the decline of traditional markets such as Nambu Market.
To revitalize Nambu Market along with the old Hanok Village area, the city of Jeonju opened the Nambu Night Market since October 2014. The night market offers a variety of things to eat and enjoy, from local and multicultural food venues to traditional and creative handicraft artworks and concerts.
The Nambu Night Market is crowded with venues harmonizing the traditional and the modern, local and global. Nowadays, the night market has become a must visit attraction representing Jeonju.
▶Opening hours: (from March to October) 19:00-24:00 / (from November to February) 18:00-23:00
▶Location: Around the Nambu Market's main crossroad
▶Contact: Nambu Market Merchants' Association 063-288-1344
▶Homepage: www.facebook.com/nbnightmarket
http://blog.naver.com/nbmarket
▶Parking
Nambu Market Chunbyun (riverbank) parking lot
Free for the first one hour, but extra 30 minutes free parking voucher is offered if you purchase something from the market. After that, 200 won per 10 minutes charge applies.
Nambu Market Gongyoung parking lot (behind the Jeonbuk Bank Nammun Branch)
One hour free parking voucher offered if you purchase something from the market. After that, 200 won per 10 minutes charge applies.
Introduction to the venues at the night market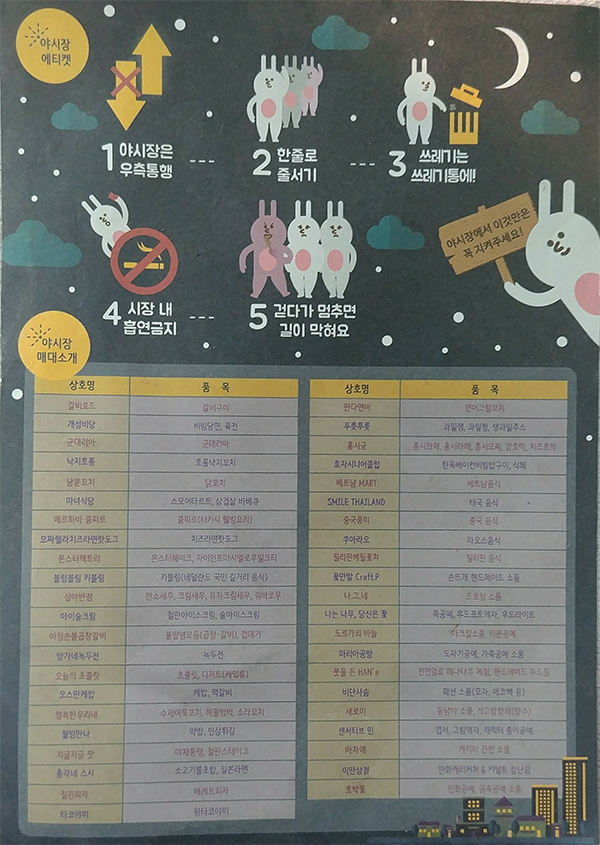 The atmosphere of the night market
Since it's summer, the venues are being set up from 7 in the evening.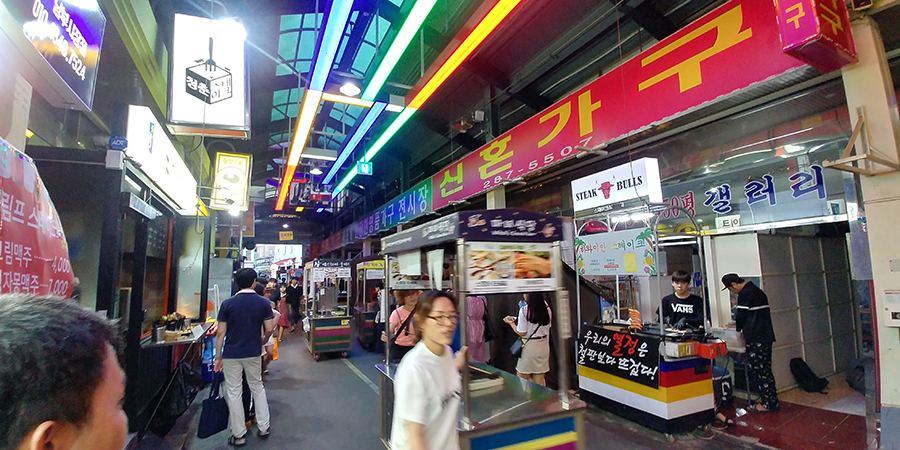 Tourists and locals alike flow into the market. The charm of traditional marketplace and romantic atmosphere of weekend evening blend together.
The venues fill the crossroad area at the center of Nambu Market. I came here on empty stomach to enjoy what the night market has to offer as much as possible. I started with the food venues.
Ajimson Bulgopchang Galbi (spicy chitterlings and ribs)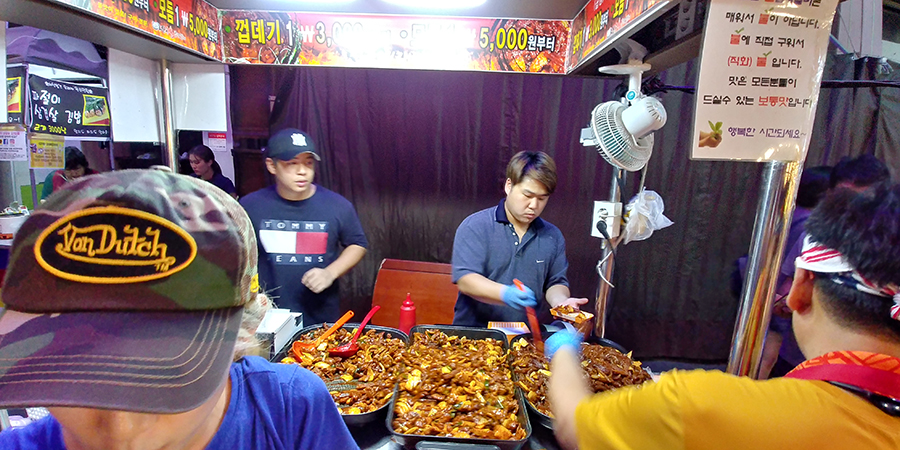 The chitterlings, short ribs, and pork rinds are marinated with special spicy sauce and barbecued over briquets, just like in the 60s and 70s.
Bonjour Cordon Bleu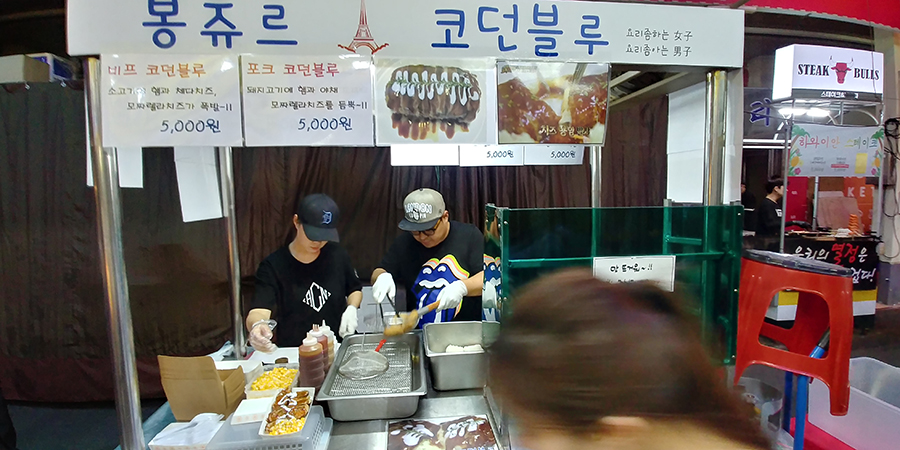 The cordon bleu is generously filled with beef, pork, ham, vegetables, and mozzarella.
Hawaiian Steak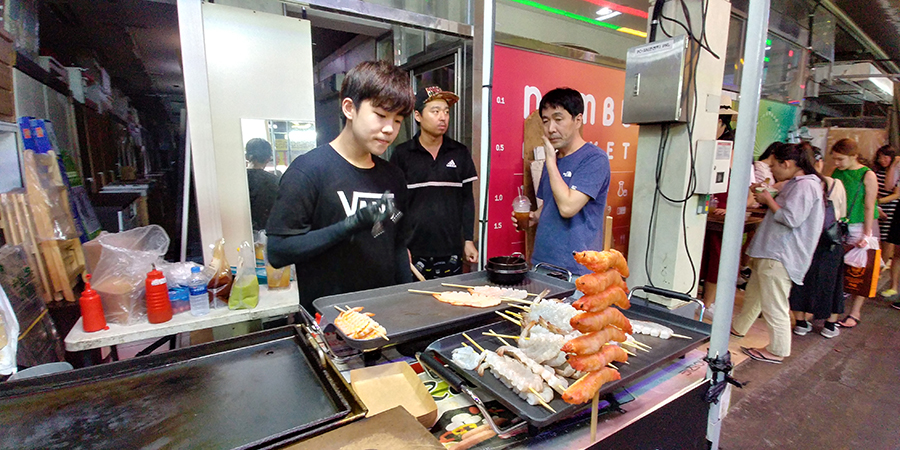 Pan-fried beef bolar blade is offered with big juicy shrimp.
Vietnam MART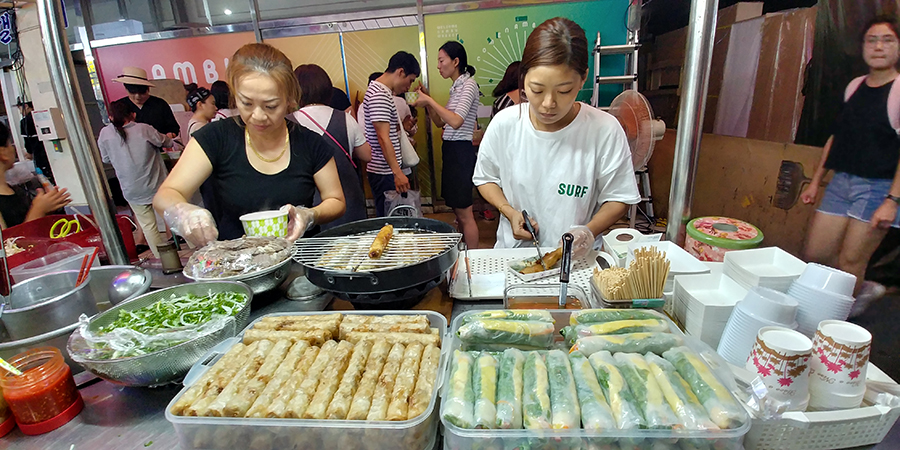 This venue sells delicious rice noodle, cha nem (deep-fried spring roll), and fresh spring roll. Prices start from mere 1,500 won!
Joongguk Pungmi (Chinese Savories)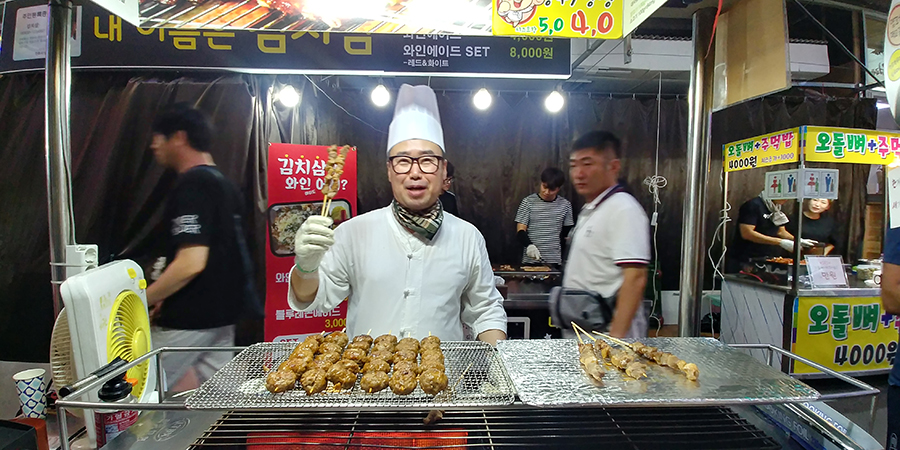 This venue sells roasted lamb and beef skewers, pork shot rib patties, and tan-tan noodle. The skewers are aromatic and delicious.
Yangganae Nokdujeon (pan fried mung bean pancake)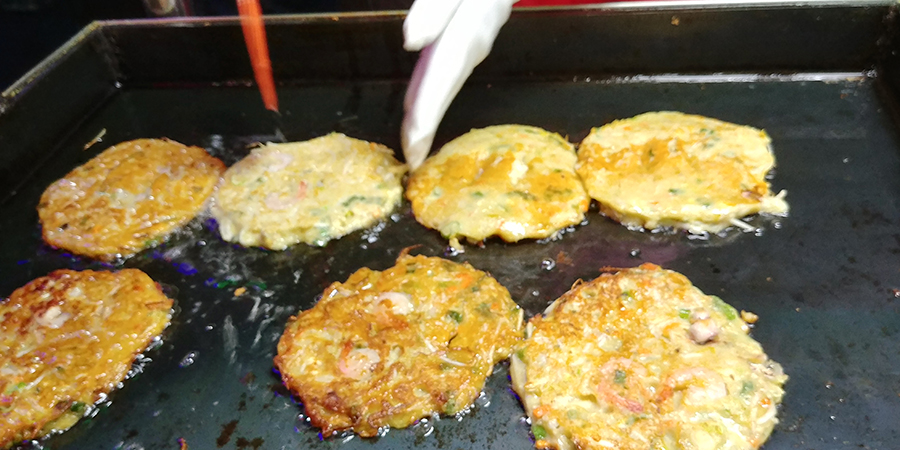 Nokdujeon (pan fried mung bean pancake) is a typical traditional Korean street-marketplace food. The crunchy green bean sprouts and seafoods are very harmonious.
My Name is KimchiSam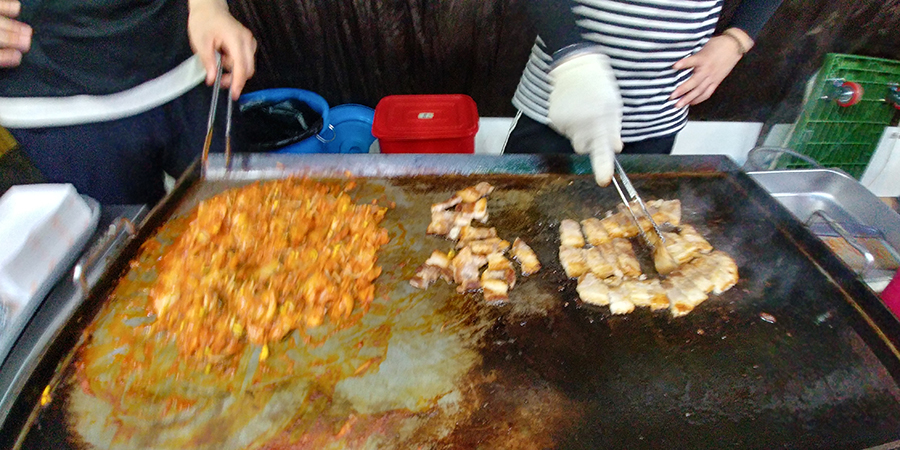 The typical (and the most popular) Korean combination of pan-roasted Kimchi and Samgyeopsal (pork belly) meets cheese and wine.
SMILE THAILAND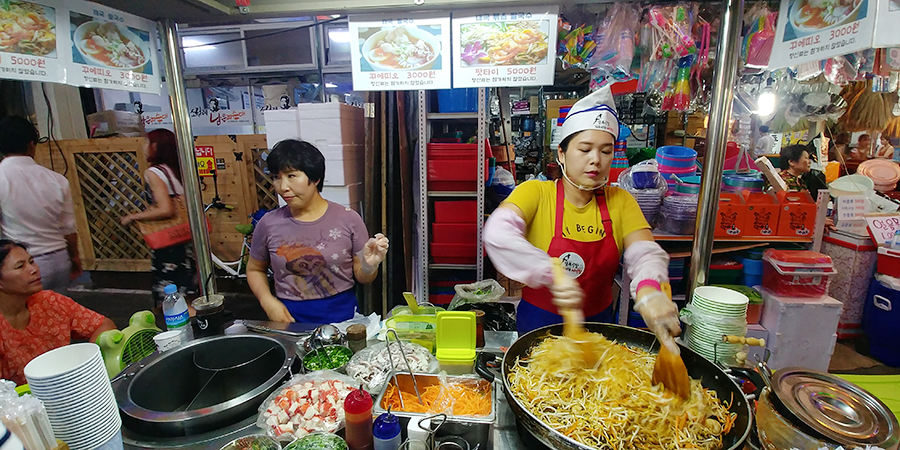 Pad Thai and rice noodle.
Nakji Horong (roasted small octopus skewer)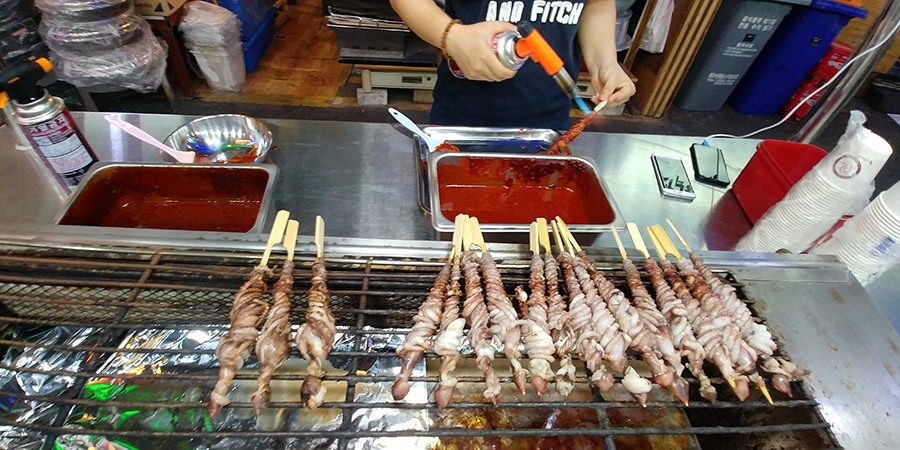 The horong nakji kochi (grilled small octopus skewer) with fiery spicy sauce.
Icesoolcream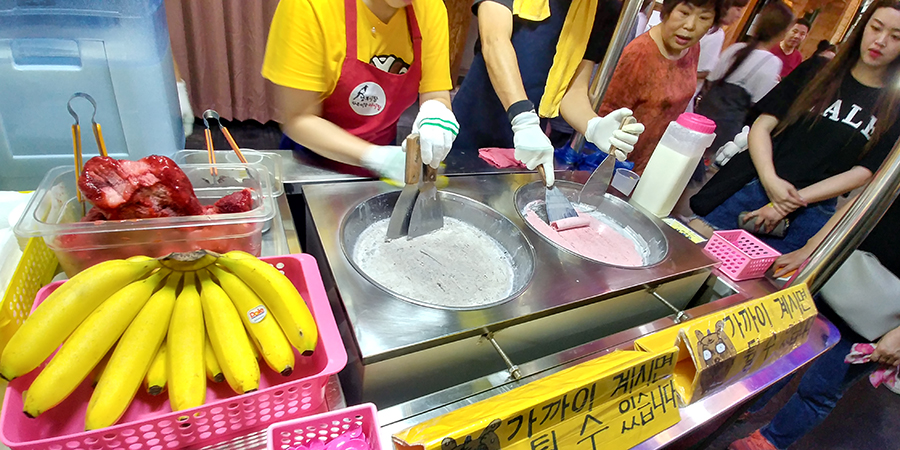 'Sool' means 'alcohol' in Korean. This venue ice-cream made purely from milk and alcohol blended on a metal plate.
Haengbokhan Woorinae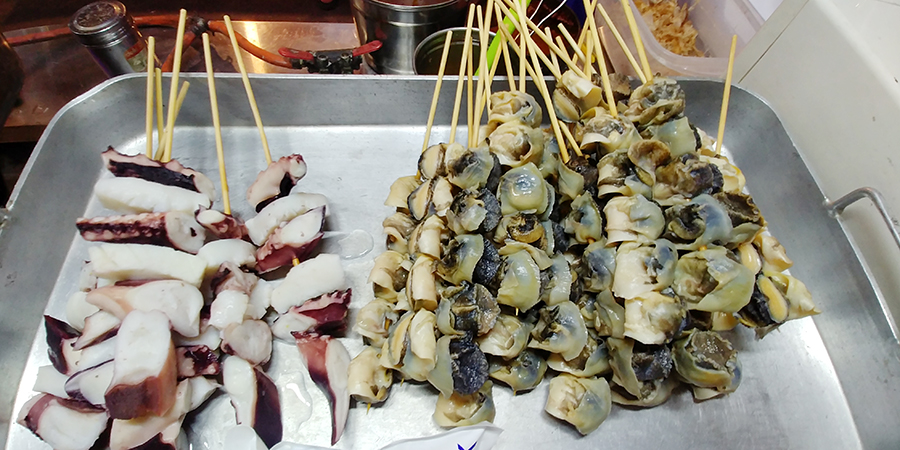 This venue specializes in seafood skewers: top shell, octopus, and fish cakes with five different flavors.
Panda Yeono (salmon)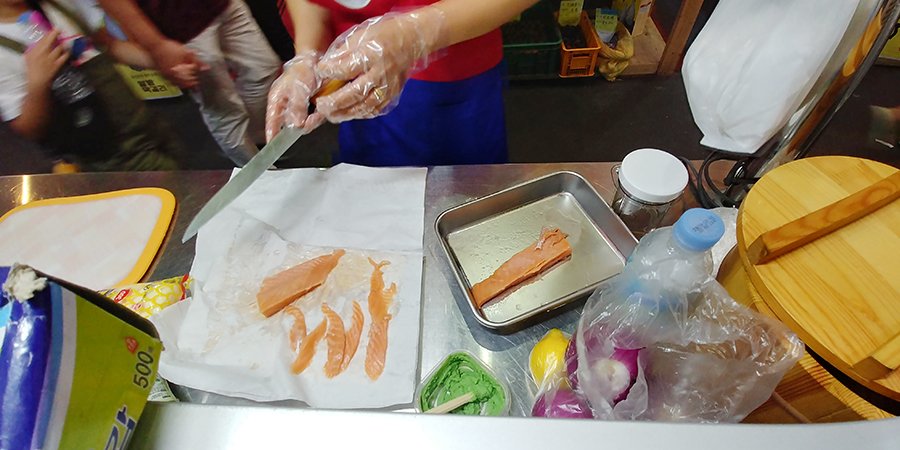 Panda Yeono sells grilled salmon skewers, prepared upon order. The bright orange flesh of salmon is appetizing!
Chillin Pizza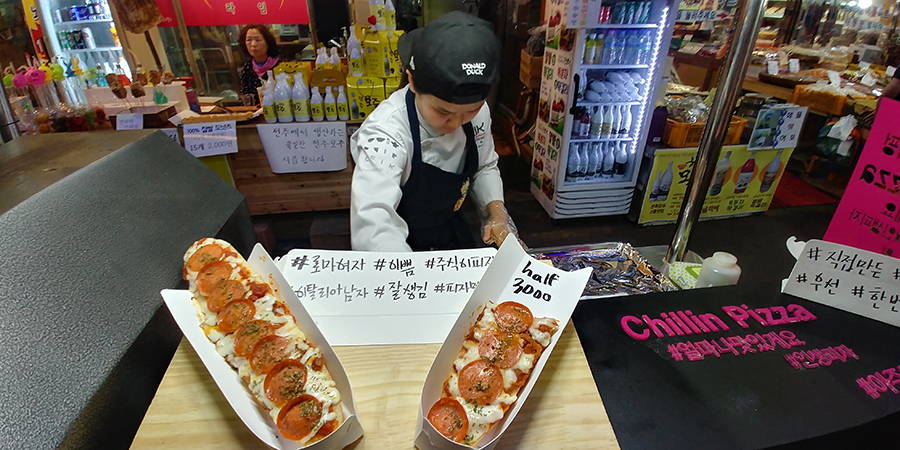 The reason why Italian people are good-looking is that they eat pizza. This venue sells baguette pizza.
Gaesung Bidang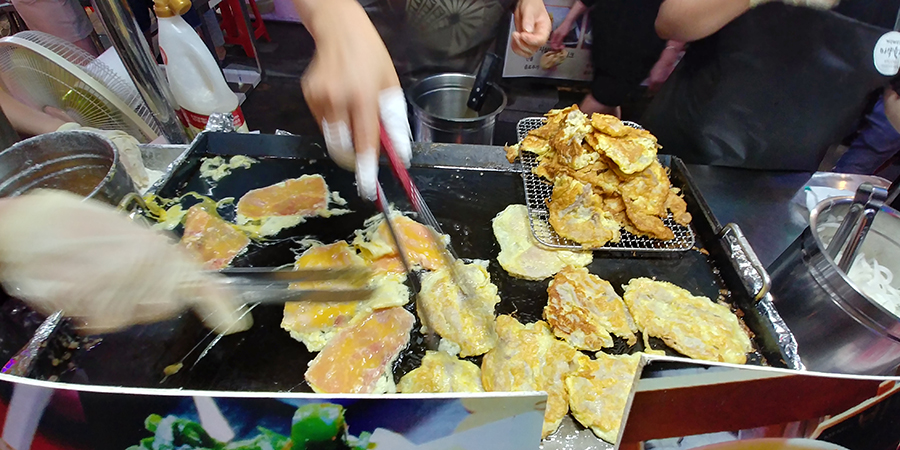 The pan-fried hammered beef and spicy mung bean noodles were very popular.
Hyoja Senior Club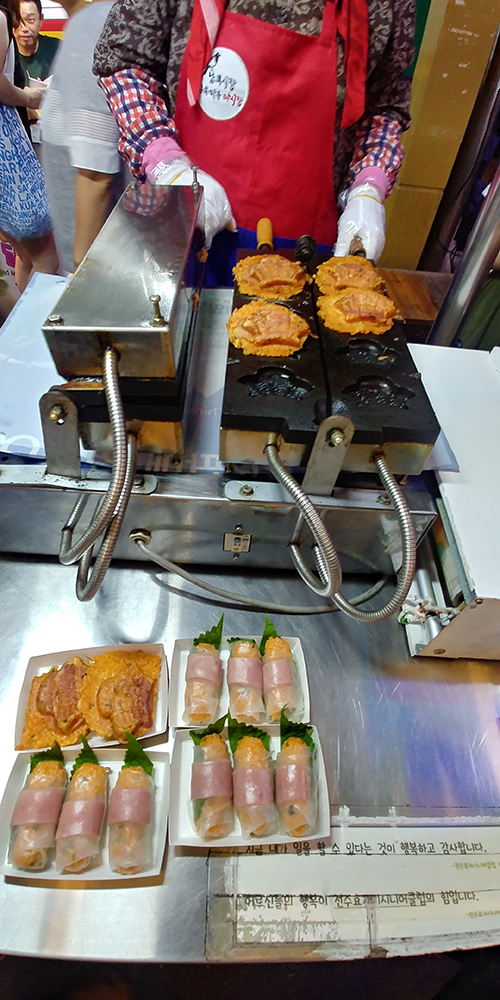 Run by a local seniors' club, this venue sells roasted bibimbap and bibimbap wrapped in vegetable leaf. Refresh your mouth with cool sikhye (Korean traditional sweet fermented rice drink).
In the middle of the streets are places to eat what you bought.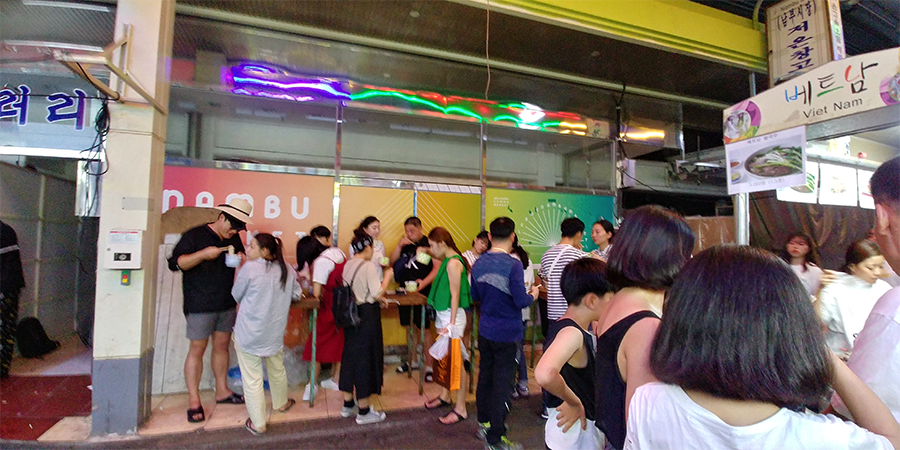 Monster Factory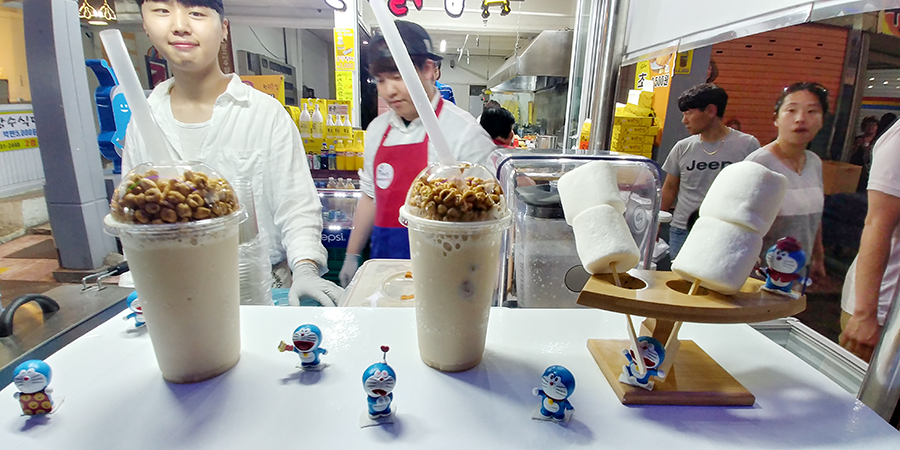 This venue is famous for the sweet Jollypong (famous Korean sweet corn puff snack) Shake.
Mozzarella Cheese Ramyun Hot Dog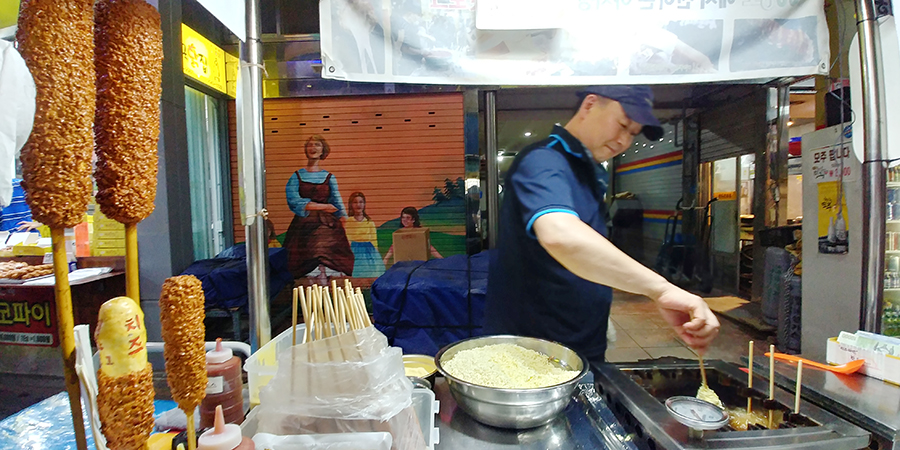 This deep-fried hot dog is made from the blend of sweet pumpkin and mozzarella cheese and home-made sausage.
Well Being Manna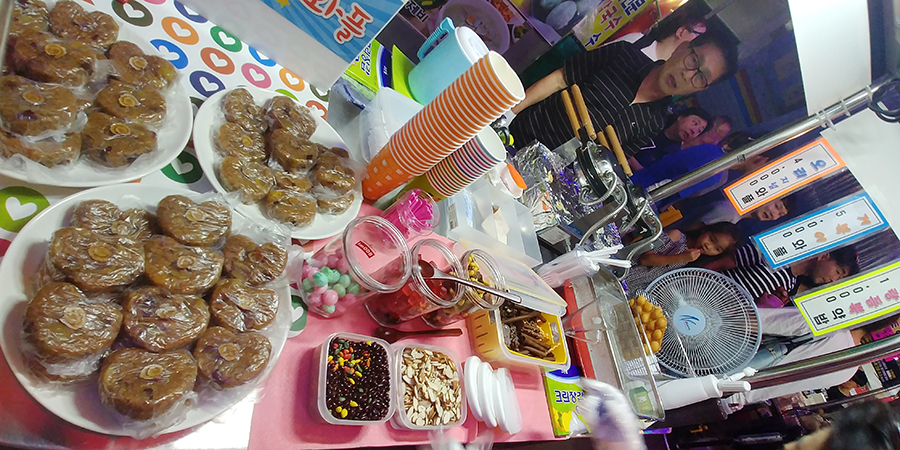 This venue sells a traditional yakbap (flavored glutinous rice mixed with honey, dates, and nuts) and a waffle generously filled with cream and fruits.
Yachae Tungtaeng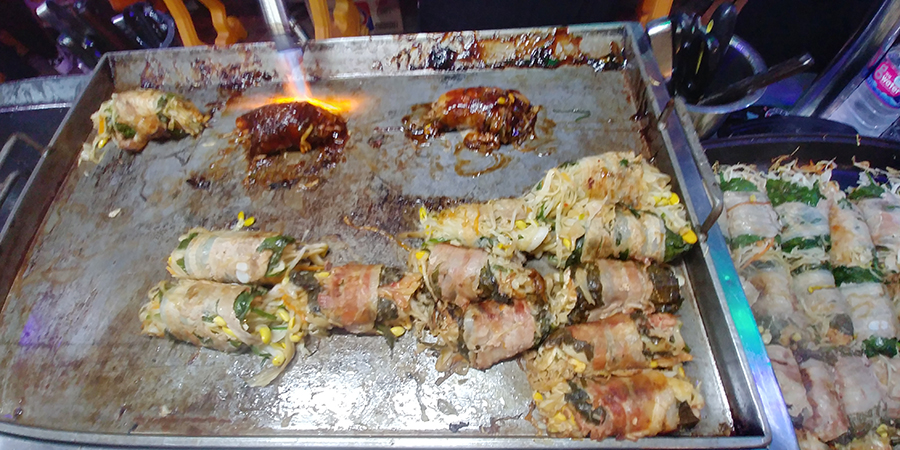 This venue sells pan-friend vegetable bacon rolls, with special home-made sauce.
Gundaeria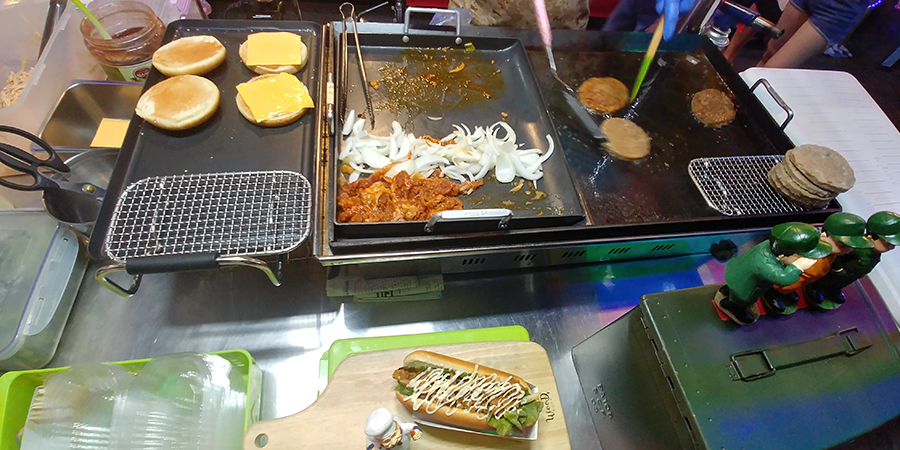 This venue sells Korean military-style hamburger, hot dog, and hardtack.
Jayeon Mi-in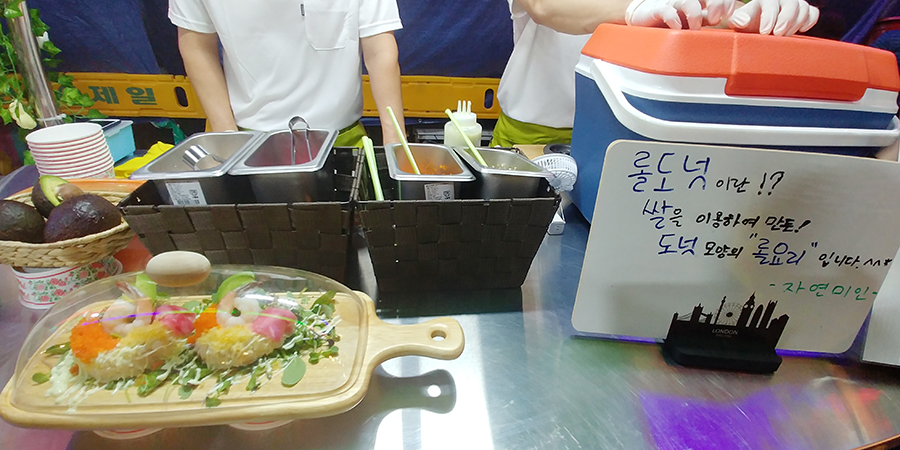 It's called 'roll donut', but it's actually a huge Californian roll.
Chonggaknae Sushi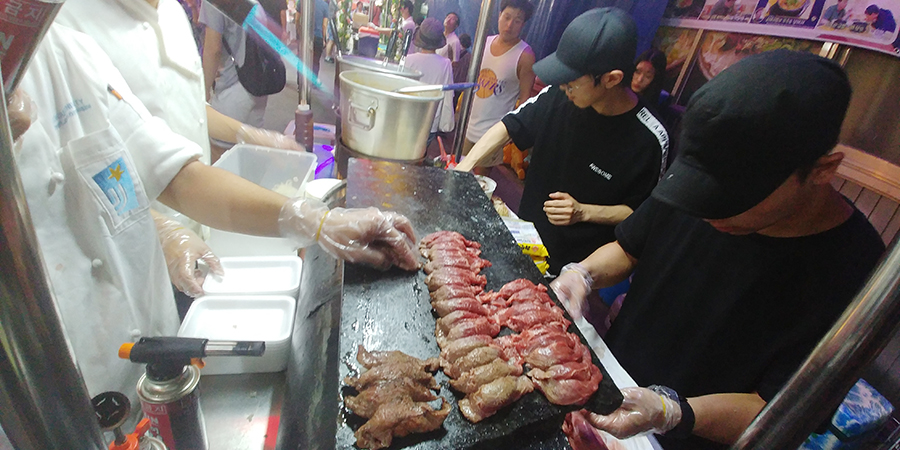 Probably one of the most popular venues in the night market, this venue sells fresh torched beef sushi and Japanese ramen.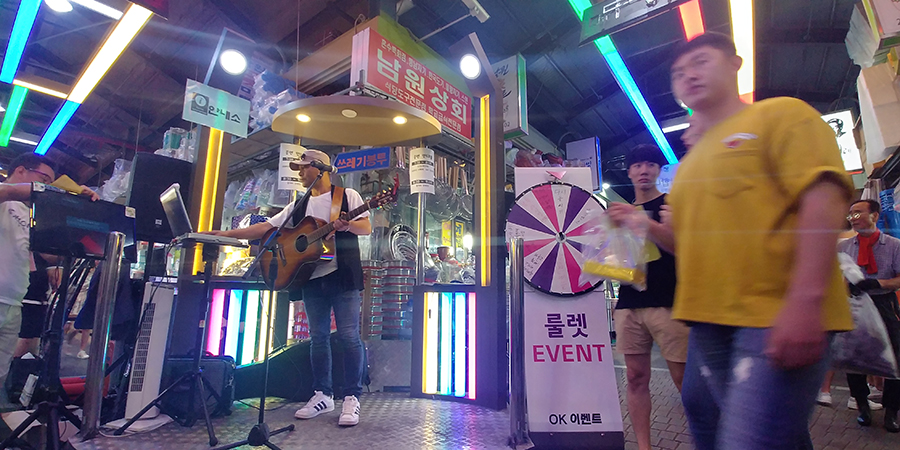 Concerts and other performances were being held near the market crossroad. The evening is getting livelier!
Onului Chocolate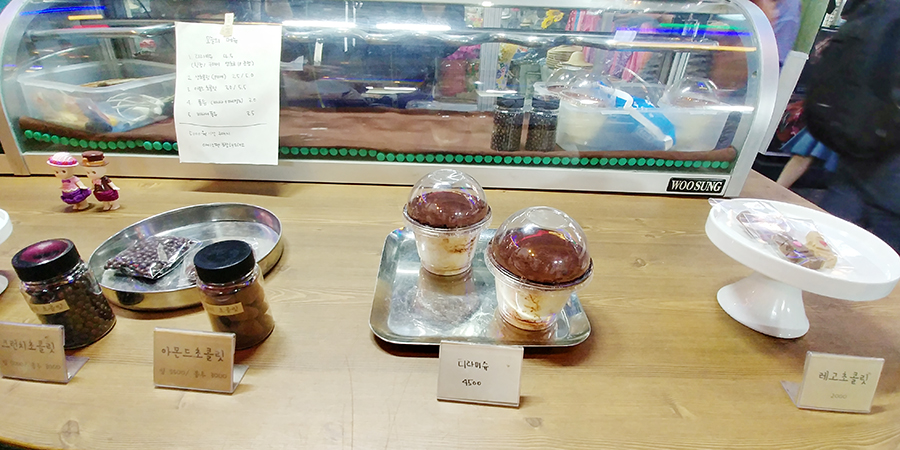 Here, sweet desserts like chocolate fondue, tiramisu, and pave chocolate are on display. This venue specializes in home-made chocolates made from French Valrhona chocolate.
Honmani Takoyaki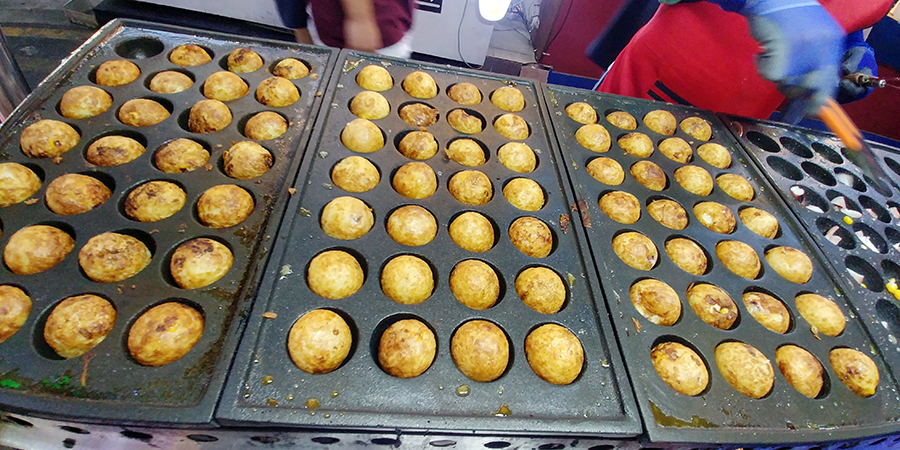 The big takoyakis are made according to the original Osaka recipe.
Tukgalbirul Pumun Jeonbok (Pork short rib patty within roasted abalone)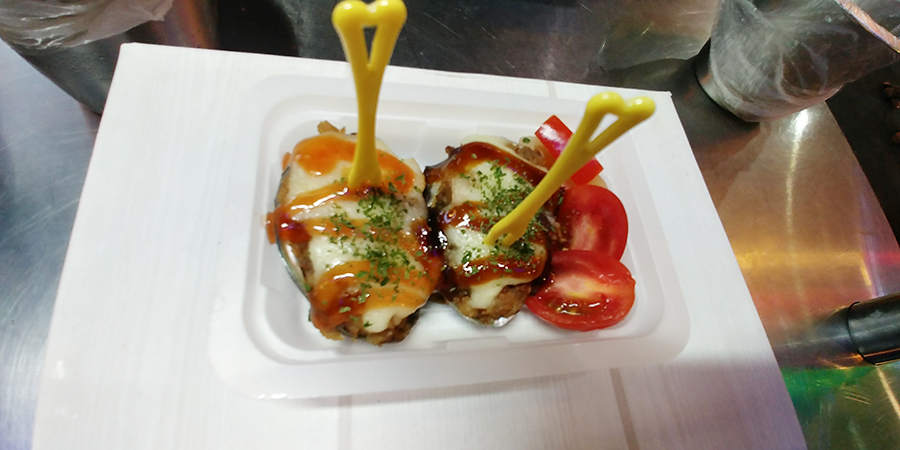 The pork short rib patty and abalone are two delicious ingredients from land and sea, garnished with grilled cheese.
Manyo Sikdang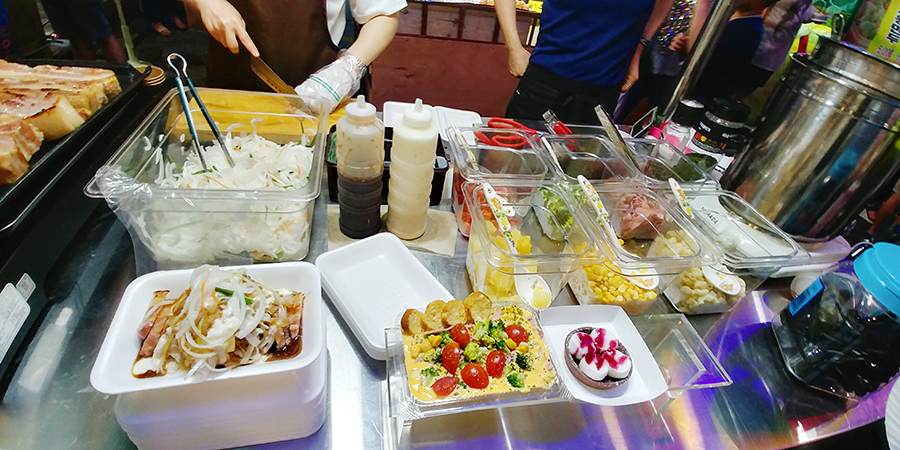 This food venue is run by local mothers. They sell home-made garlic sauce with pork belly barbeque, manyo potato exploding with cheese, and s'more tart.
Soojae Jelly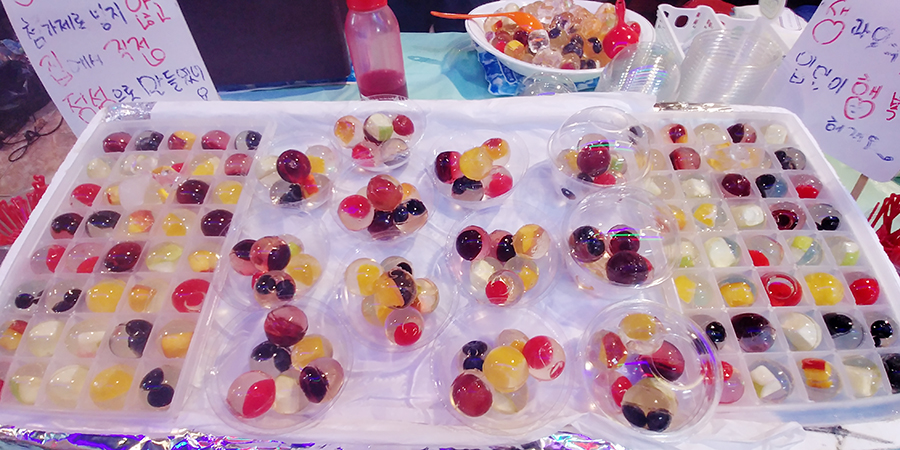 Too beautiful to eat and chewy home-made jellies will overflow your mouth with fresh flavor of fruits!
Other food venues include,
Doeji Kupdaegiwa Dakbalui Johwa (the harmony of pork rinds and chicken feet)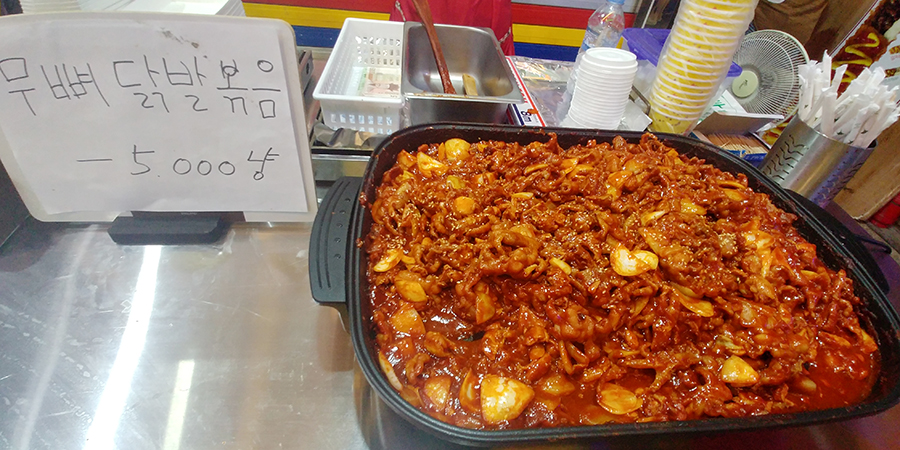 Bonheur-ui Crepe (crepe of Bonheur)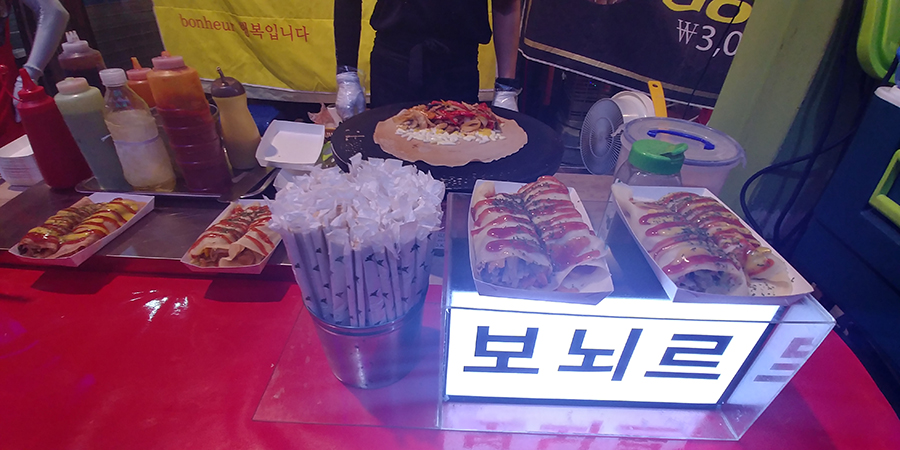 Jujeonburiro Gumanin Dakkochiwa Yumtong (chicken and heart skewer for nibble)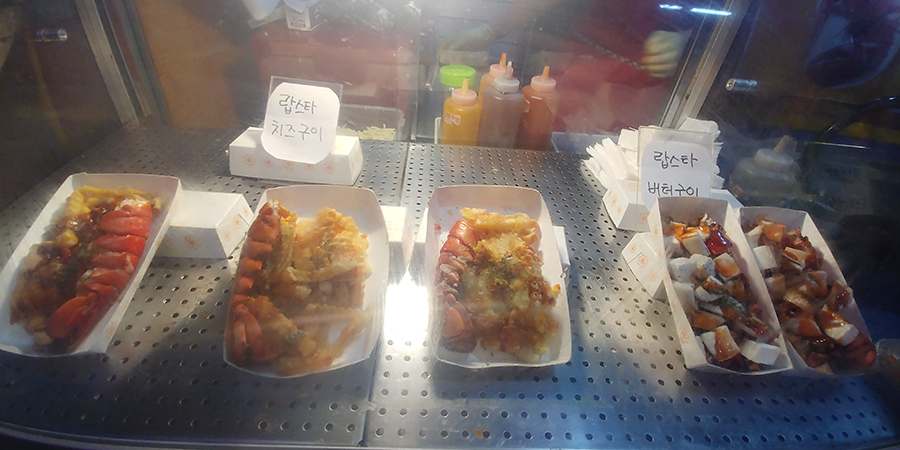 Butter Roasted Lobster
If you had enough to fill your stomach, lets head off for craftwork venues. They have all sorts of things that will please your eye!
Bootul Deun HAN'S (HAN's holding a brush)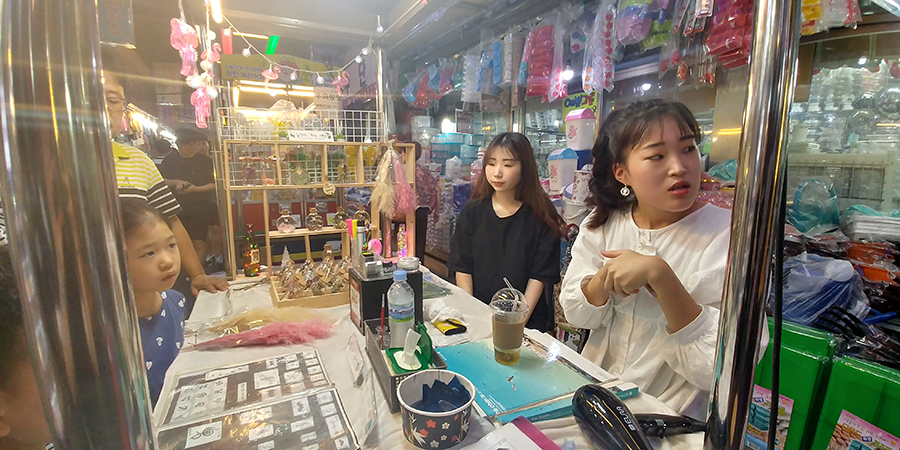 Here, you can try henna tattoo and buy a charming small lamp to lighten up your night mood.
Itan Sangjeom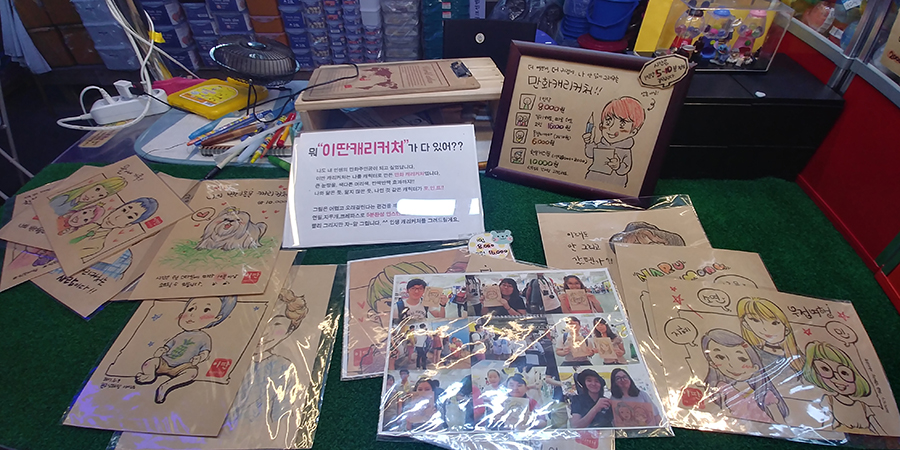 Here, you can order a comic caricature paining of your face and buy funny 'kidult' things that will take you back to your early years.
Kotmanbal caft.p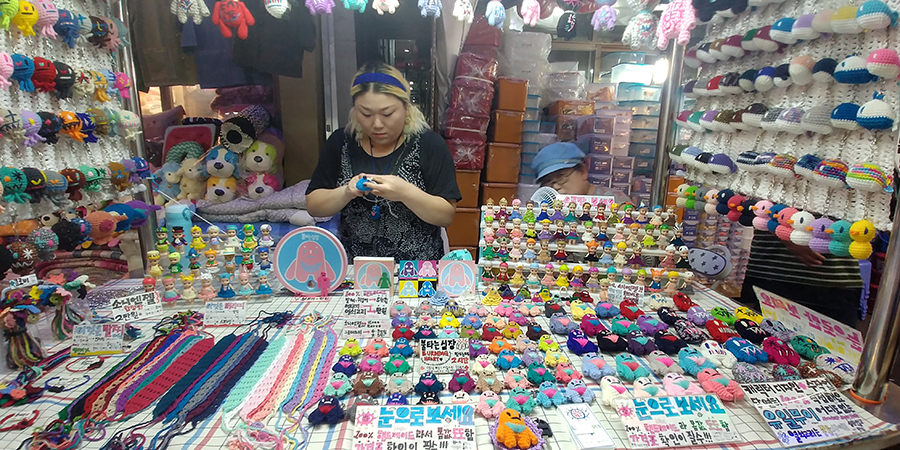 This venue is filled with cute hand-knitted things! The venue owner must have put a lot of efforts in it.
Nagunae (a traveller)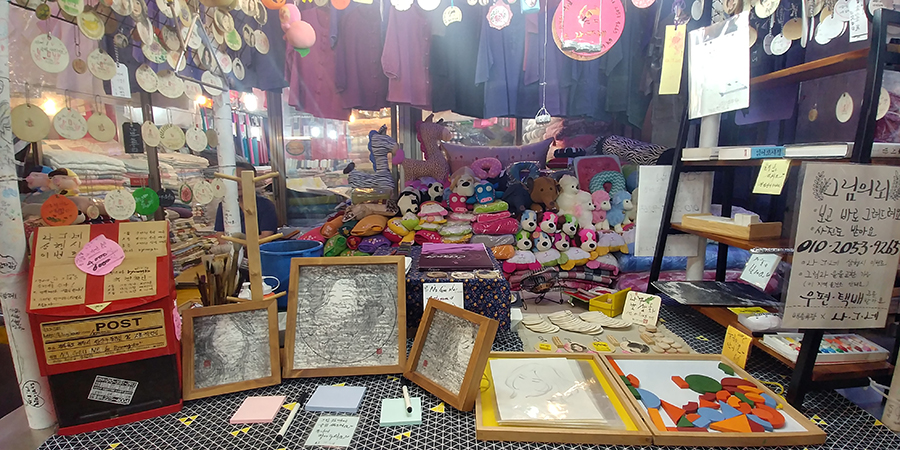 The venue owner can draw pretty much anything you ask. A portrait on a round wooden board is the most popular.
Hobakkot (Pumpkin Flower)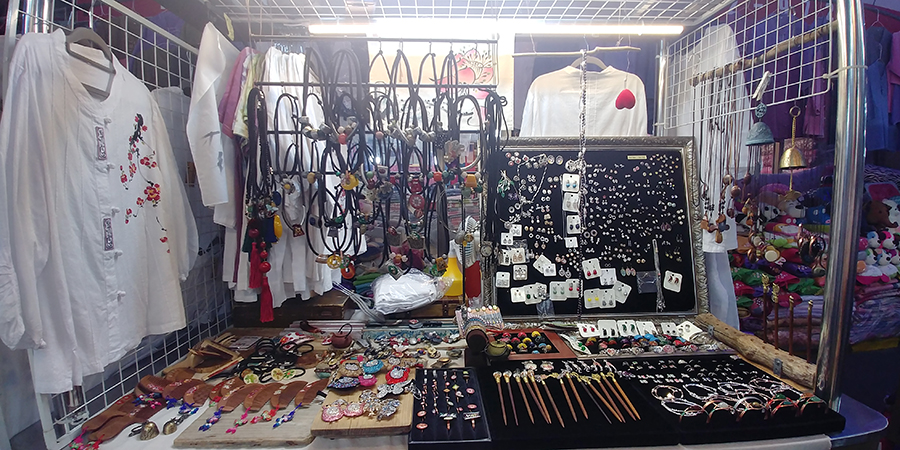 Inspired by traditional Korean folk paintings, this venue offers customised craftworks to suit your need.
Cute colorful flowerpots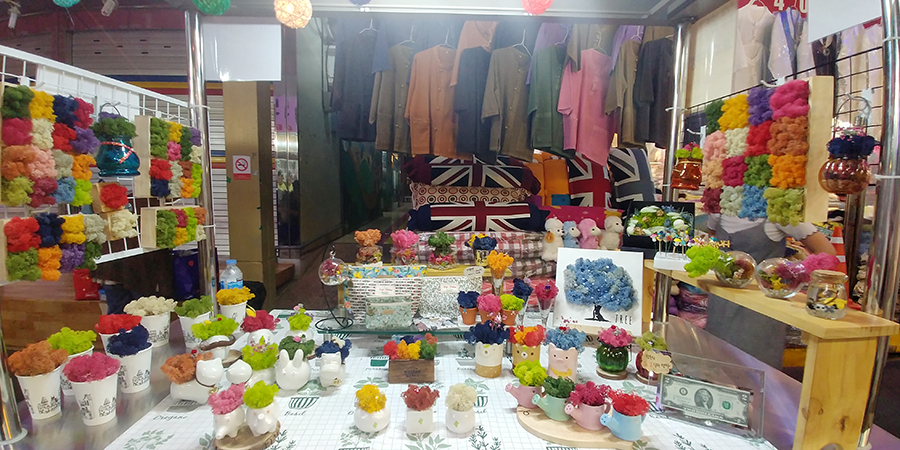 Maria Gongbang (Maria's Workshop)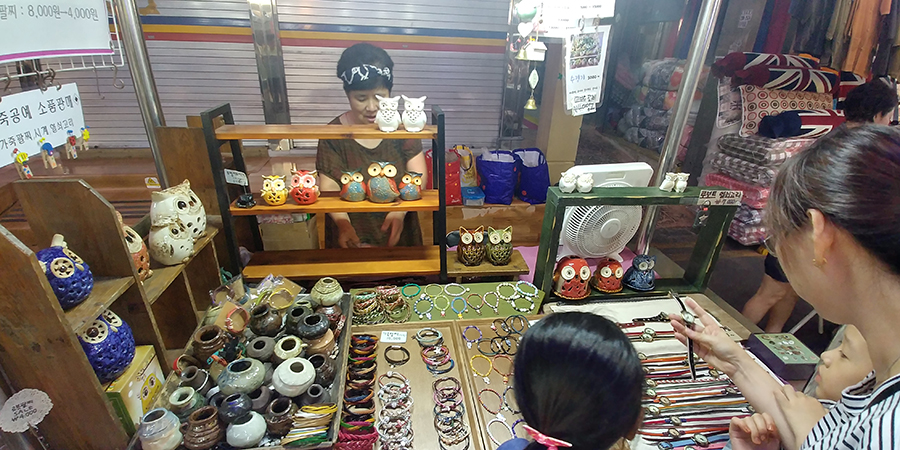 Visit here if you need unique hand-made porcelains or leather goods.
Saeromi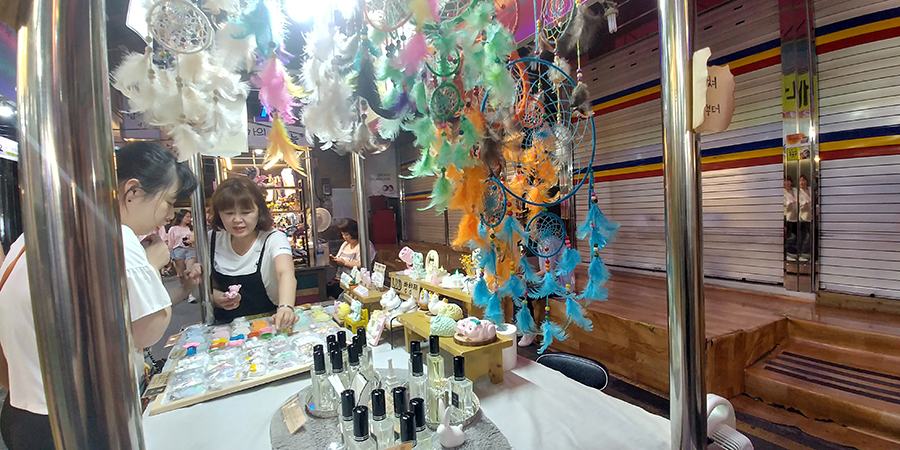 This venue sells a variety of Asian handicraft goods, dream-catchers, home-made perfumes, and aromatic plasters
Nanun Namu Dangsinun Kot (I'm a tree, you're a flower)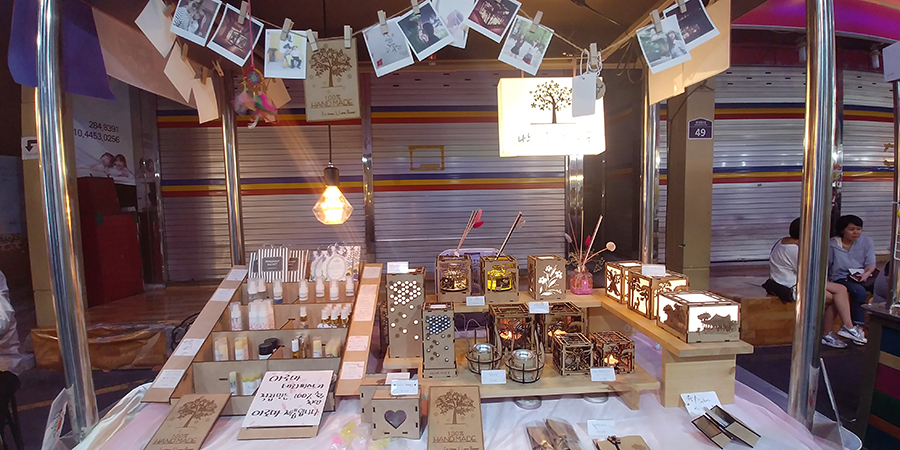 This venue sells wooden and acrylic crafts, wooden photo frames, wooden lamps, and the like.
Sensitive Min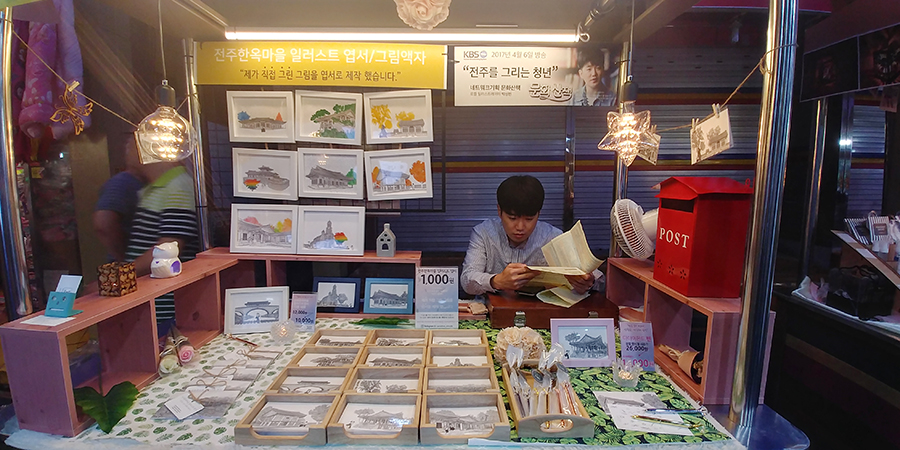 This venue sells postcards printed with a local illustrator's paintings of Jeonju, picture frames, and papercraft goods.
While you're in Jeonju, don't forget to visit Nambu Night Market to enjoy the festive atmosphere of a traditional marketplace and the cool but romantic night breeze of Jeonju!