Opening Ceremony of the 19th Jeonju International Film Festival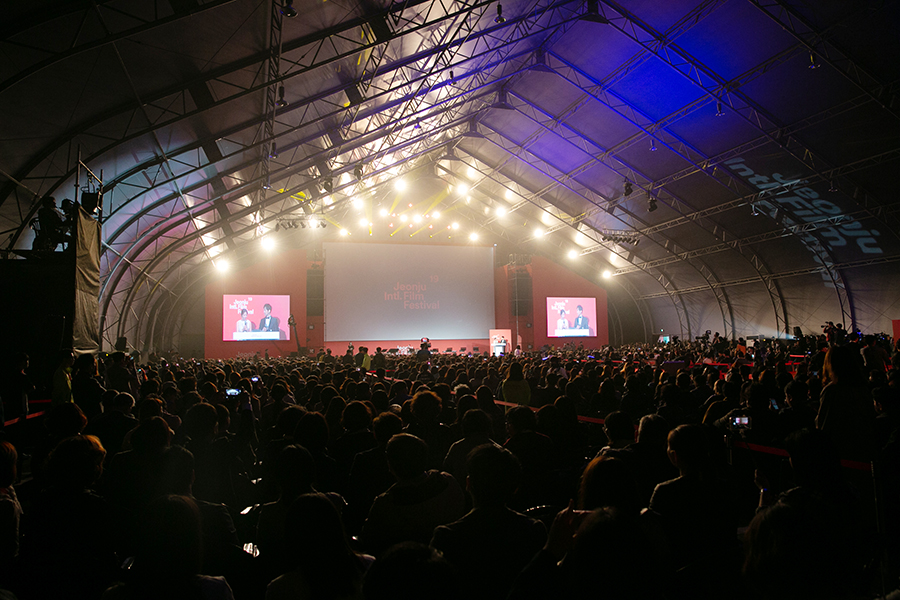 The grand opening ceremony 19th Jeonju International Film Festival (JIFF) (2018.05.03~2018.05.12) was held on the May 3rd with the cheering crowds filling the Film Street of Jeonju's old downtown.
According to the JIFF secretariat, this year set the highest pre-sales record in the history of the film festival.
246 films (202 long and 44 short) from 46 countries will be screened in this year's JIFF, which is the largest scale ever. 61 films (30 long and 31 short) will be screened as world premiere, 5 films (long) will be screened as international premiere, and 51 films (46 long and 6 short) will be screened as Asian premiere.
This year's program section consists of International Competition, Korean Competition, Korea Competition (short), Frontline, World Cinemascape, Masters, Korea Cinemascape, Expanded Cinema, Cinemafest, Midnight in Cinema, Cinematology, Special Focus (Disney Legendary; Raul RUIZ' Time Regained), and others.
This year's opening film is <Yakiniku Dragon> directed by Chong Wishing. Yakiniku Dragon is a story about a Korean family running a grilled tripe restaurant at a village near Kansai airport in Japan when Expo '70 was held. The story is based on an original play written by Chong Wishing, a Korean director and script writer living in Japan. Yakiniku Dragon, a play made in collaboration between the Seoul Arts Center and the New National Theatre Tokyo, has been performed in Korea and Japan receiving multiple awards since 2008.
Yakiniku Dragon conveys vigorous life of Zainichi villagers sharing common trauma as they argue, reconcile, love and break up. Through the impressive story of characters intensively affecting each other, individual yet conventional sense of life is expressed on screen. Harmony between Korean actors Kim Sangho and Lee Jeong-eun and Japanese actors Maki Yoko and Inoue Mao is wonderful.
Crowds were already flooding into the Film Street hours before the opening ceremony of the 19th JIFF. The visitors formed a long line in front of the photo spot.
'Outlet for Cinematic Expression'
The slogan of the 19th Jeonju International Film Festival is 'Outlet for Cinematic Expression'. The JIFF is keen on communicating with the audiences through a variety of events related to independent and diversity film.
The red carpet ceremony
The opening ceremony started at 18:00 with the red carpet ceremony, followed by the main opening ceremony and the screening of the opening film.
The audiences cheered the directors and actors walking on the red carpet. The ceremony was hosted by actor Kim Jae-won and Chae soo-bin.
This year's JIFF holds masterclass, cinematology class, and talk class where the people working in filmmaking and the audiences can exchange their experiences and opinions.
Even if you haven't booked the pre-sales ticket, there's still some tickets that can be bought online and on-site. You'll get to experience the world of diverse independent films from all over the world!