All About the Nambu Night Market in 2018
Every Friday and Saturday evening, Jeonju Nambu Market transforms into a vibrant night market full of exotic food stands.
Almost a century old, Jeonju Nambu Market is only a street away from the famous Jeonju Hanok Village. Jeonju has been the commercial center of the Southwestern part of Korea for centuries. The products from the nearby mountains, forests, rice fields, rivers and sea still gather in Jeonju Nambu Market.
Although Jeonju Nambu Market is more of a traditional market, in weekends, it transforms into a vibrant cultural and tourist center of the city. Both young and old travellers and locals flood the streets of the market. This week, I'll introduce the Nambu Night Market.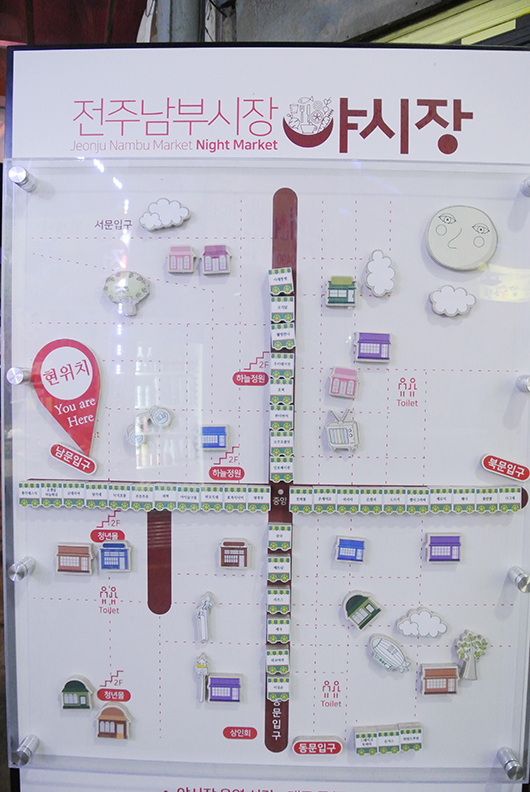 Night Market Open Hours: Every Friday and Saturday 19:00-24:00 (Summer season) or 18:00-23:00 (Winter season)
Caution: walk on the right side since the streets are busy; make sure to recycle your garbage; bicycles and motorbikes cannot enter the market during the Night Market
Venues for meals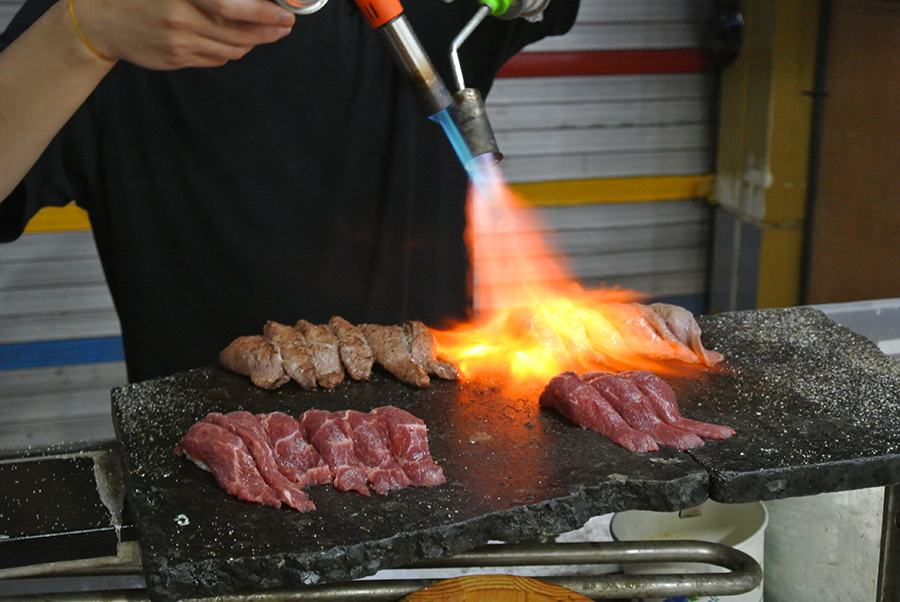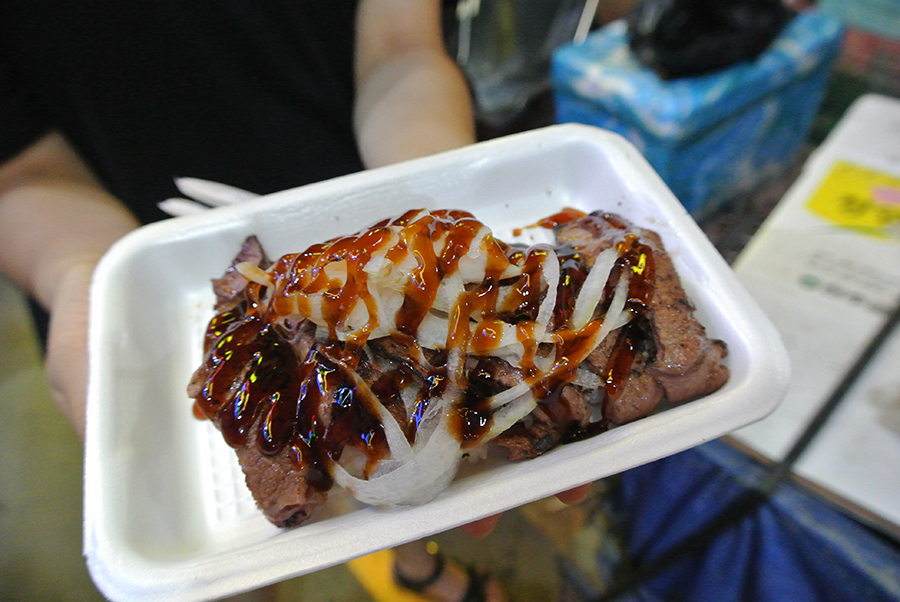 Chonggaknae Sushi
A dish of torched beef sushi is 5,000 won (6 pieces).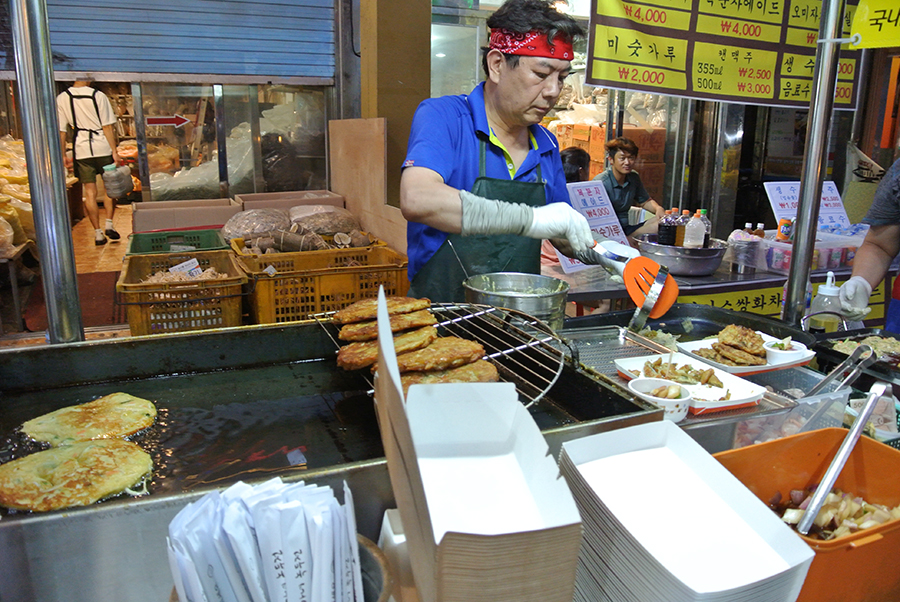 Yangganae Nokdujeon
A warm nokdujeon (mung bean pancake) is 4,000 won.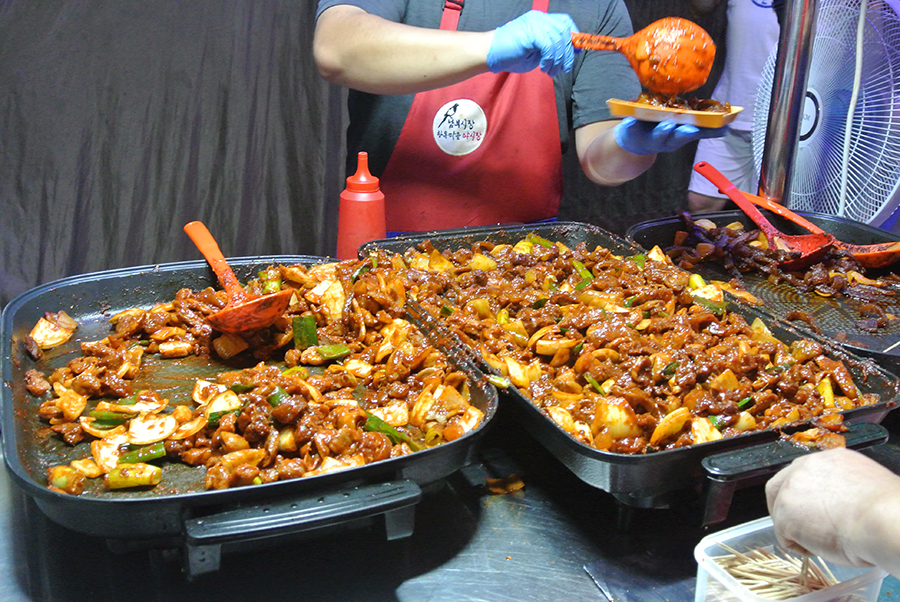 Ajimson Bulgopchang and Galbi
A dish of spicy pan-fried pig skin and intestine is 4,000 won (skin only) and 6,000 won (both).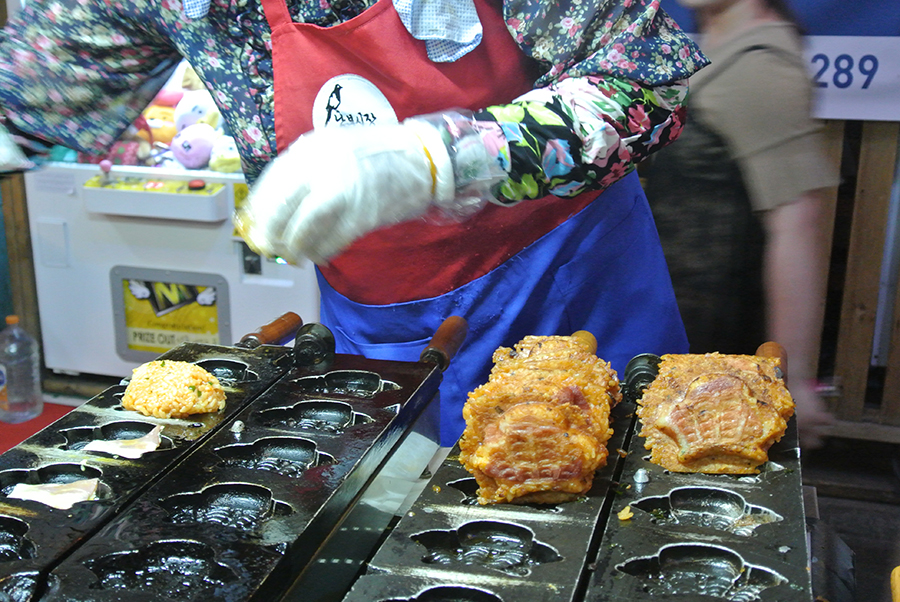 Hanok Bibimbap Gui
Metal frame roasted bibimbap is 3,000 won (2 pieces).
Daknalgae Bokumbap
Taiwanese-style chicken wing fried rice is 4,000 won.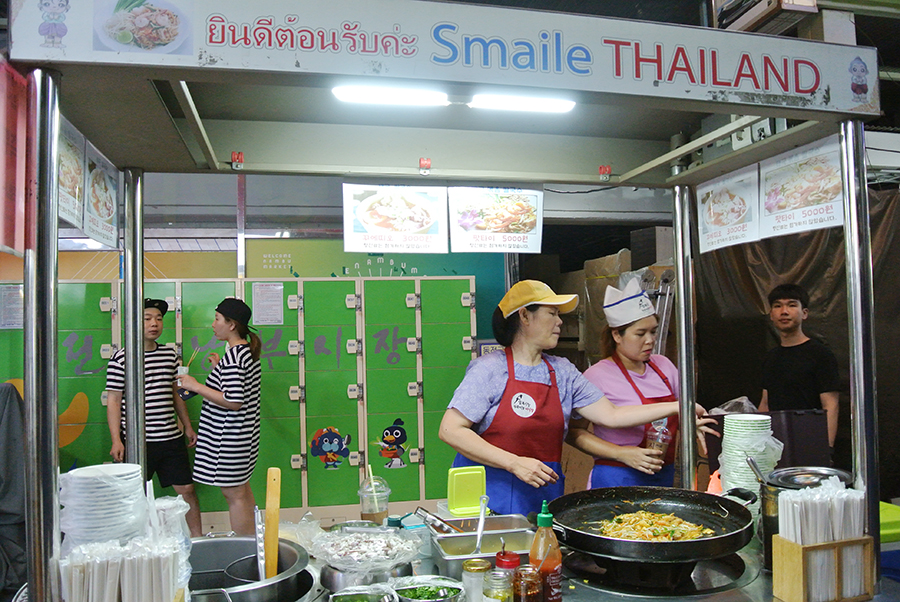 Smaile Thailand
Kuay Tiao (fried rice noodle) 3,000 won; Pad Thai 5,000 won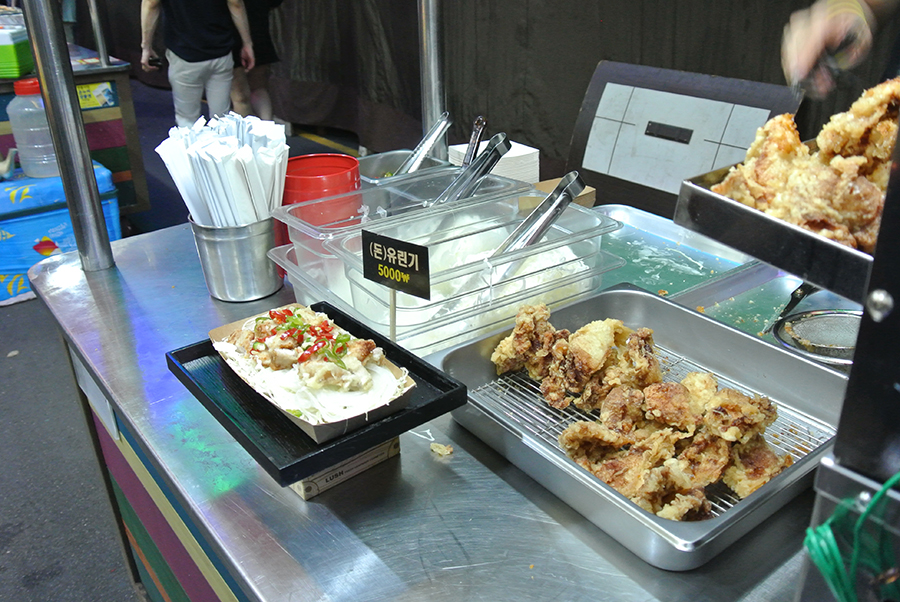 Lang Sikdang
Crispy fried chicken with sweet and sour soy sauce: 5,000 won a dish
Yachae Tungtaeng
Pan-fried bacon-vegetable roll: 3,500 won (1 piece) and 6,000 won (2 pieces)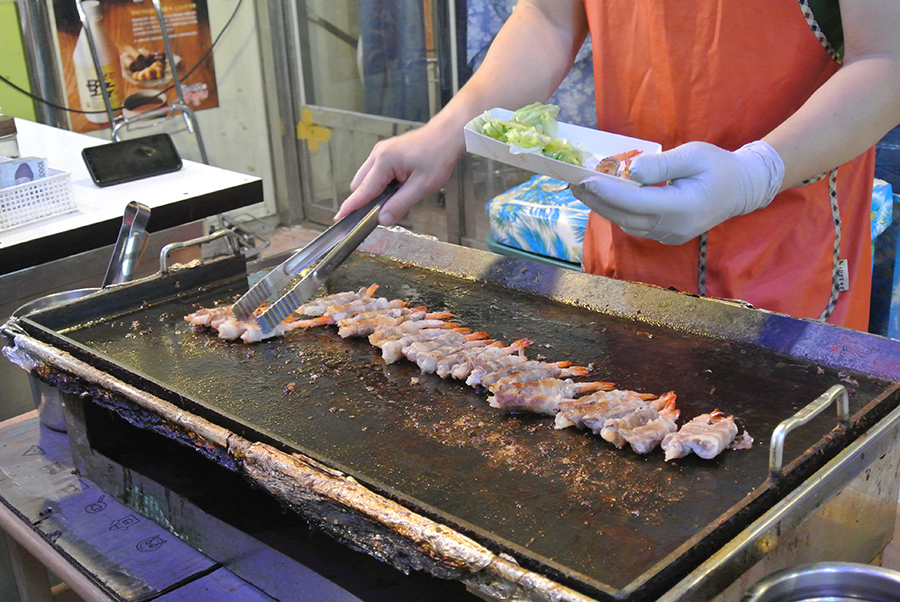 Daepae Saewoo
Pan-fried shrimp rolled in pork slices.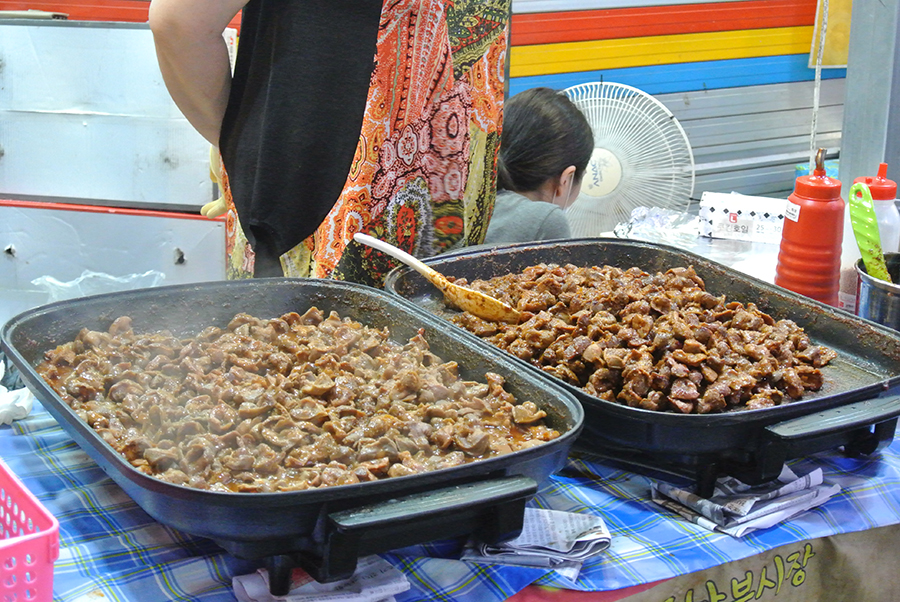 Jeonseolui Daktongjip
Chewy and spicy chicken gizzard: 5,000 won a dish
Venues for nibbles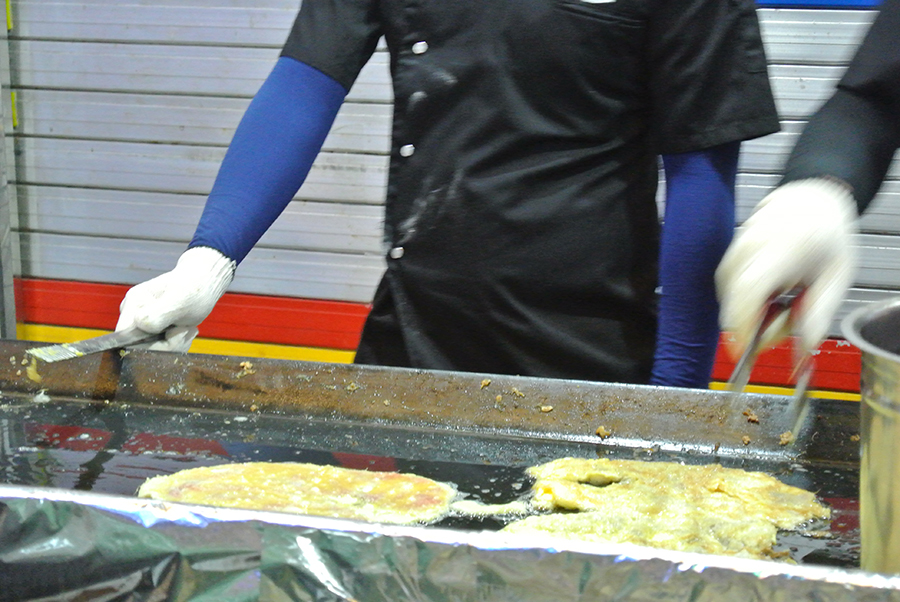 Wonjo Mayak Yukjeon
The popular yukjeon (beef pancake): 5,000 won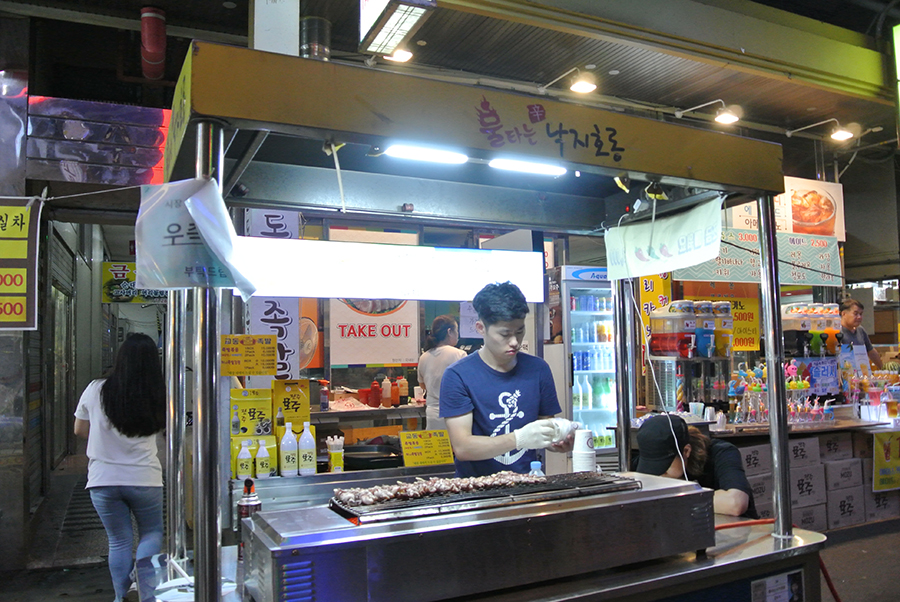 Bultaneun Nakjihorong
Grilled spicy nakji horong (small octopus skewer): 3,000 won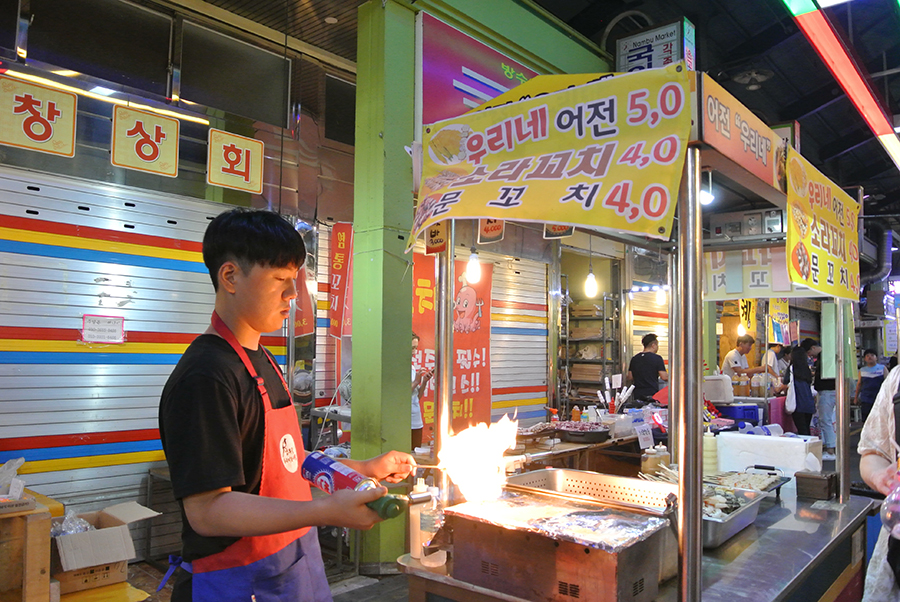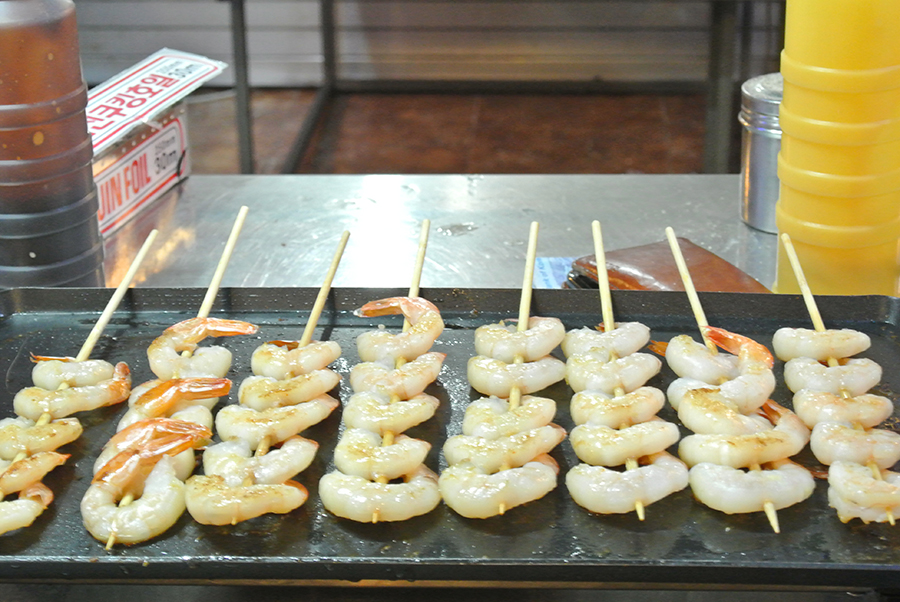 Woorinae Eojeon
Eojeon (fish pancake) 5,000 won; top shell skewer 4,000 won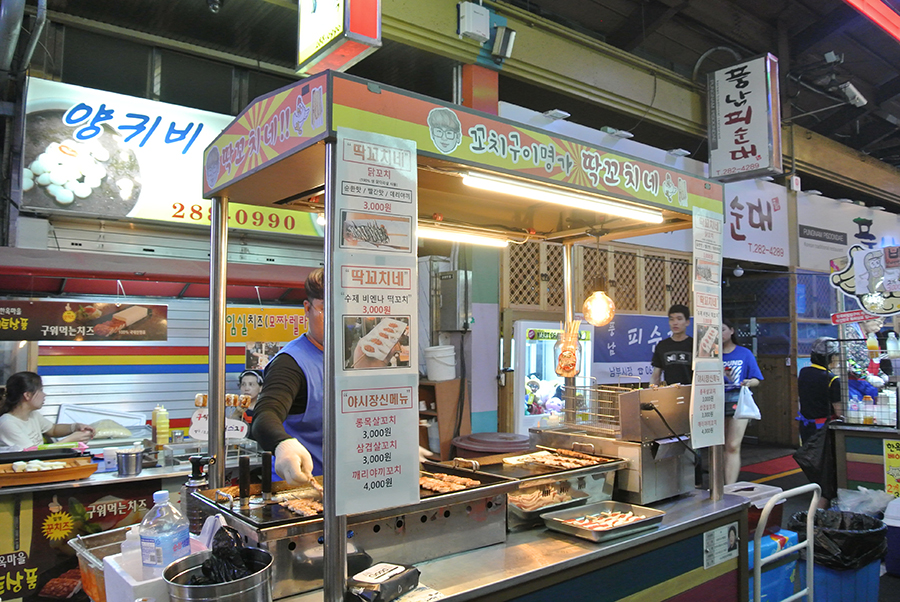 Ttakkochinae
Pan-fried chicken skewer 3,000 won; homemade Viennese sausage and rice cake skewer 3,000 won; samgyeopsal (pork belly) skewer 3,000 won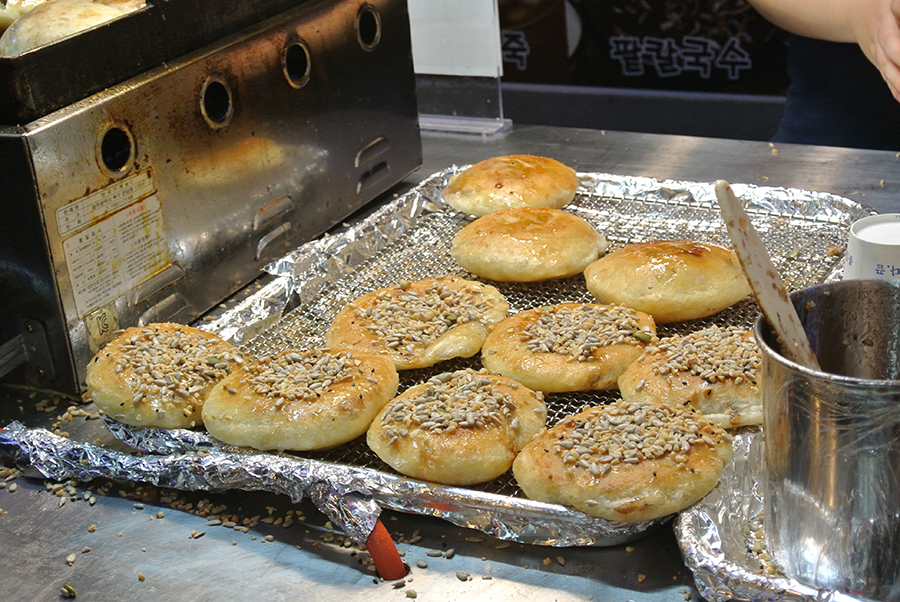 Pungnam moon Hotteok
Hotteok (pancake stuffed with sugar) with 8 different nuts: 1,500 won (1 piece)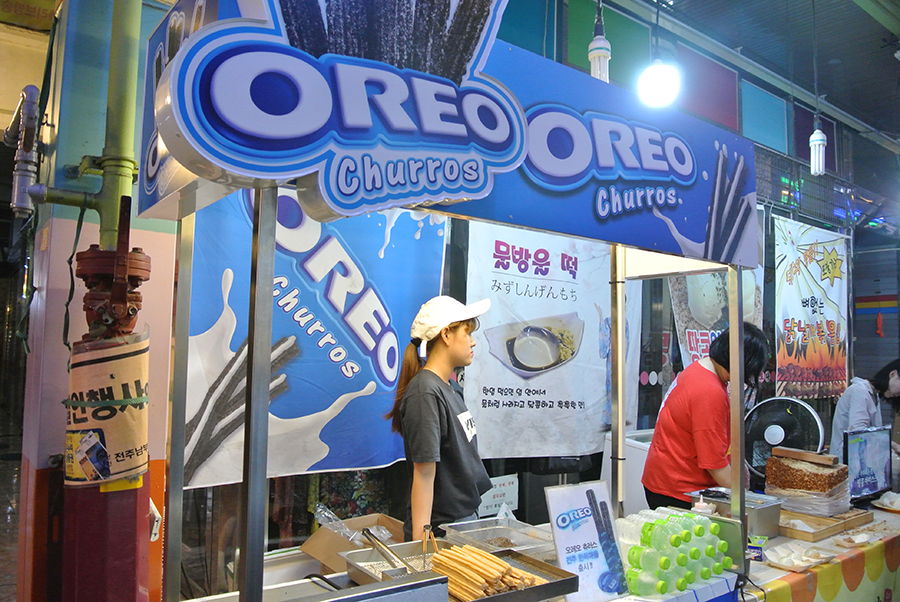 Oreo Churros
Oreo churros 3,000 won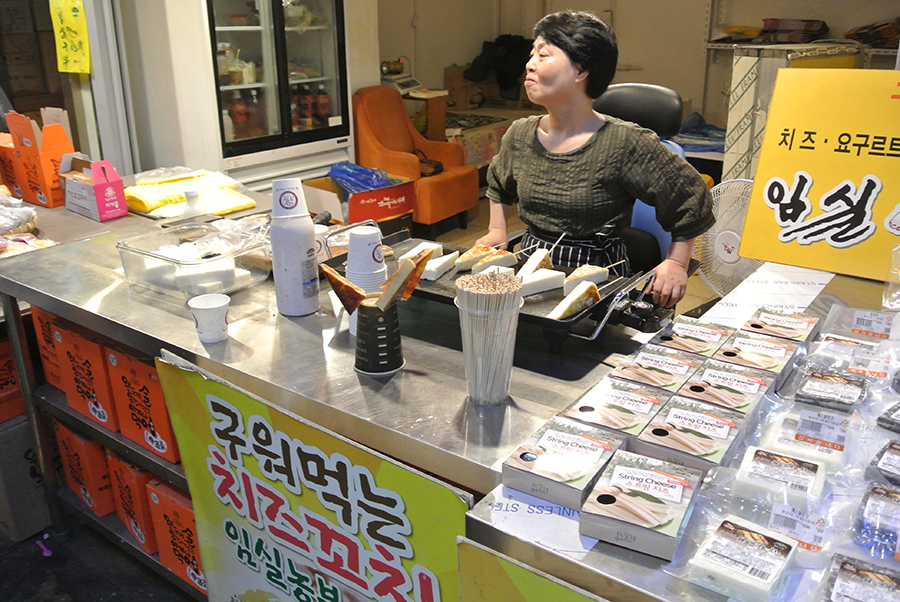 Guwoe Muknun Cheese Kochi
Pan-grilled cheese skewer: 3,000 won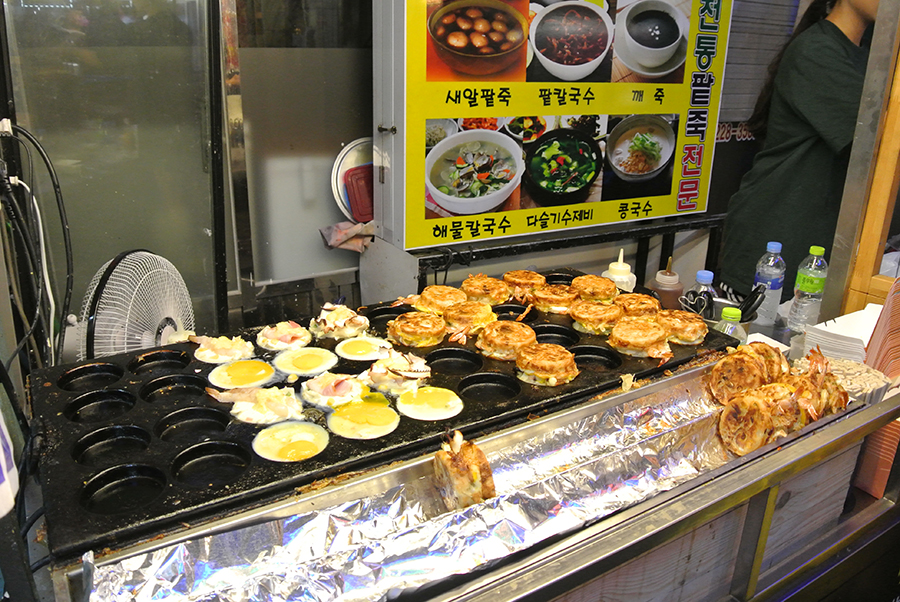 Chibikoyaki
Chibikoyaki (metal frame grilled fat Japanese pancake): 3,500 won each; 10,000 won for a set of three (shrimp, octopus and bacon)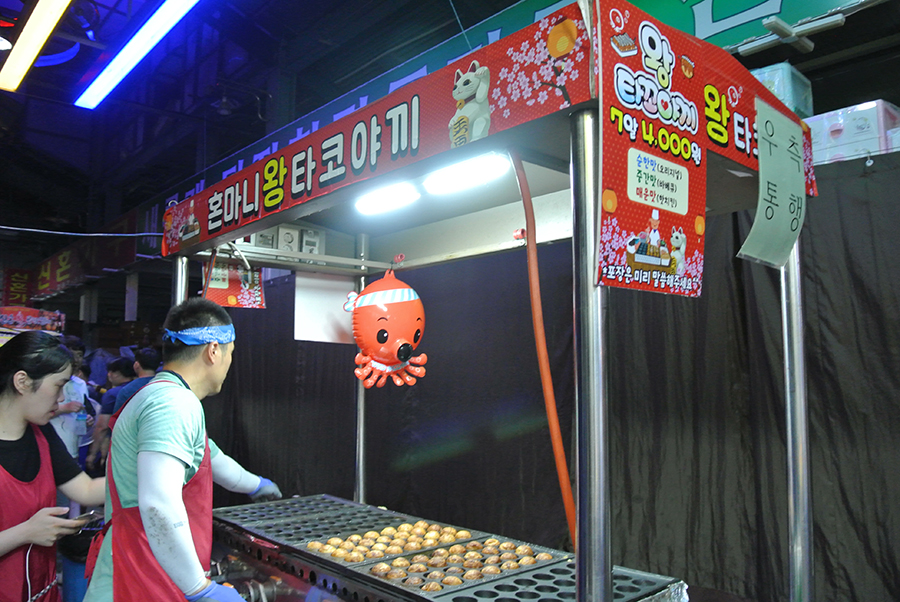 Honmani Wang Takoyaki
Takoyaki (Japanese metal frame roasted ball-shaped pancake with a piece of octopus inside): 4,000 won (7 pieces)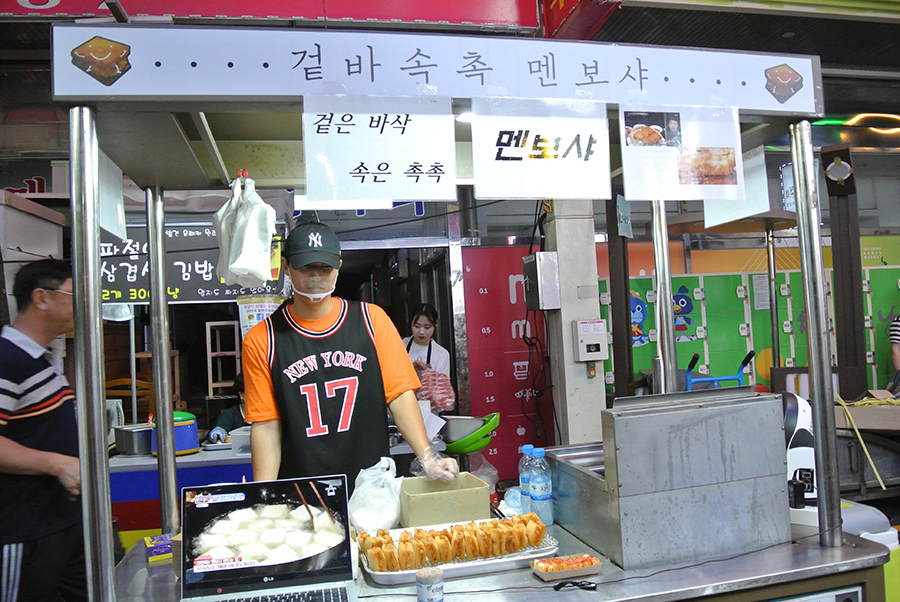 Gutbasokchok Menbosha
Menbosha (Chinese deep fried shrimp sandwich)
Venues for desserts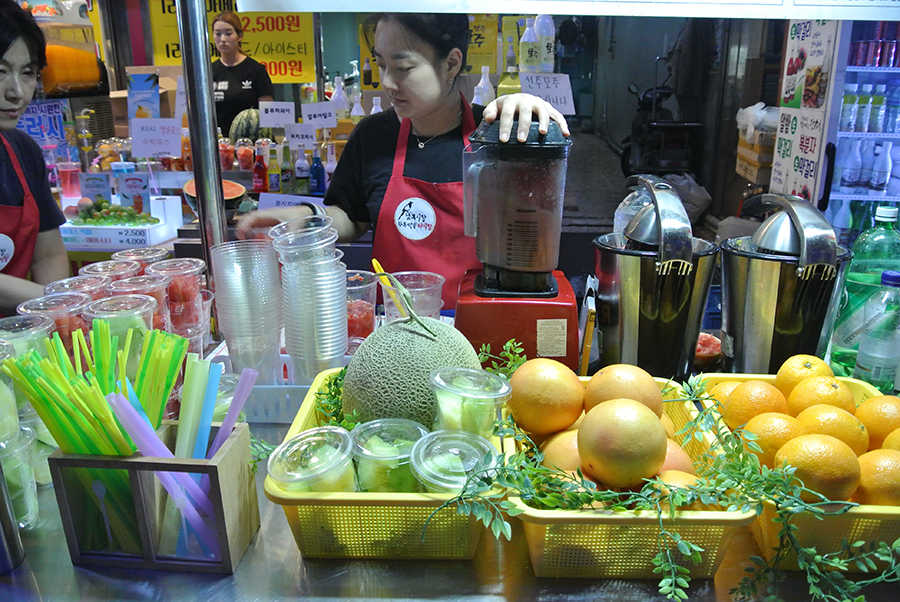 Purutpurut Sujaejam
Watermelon juice: 3,000 won; strawberry juice: 3,500 won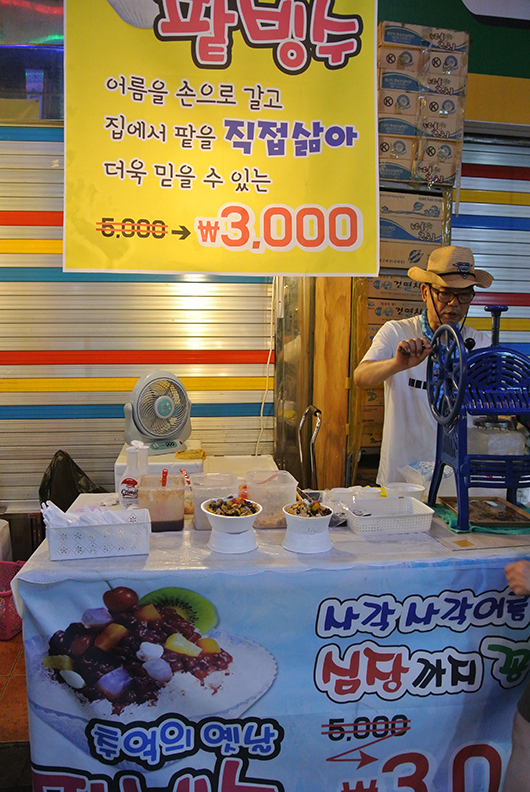 Chueokui Yetnal Patbingsu
Patbingsu (sweetened red bean over shaved ice): 3,000 won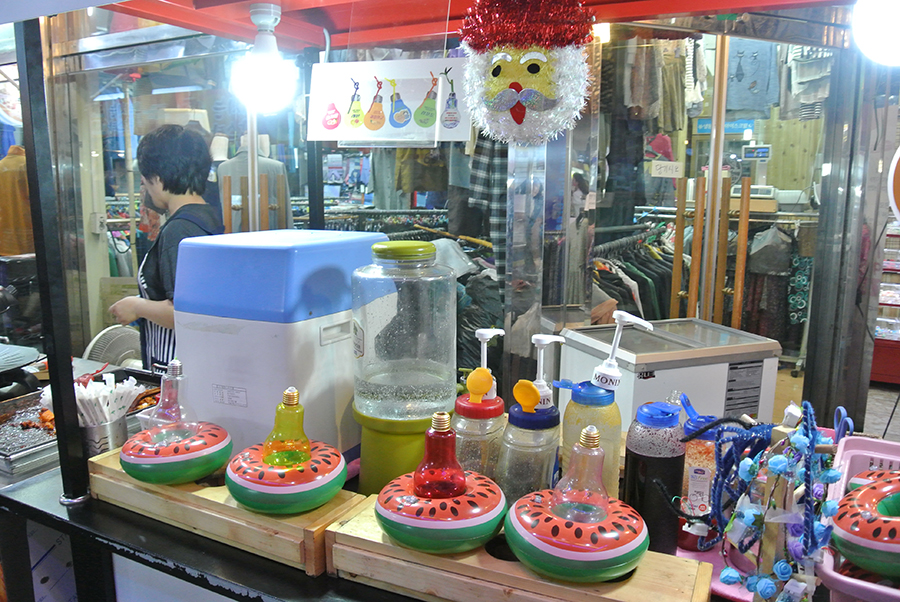 Taeyangyinae Jeongu-aid
Sweet aid-drinks in a lightbulb: 5,000 won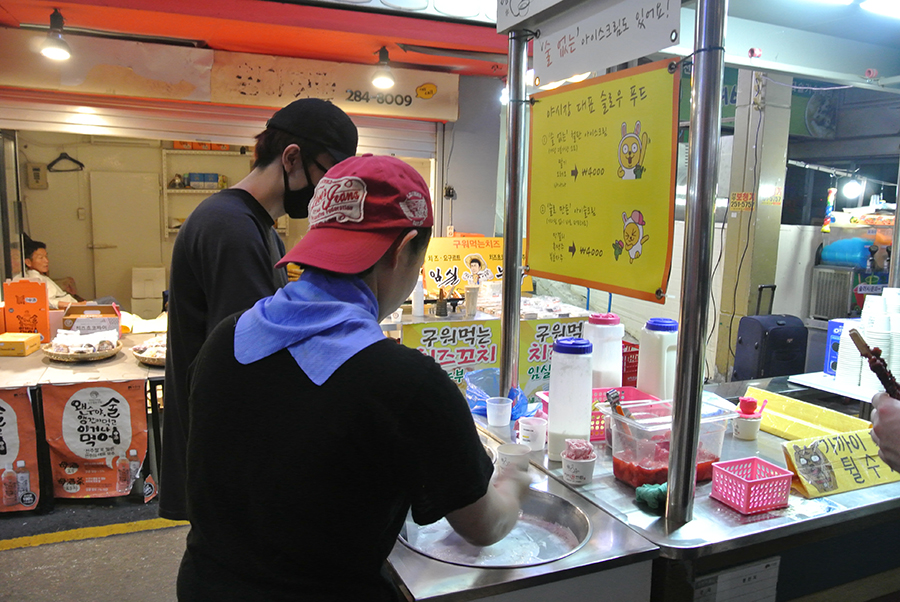 Icesoolcream
Icecream made with liquor (or without): 4,000 won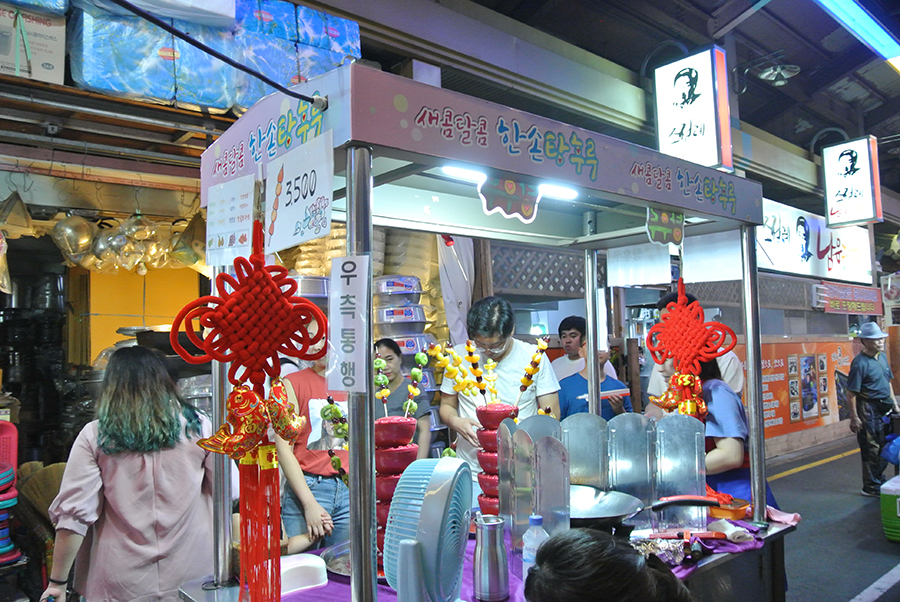 Saekomdalkom Hanson Tanghuru
Chinese sweet fruit skewer: 3,500 won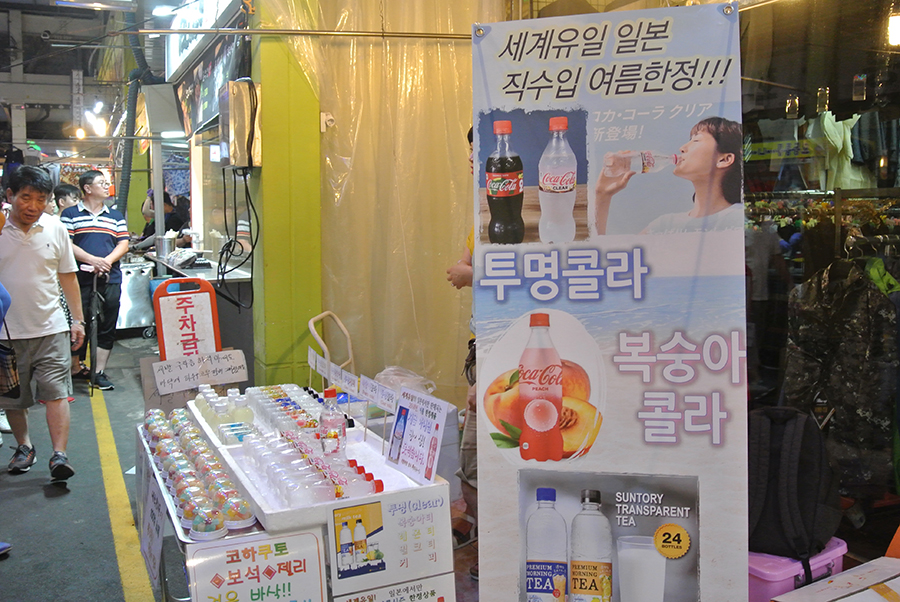 Tumyung Coca Cola
Transparent coke and gem jelly