[Korea Jeonju tour] Strolling Villages _ Promenade around Ajung Lake
Spaces Change with Flowers, and Once Again by People
Love sometimes brings some significant changes. It doesn't matter whether the objects are people or spaces. Ajungli definitely belongs to Jeonju, but it hasn't always been so memorable for Jeonju citizens. It was a tranquil place, but citizens didn't pay much attention. However, this place has become meaningful for loved ones when they get together.
Ajung Lake, Returned to Citizens
Change doesn't take place in a moment. Citizens call the area of Inhu-dong and Ua-dong "Ajungli." More precisely speaking, Ajungli consists of Inhu 3 dong and Ua 2 dong, but Jeonju citizens are familiar with the title "Ajungli" rather than "Inhudong"and "Ua-dong." It's become so familiar that everyone visits once, but never goes back again. That's Ajungli. Now, however, if people went back for a second visit, they'd be amazed.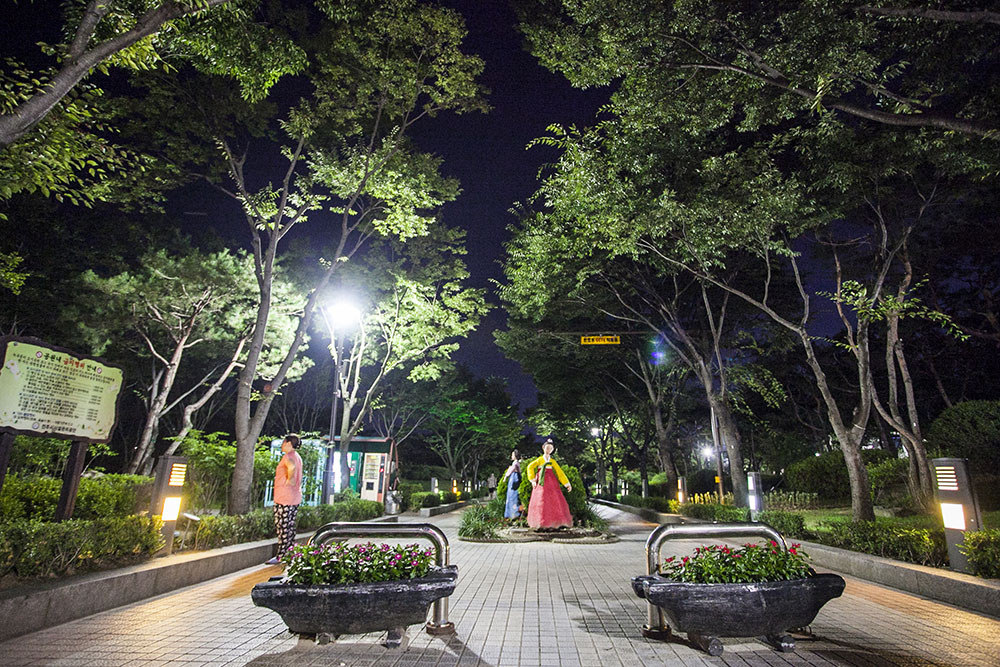 People remember Ajungli for the lake, the entertainment center full of pubs and bars, and also, unfortunately, for the dirty sanitary landfill. It had such a different atmosphere that no one wanted to admit that it was part of Jeonju, but it's a different story now.
Ajungli has changed. The change, of course, has taken place over time. It was possible thanks to the citizens who love the area. Along the bank of the lake, where cherry trees bloom in spring, citizens have created a beautiful area.
The areas around the lake, such as the entrance of the village, or the bank of the lake, are so impressive and beautiful that this will be the first place people think to visit when they want to enjoy the spring in Ajungli. When the big cherry trees standing along the bank are in full bloom, there is no other place with such a beautiful spring landscape than Ajung Lake.
Though there are a few small cafes, it seems more like the front yard of a small village with its wide wooden promenade and benches along the way. Who could forget such a beautiful vista?
The sun sweetly glittering among the scattered cherry flowers and the lake stretching out to greet us as we approach leaves a lasting impression.
This area was called 'Ajung Reservoir' until last year. The construction began in January 1952 and finished in October 1961. Its original purpose was to provide water for farmers so it seemed natural to call it a reservoir. It is quite large, with a maximum surface area of 26.05ha, and a total storage capacity of 1,388,000㎥. Over the last fifty years things have changed a great deal and so it was determined that the area was too large to be considered a reservoir that only provides water for farming.
Thus, in March of last year, the Jeonju city government decided to change its name from "Ajung Reservoir" to "Ajung Lake."This is a more appropriate name because it has become the lifeline or the center of this city, an axis of the city's ecosystem, rather than being simply a bowl to put water in.
Likewise, it has become a lake and its shores have been beautified. Trails were constructed, performances were planned, and the lake's interior and the lakeside areas were cleaned. Ajungli has transformed from a mere small village with a reservoir to a 'lakeshore' area. Walking slowly along the trails, we are so
happy to see how the lake has changed over time. More than anything else, it is so pleasing to see how many other people love the change that has taken place.
There Are Also 'Flowers' Bloomed
One of the places that should not omitted when talking abut change is Hodonggol in which there is a tree nursery. In the past, this area was a dumping ground for all the waste from Jeonju City. It was always crowded with big trucks filled with trash coming and going and heavy equipment to cover the trash with soil. Just about two decades ago, the place was no more than heaps of rubbish. For about two and a half years starting in 1995, there was all sorts of waste buried there. In addition waste collected from Seoshin Housing Site Development District was dumped there in 1997. The landfill was closed in 1998, but the bad smell and toxic gases coming out of the rotting wastes bothered the residents. It was a big problem for everyone.
Fortunately, there was a consensus to regenerate the area. Jeonju citizens as well as Ajiungli residents created a wave of change in Hodonggol. Thus, the city government, its residents, and many civic organizations came together as one to give life to the "giant landfill."They installed all kinds of antipollution devices, covered the area with soil once again, and planted flowers and trees.
Of course it wasn't realistic to expect a big change immediately. It has changed slowly. Unpleasant odors eventually disappeared due to various efforts and Hodonggol now has an eco-park where season flowers bloom year round.
This area has been transformed into a great natural ecological learning center where children can visit and learn about nature. It's been wonderful to see how everyone is now enjoying the flowers in this special place that we helped to recreate.
Now it's time for something exciting for the kids. Where could we take them? We left for Ajung Station.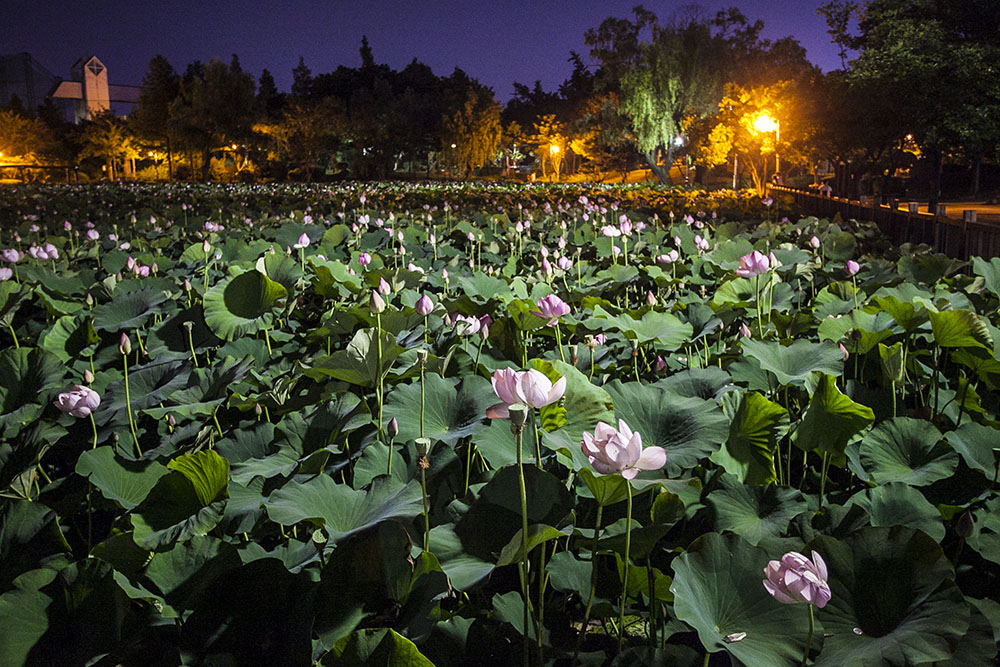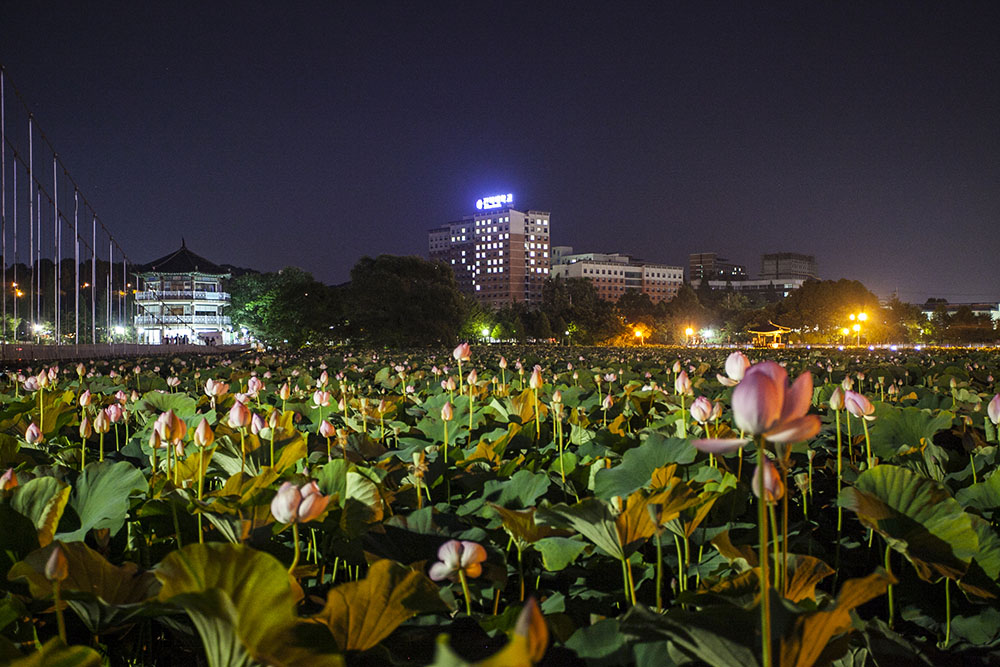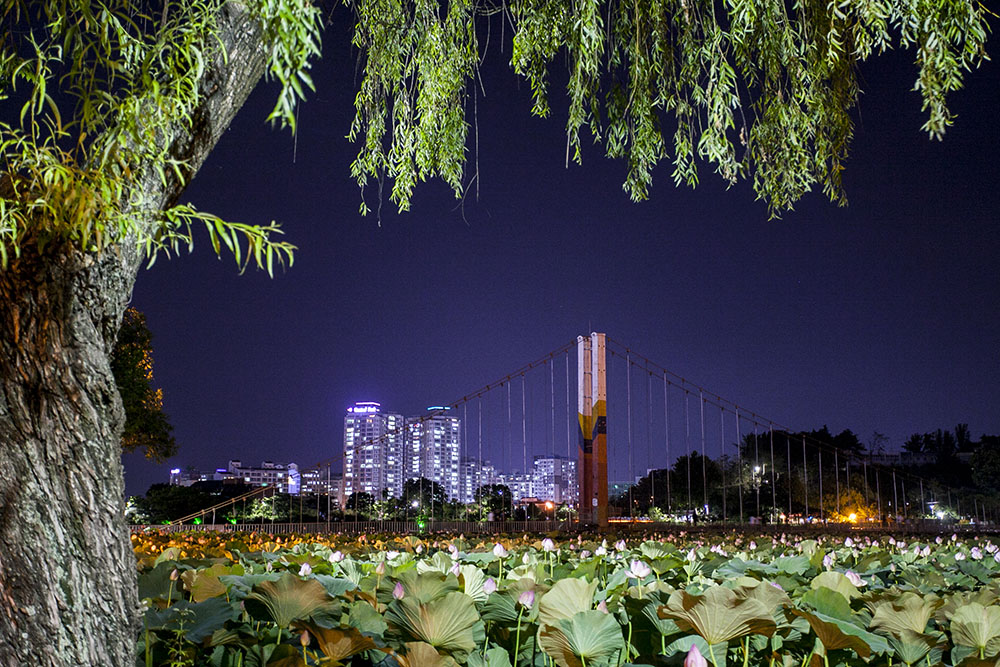 Happy Imagination Found in an Abandoned Place, Pleasant Recreation 
Ajung Station is not very old. Since it was built in May, 1981, it could be considered fairly new. However, things have changed so fast. Even when Ajung Station was built, the region was developed as a residential district due to the relocation of Jeolla Railroad. People got together and the station played a big role in transportation, but as roads were added and cars rapidly increased, people neglected to use the railroad.
As a result, Ajung Station stopped passenger service on December 1st, 2008, along with Songcheon Station. On May 11th, 2011, with Jeolla Railroad electrified and double-tracked, its 30 years of service by everyone. However, it wasn't forgotten for long. The abandoned station was changed into a railroad experience service and cultural space. The railbike, which stretches for 1.5 km and includes the first and second tunnels, provides a great deal of pleasure. Children are so excited to ride the special bike. It might not seem like a very long track, but if you try it, you'll soon discover it's not that short!
Along the way riders will pass by a lonely country road, the walking path looking down on Ajung Lake as well as the real train that runs on the Jeolla Railroad, right next to the railbike.
The journey returning to the station is even more pleasant. Railbike riders pedal the downhill section joyfully, and the sound of the speeding train is wonderful and pleasant. As I expected, kids liked the railroad bike the most. Even though the children weren't willing to leave the place, we kept going and walked along the Ajung-cheon (stream). Beautiful spring flowers bloomed along the banks of the stream. The children laughed and played, hopping here and there on the stream's stepping stones. We were surprised seeing how happy they were.
While touring around my own village, I came to think, "Oh, this place is so great!" Without even being aware of it, the village has changed little by little.
Looking around the village, it is full of flowers and good neighbours; a lovely place shining like a jewel. Like lovers, the village and its residents will change slowly over time, but we won't be aware of the change.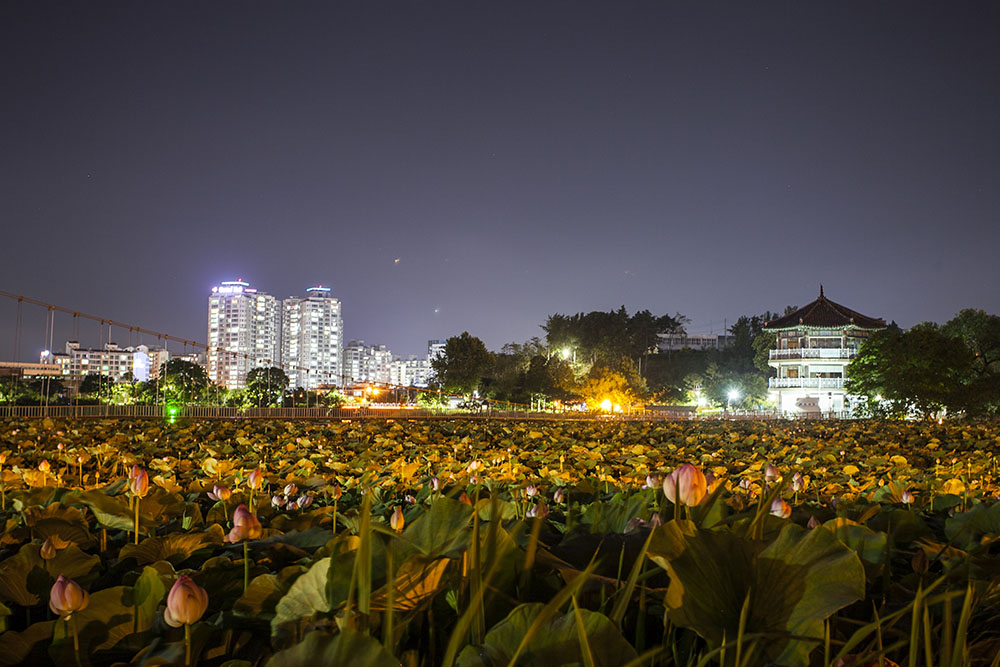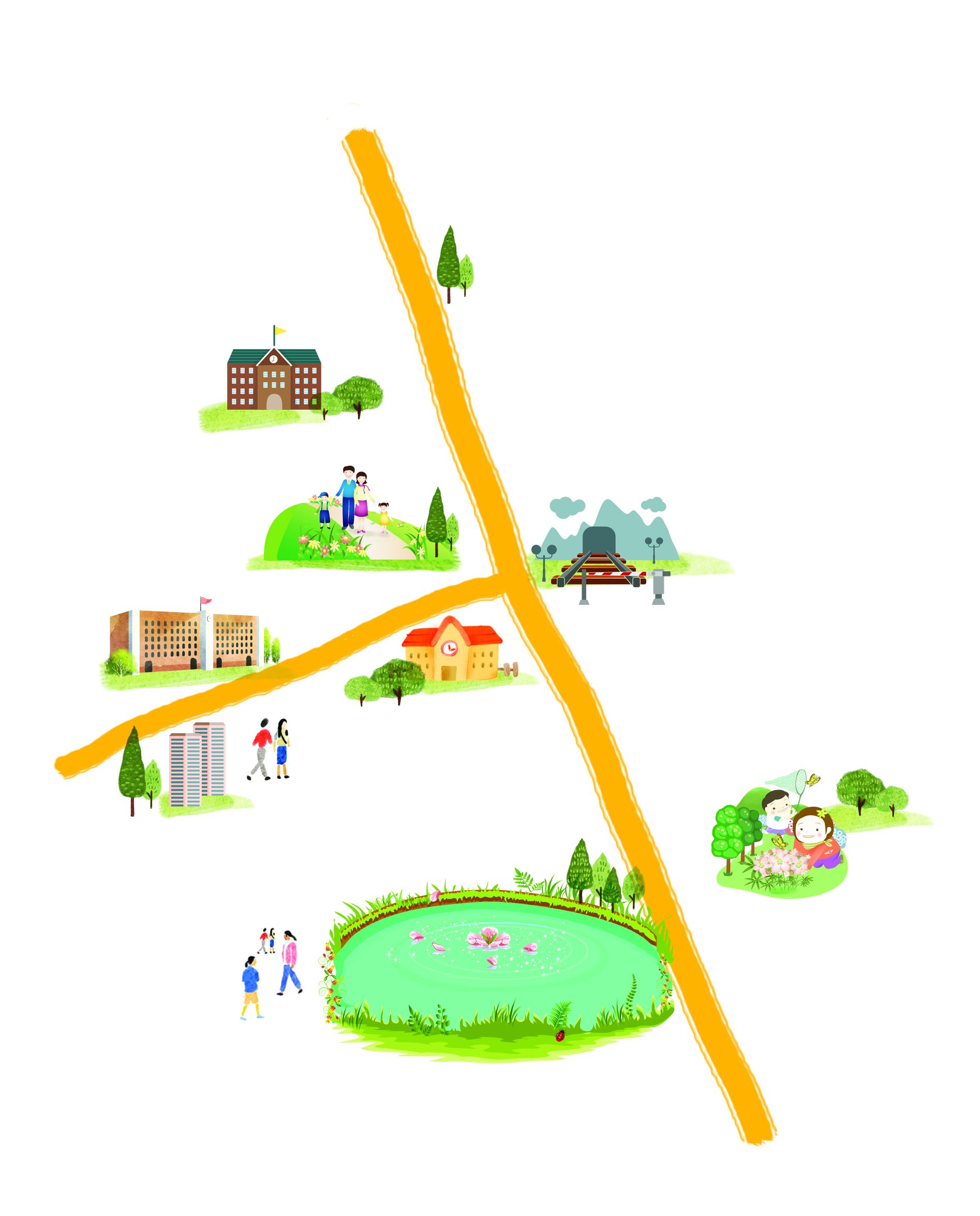 Written by Kang Junmin(the Ajung Development Council)
Mr. Kang Junmin has been living in Ajungli for a long time and is very active in improving the village. He organized the Ajung Development Council with his neighbors and has put great effort into making his village a better and healthier community. Seeing how his own village has changed little bylittle, he is very proud of the effort that he and his neighbours have put forth.