The Jeonbuk National University Campus Dullae-gil (Walking Trail)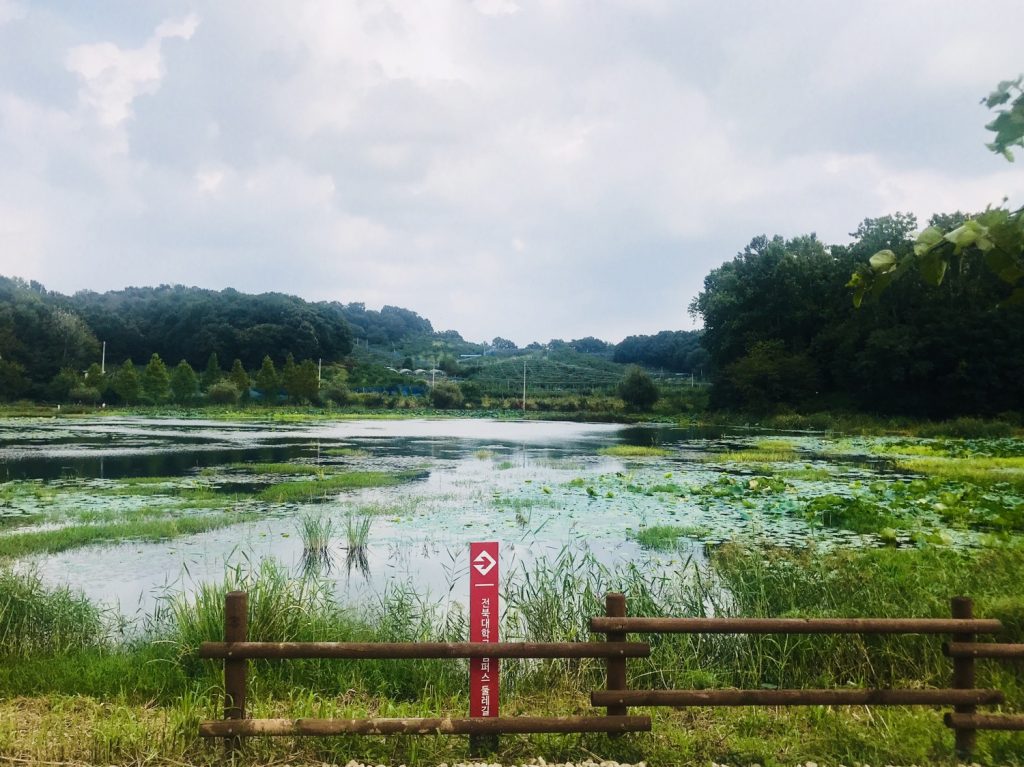 The weather these days seems cool enough to take a walk during the daytime. Today, I'll introduce the most beautiful walking trail in Jeonju, "the Jeonbuk National University Campus Dullae-gil" (walking trail). Both the university students and many locals alike enjoy walking the trail. The trail is very well organised and the university offers the map of the trail so that you don't get lost.
The walking trail has both the full course and the half course. The full course takes about two to two and a half hours with the walking speed of an adult female. The half course takes about one to one and a half hour. I recommend starting your walk from the trail stop 2, Gonggamteo, near the old gate of the university.
At Gonggmateo is the 'Red Box,' which holds exhibition and sells coffee and other beverages. It seems very peaceful here.
The trail stop 3 is 'Baerongnamu Yeonmot' (Lilac Pond). Equipped with a beautiful pavilion and a pond, this stop is across the Jeonbuk National University Museum.
The trail stop 4 is 'Chunnyunsarang Dukgil' (Causeway of the Thousand-Year Love). This stop is located inside the Deokjin Park. The park is famous for beautiful lotuses and the bridge on the lake.
The trail stop 5 and 6 are located before enterance to the Gunjisan mountain. If you're not very keen on visiting the university and the Park, I recommend starting the trail from the stop number 6, Honbul Munhak Gongwon (Honbul Literature Park).
From the trail stop 6 to stop 14 are located in the Gunjisan mountain. Make sure you visit the stop 9, Osongjae Birdwatching Spot. Here, you can spend a leisurely time in the pavilion while enjoying the view of the Osongjae Reservoir.
It is a long walk from the trail stop 10 to 11. I recommend walking not-so-hastly. If you don't have much time or if you have a knee problem, you can complete the half course from the stop number 10.
I recommend the half course for those with a knee problem, because the trail from the stop 11 to stop 13 is a steep uphill course. If you carry on, you'll reach the top of the Gunjisan mountain.
After resting enough at the pavilion on the top, then you'll come across a steep downhill course. If you've reached the trail stop 14, the trail through the mountain is over.
The trail stop 15 is the Jeonbuk National University's Central Library. I recommend taking photos at the nearby Gunji Square that boasts the beautiful fountain and the pavilion.
This is the introduction to the Jeonbuk National University Campus Dullae-gil walking trail. If you challenge yourself to completing the trail, you can visit the Jeonbuk National University, Gunjisan mountain, and Deokjin Park all at once!