Chutmajung-gil, the Street of Light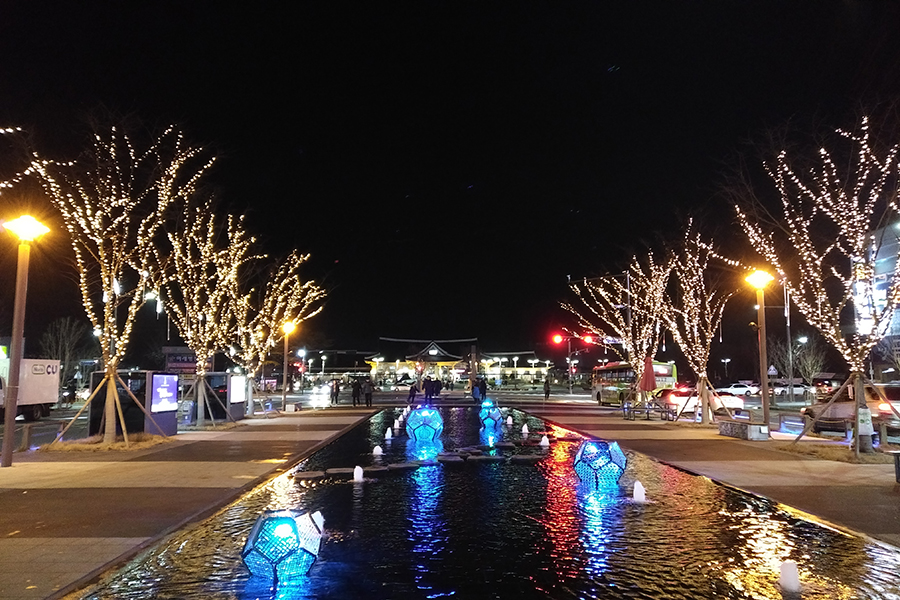 The Winter is at its midst. However, if you don't want to stay wrapped up inside the blanket, I recommend walking the glittering Chutmajung-gil Street.
Spanning 850 meters from Jeonju Station along Baekjaedae-ro Road, Chutmajung-gil Street was completed last year as a pedestrian street and a public square. The street provides cultural space and green area to the previously dreary cityscape of the district.
The once straight 8-lane road of Baekjaedae-ro Road has been transformed into the beautifully curved 6-lane road to allow space for Chutmajung-gil Street in the middle. The street has received the 2017 Asian Townscape Award, hosted by the United Nations-Habitat Regional Office for Asia and the Pacific, in cooperation with Fukuoka Asian Urban Research Center, Asian Habitat Society, and Asia Townscape Design Society. Chutmajung-gil also won the best institutional award from the Korea Forest Service.
Chutmajung-gil has improved the first impression of Jeonju for those arriving by train. Let's walk together the glittering Chutmajung-gil this evening!
It felt strange to walk with cars passing by on my both sides. However, the trees which once were lushly green were now donned with sparkling lights of various colors and shapes. In the middle of the pedestrian street is a cute illuminating bear with shining blue eyes. This bear, bigger than an adult male, is a great photo spot!
There's also a tunnel of lights. Inside the tunnel were glittering snowflakes and stars over my head. On the wall of the tunnel were different shining constellations from Aquarius to Capricorn. I also looked for my zodiac sign while walking through the tunnel.
Don't miss the red container box wearing illuminations. There are stairs leading to the top of the containers so that you can enjoy the glittering view from above the street. Keep in mind that the stairs are narrow!
The Chutmajung-gil Street has transformed from a busy road for cars into a public square for pedestrians to walk and enjoy the culture of the city. The illuminations of the street will light the face of Jeonju until 15th of March, during which busking concerts will be held and wish lanterns will be lighted.
This evening, I recommend walking along the Chutmajung-gil Street with your family, friends, and loved ones. You'll be surprised how the pedestrian street has lightened up the cityscape of Jeonju!