Retro-Style Food Carts at Joongang Night Market
Many of you must have already heard about the Nambu Night Market, but another night market opened last July in Jeonju Joongang Market. The retro-themed night market opens every Friday and Saturday evening, from 5PM till 11PM. I visited the market to try grilled eel, shrimp box, pan-fried spicy chitterlings, deep-fried squids, and many more! In this post, I'll introduce these retro-style food carts of Joongang Night Market.
Grilled eels at "Sangguni-nae Pocha"
The first food cart (called 'pocha' in Korean) specializes in grilled eels. Grilled eels are good for stamina and comprise good side dish with alcohol. Maybe that's why this cart is frequented by mothers. Upon your order, the food cart grills freshly boned eels on the spot.
▸ Menu: soy sauce, salt, spicy sauce grilled eel
Street Foods at "Dadoongi-nae"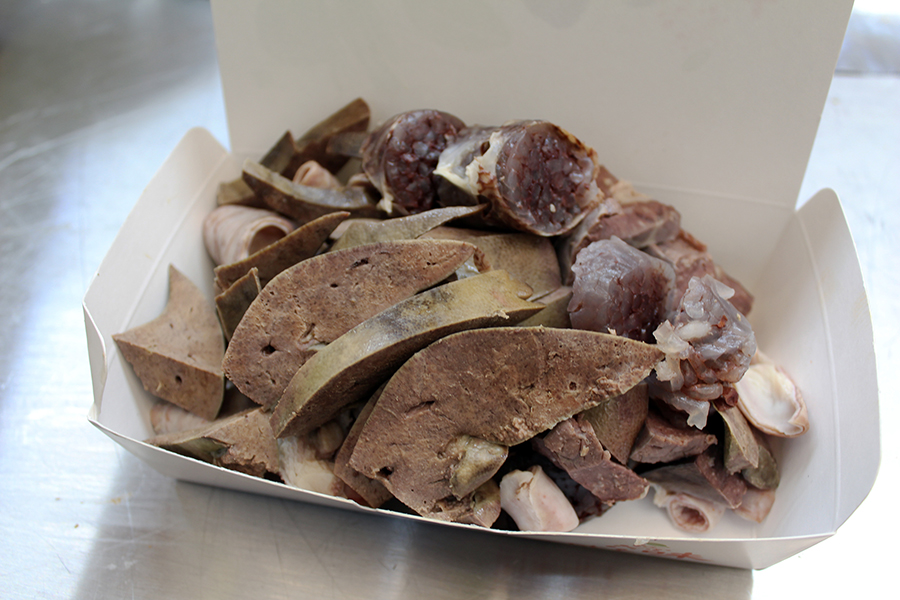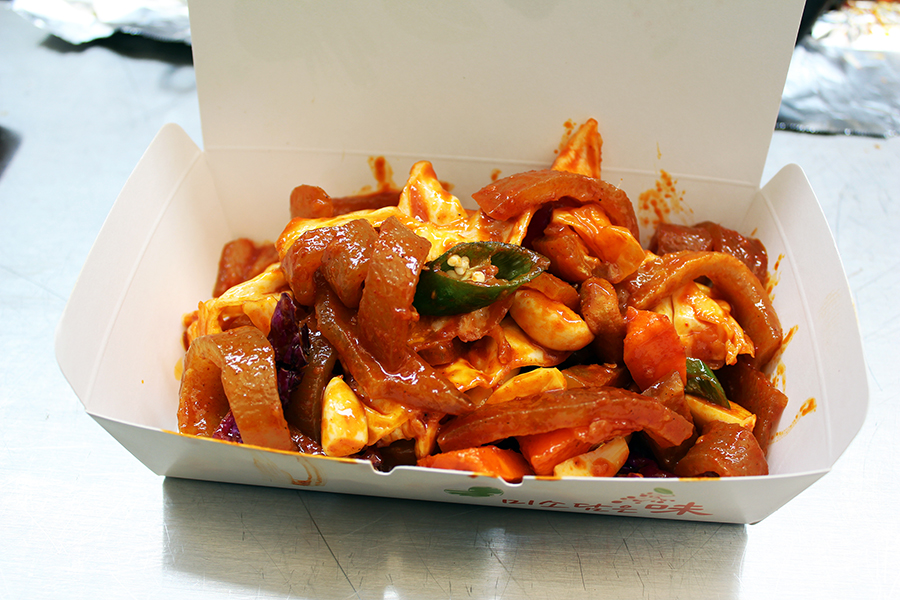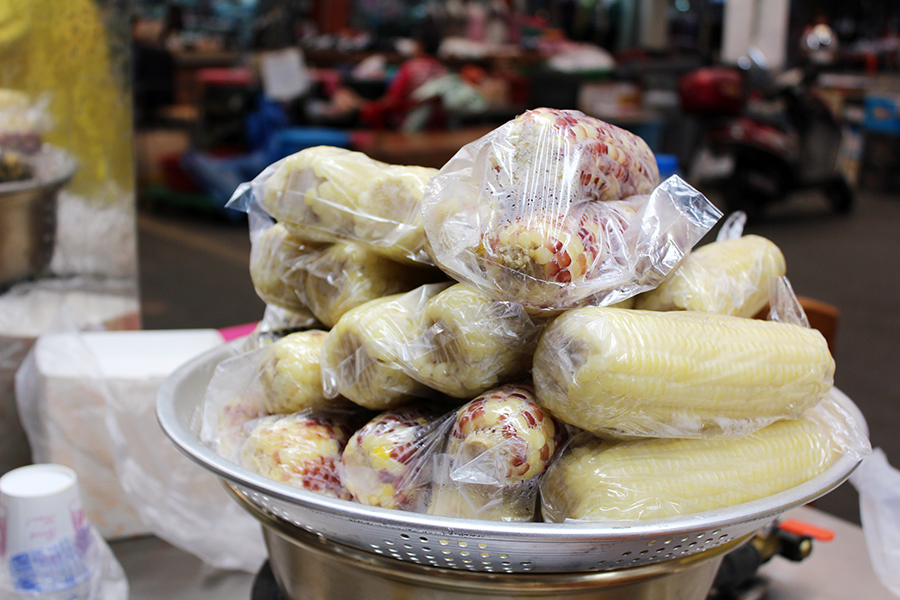 'Dadoongi-nae' means a household with many offspring. The food cart is run by a mother with lovely sons and daughters that help their mother. The mother grew up around Joongang Market. Regretting that less and less people are visiting the traditional market, she opened the food cart to revitalize her locality. The food art sells typical Korean street foods such as steamed corns, soondae (blood sausage), bundaeki (silkworm pupae), pan-fried pig skins, and the like, which are also her soul foods.
▸ Menu: steamed corns, soondae (blood sausage), bundaeki (silkworm pupae), pan-fried pig skins
Spicy chicken feet and pan-fried gizzard at "Yeonjinae Pocha"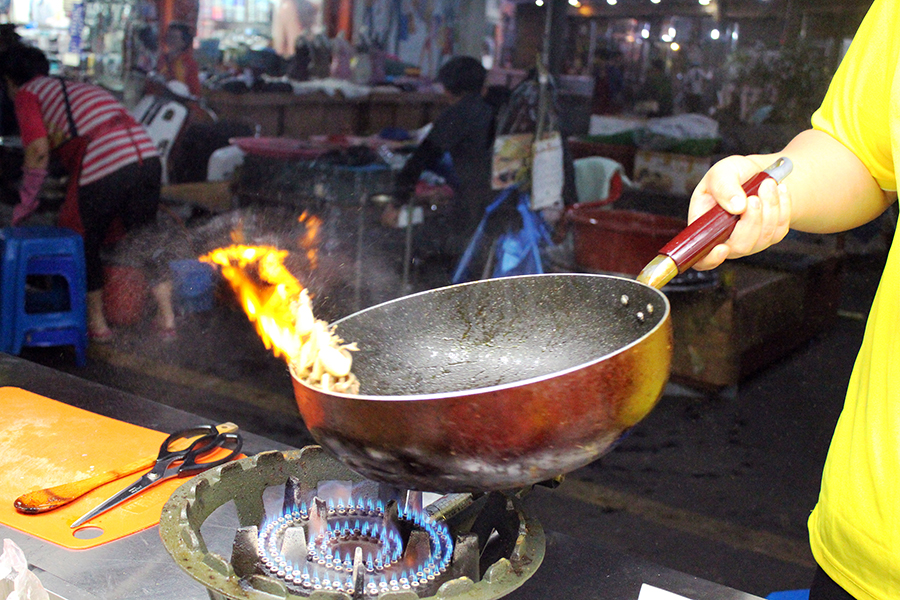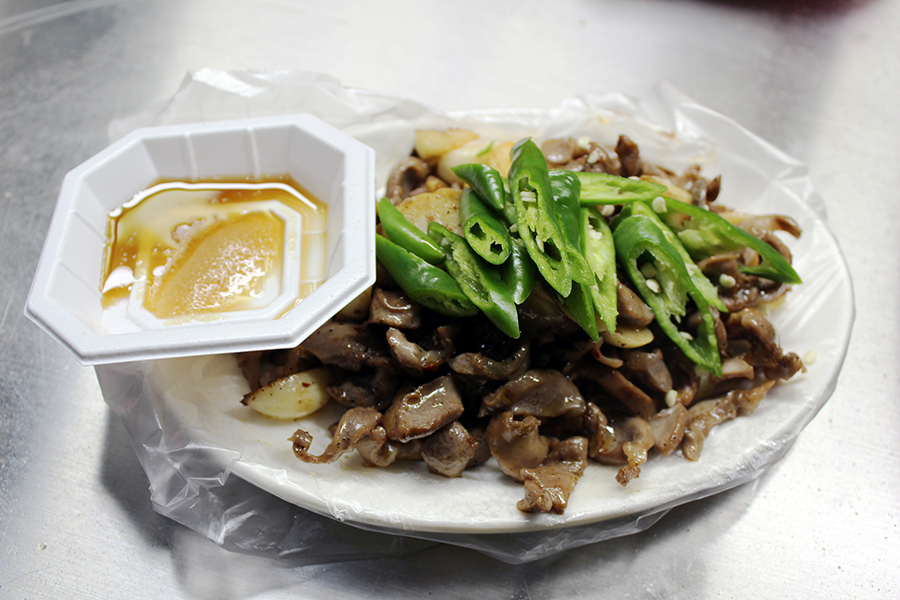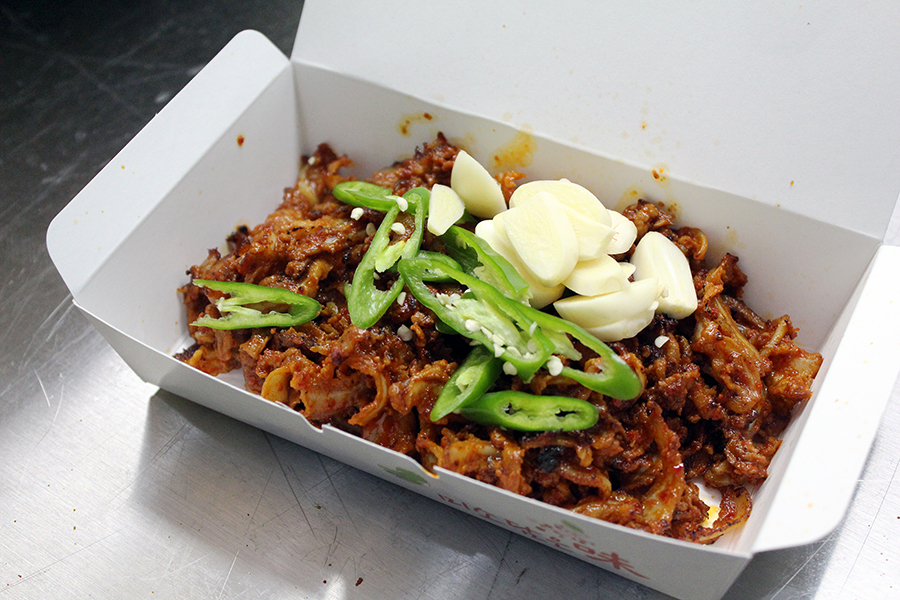 The third food cart is run by a young lady, who claims that "spicy chicken feet and pan-fried gizzard are the typical pocha foods!" She constantly flambéed the gizzards to add 'bulmat' (literally, 'taste of flame' in Korean). The spicy chicken feet dish is sprinkled with even spicier green pepper and garlic slices for extra flavor.
▸ Menu: mussel hot pot, spicy pike eel (komjango), spicy pork cartilage, spicy chicken feet, garlic chicken gizzards
Smoked entrails at "Gukkadaepyo Hoonjae Makchang"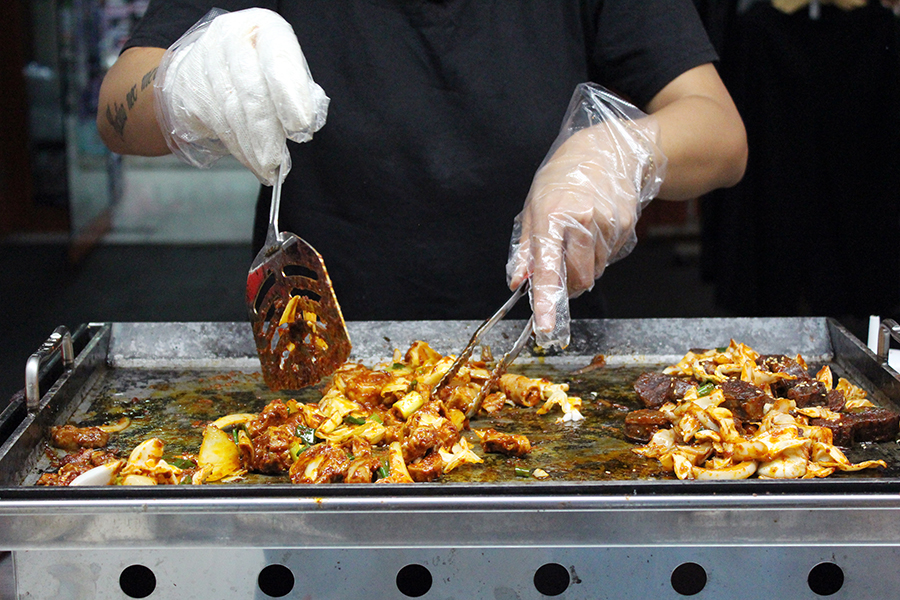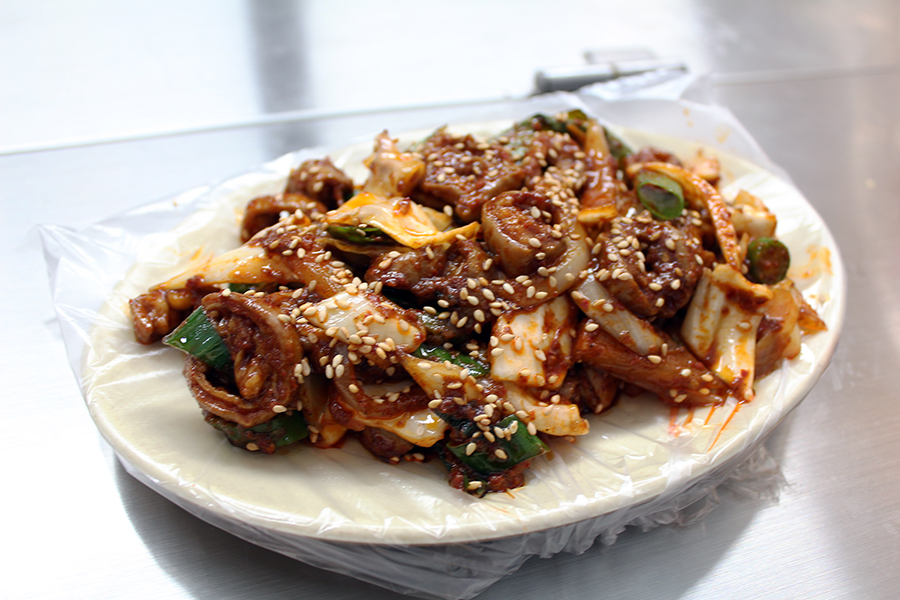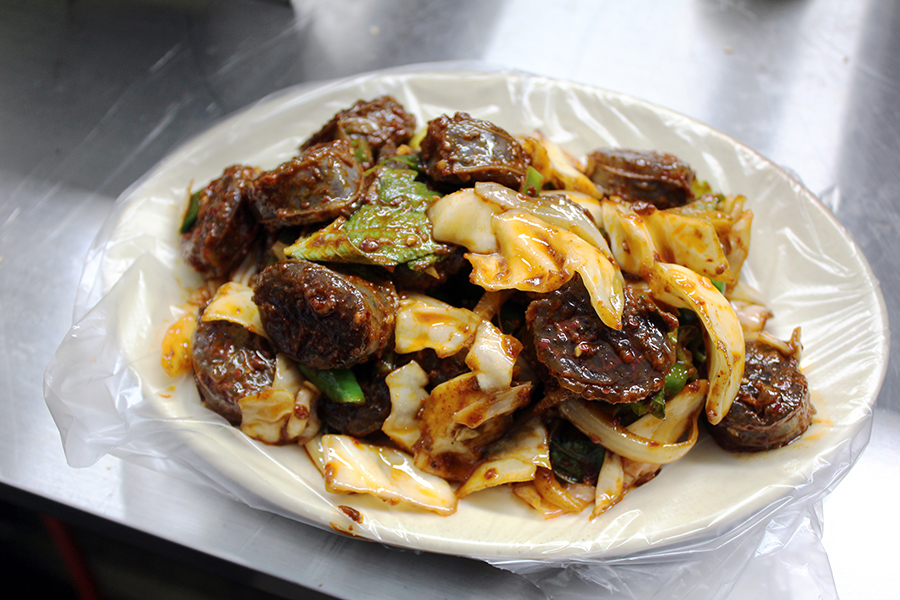 The fourth food cart is "Gukkadaepyo Hoonjae Makchang' (smoked entrails). Run by a very friendly owner, the food cart uses fresh entrails that haven't been frozen. Their texture is very chewy and delightful. The owner takes extra effort to get rid of any unpleasant smells of pork entrails.
▸ Menu: smoked entrails, pan-fried entrails and vegetables, pan-fried soondae and vegetables, pan-fried pork skin
Fried Chicken Wing Dumplings at "Joongang-ro Pocha"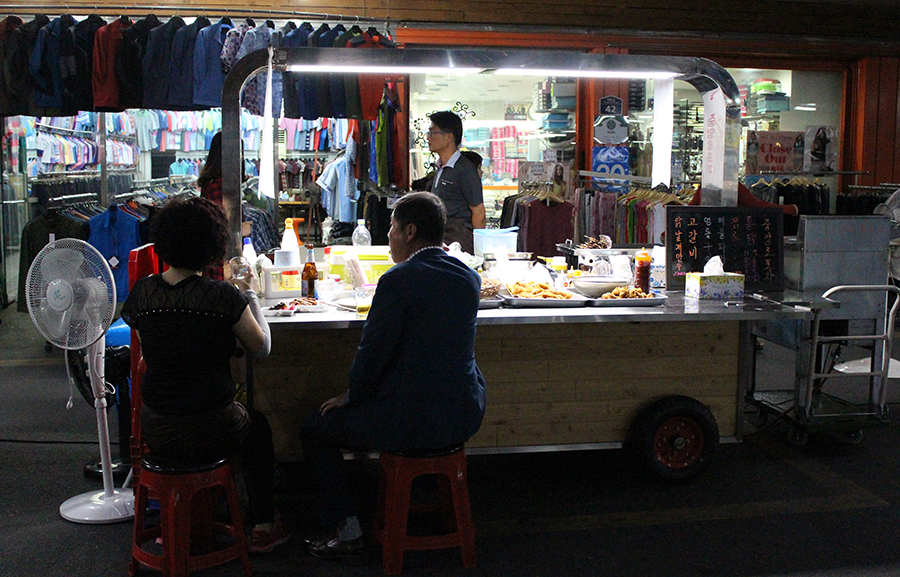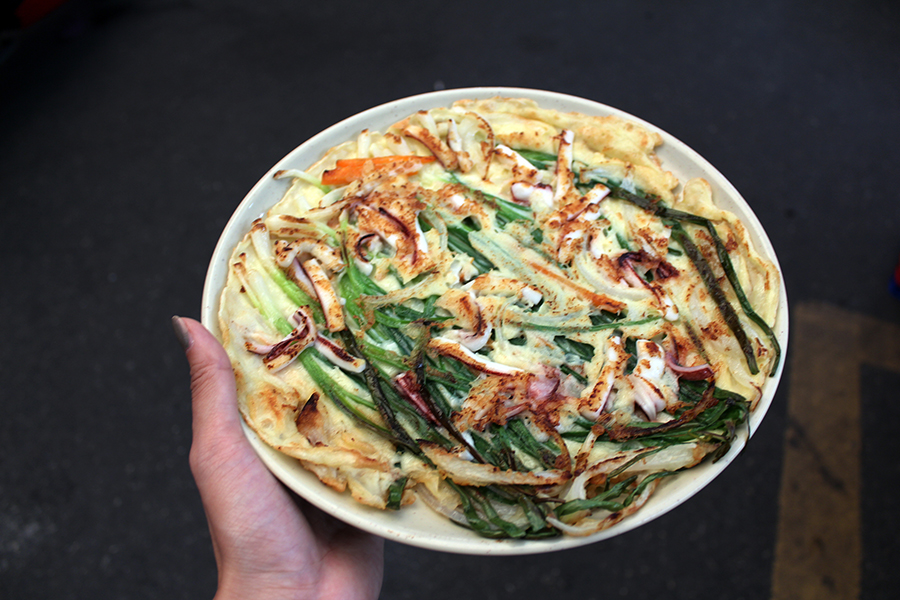 The most popular menu of Joongang-ro Pocha is 'Daknalgae Mandoo' (Fried Chicken Wing Dumpling). Chicken wing is stuffed with the usual dumpling stuffing before deep-fried. This menu is already popular in other parts of Korea, but relatively new in Jeonju. The menus here are cheap and generous.
▸ Menu: fried chicken wing dumpling, grilled mackerel, grilled chicken skewers, seafood pajeon (shallot pancake), fried chicken
Yookjeon (Korean traditional pan-fried battered beef) at "Gogiyogiyo"
The sixth food cart specializes in yookjeon, Korean traditional pan-fried battered beef dish which is usually eaten during the holidays. The owner has experience of cooking yookjeon for decades to prepare for the memorial rituals of her household. She seemed very confident of her recipe.
▸ Menu: yookjeon
Torched steak sushi at "Jihyonae Steak & Chobap"
The eighth food cart specializes in torched steak sushi. Fresh steaks are slightly torched to give soft texture. The spicy, sweet, and sour special sauce is added to strengthen the flavor. The presentation is also great. The steak sushi box is delightful to your eyes and mouth.
▸ Menu: steak, torched steak sushi
Deep-fried squid at "Ojingo Tuigim"
The big and crispy deep-fried squid legs beg for a pint of beer. This food cart deep-fries squids upon your order, so that the fries are very fresh and crispy. The owners use above-average size squids to ensure that the squid is larger than batter. The squid fries go very well with mayo and spicy pepper sauce.
▸ Menu: deep-fried squid
Shrimp Box at "Saewoo Oppanae"
The last food cart is all about shrimps! "Saewoo Oppanae" specializes in salted and grilled prawns, deep-fried shrimps, and the famous 'shrimp box.' The shrimps are pan-fried with butter to add savory and soft flavor. The menus here are loved by both children and adults.
▸ Menu: shrimp box (chilli sauce/garlic soy sauce), deep-fried shrimp, salted and grilled prawns
This is it for the retro-style food cart street of Jeonju Joongang Night Market. Visit the night market this autumn evening to find out what the traditional markets can offer. Passionate entrepreneurs and visitors help revitalize our tradition!
<The food cart street at Jeonju Joongang Night Market>
* Opening hours: every Friday and Saturday 5PM~11PM
* Address: 33 Taepyoung 5-gil, Wansan-gu, Jeonju
* Contact: 063-274-7535